Search Key Words
in Daily Lesson Insights
and ACIM Text Made Simple
Subscribe to Free Emails
of Daily Lesson Insights
Click here to subscribe to free daily emails of the Workbook Lesson Insights. You can synchronize your subscription so the lesson emails coincide with the lesson you are studying. Synchronizing instructions are provided at the end of each lesson email.

Reference Keys for
A Course in Miracles Quotes
How to Read References for Quotes from A Course in Miracles
Below are example references to specific sentences using the notation of the Second & Third Editions of A Course in Miracles published by the Foundation for Inner Peace:
T-26.IV.4:7 = Text, Chapt. 26, Section IV, paragraph 4, sentence 7.
W-pI.169.5:2 = Workbook, Part I, Lesson 169, paragraph 5, sentence 2.
M-13.3:2 = Manual for Teachers, Question 13, paragraph 3, sentence 2.
C-6.4:6 = Clarification of Terms, Term 6, paragraph 4, sentence 6
The above numbering system of the Second & Third Editions is © Copyright 1992, The Foundation for A Course in Miracles.

Free Online Resources
Electronic "Magazine" — Sign up to receive periodic emails with thoughts to ponder, inspirational articles and the latest news.
Subscribe to daily emails of Workbook Lesson Insights.
ACIM Text Made Simple — answers to hundreds of questions about the Text. Click here.
Daily Inspiration Blog — Thoughts to inspire your day. Click here.
Inspiring journals by Pathways of Light ministers applying the principles of ACIM. Click here.
Miracles News — hundreds of inspiring miracle stories. Click here.

We'd Like to Hear from You
ACIM Minister Training
Inspired by the principles presented in A Course in Miracles, this ministry training focuses on accepting the mind healing that is guided by the Teacher within, the Holy Spirit. As our minds are healed, we become Holy Spirit's instruments of healing. For more information click here.

ACIM Practitioner Courses
If you would like a deeper understanding of key principles of A Course in Miracles, the 24 Pathways of Light ACIM Practitioner courses provide a complete, multimedia package to help you make ACIM principles a ready resource to call upon in your mind throughout your day. Click here for more information.

Events
Featured Items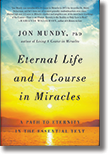 New! Eternal Life and A Course in Miracles by Jon Mundy, PhD. A look at what the Course tells us about death and how it is we come to see into Eternity. Learn more.

God Possibilities by Tom Golinski. An inspirational book for ACIM students/ teachers worldwide. A powerful tool to help you accelerate receiving Holy Spirit's inspiration. Learn more.

Prayer for All Solutions by Rev. Joe Wolfe. A single, flowing prayer that invites the reader to a genuine acknowledgement of the truth that God Is, and that our complete and total happiness is God's only intention. More….

Listen & Receive 30-Day Home Study Learn to receive insight for your life in a form that is perfect for you …heal fears, find joy & peace. Learn more.

Minister Training — based on principles of A Course in Miracles, including counselor training and ordination. More….

24 ACIM Practitioner courses including 50-page study guide, CD's with facilitator. More….

From the Christ Mind scribed by Darrell Morley Price. A simple, yet profound message that you can immediately apply to current circumstances. More….

Hey, Holy Spirit, It's Me Again by Rev. Myron Jones. An indispensable guide for anyone on the path of ACIM with insights on the 1st 90 lessons. More….

Forgiving Kevin Audio book by Rev. Larry Glenz. A moving and inspiring true story of a father/son relationship that withstood seven years of addiction, recovery, and relapse. More….

Healing Family Relationships Applying the Principles of A Course in Miracles 6 CD audio book by Rev. Myron Jones. Learn how family relationships offer fertile grounds for forgiveness and healing your judgments of the world. More.