October-December, 2019
Freeing the Children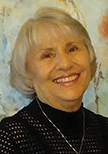 Like so many of you, I was shocked and deeply saddened to see little children torn out of their mother's and/or father's arms and put into cages. "What have we become?" I thought. "How low can we go? When is enough, enough?"
I was haunted by my thoughts about these children. I kept imagining how alone and afraid they must feel. I expected to see thousands of people in the streets protesting this action, but to my great surprise, that didn't happen. I went to a vigil to bring attention to what to me was an atrocity. The vigil was sponsored by a large, local church and less than a hundred people showed up. Again, I was shocked and dismayed. Have we so insulated ourselves that even this doesn't get through?
I felt that I had to take my sadness into meditation, a place where I often go to ask Mother Shekhina (a.k.a. Holy Spirit) for an answer to something I just can't wrap my mind around. I hope the answer I got will help those of you who are also struggling to understand this seemingly inhumane and un-American turn of events.
Barbara,
"The immigrants at the border are an illusion. Unfortunately, it is an illusion that many share and so it seems real.
In the illusion, the children being taken away from their parents and put into cages are the symbol of our own abandonment and helplessness when we were children. For many of us, they are a symbol of being imprisoned in a childhood where there was neglect, lack, and little to no love. Most importantly, they are a symbol of our separation from God and all that is holy, pure, and innocent. It strikes a chord so deep in our own wounding that we cannot (and should not) turn away, but we want to turn away because it is so very painful.
Look on this as an opportunity to heal your own childhood wounds, whatever they may be. Let the pain come up and surround it with love. Tell that child within over and over: "I am sorry, please forgive me, thank you, I love you" (The Ho'Oponopono prayer). By doing this, you are giving the child a voice and thanking it for allowing you to receive healing. You are asking it to forgive you for ignoring it, and you are loving it with all your heart and soul (literally). When you heal this child, you heal the world.
Now, from this place of love, send love to all children and do whatever you may be guided to do in the world with love, not with attack or anger. Love is the balm that heals all wounds no matter how deep. No one needs to tell you what love is because you know in your heart what it is. Books, songs, poems, can but point the way. You know and you have always known. So go forth in and with love. That is the answer. Love will always and forever be the victor."

In my book: Finding Your Self in the Mirror: Awakening Through Mirror Affirmations for the 365 Lessons of A Course in Miracles, I give affirmations and a text quote for each of the lessons of the Course. Following that model, I would like to end this article with the affirmations and text quote that are in my book for ACIM Lesson 46: God is the Love in which I forgive. I hope by using these affirmations you will strengthen your own healing and the healing of all God's children:
1. I am willing to release my illusions of guilt and blame.
2. I am willing to see things differently.
3. I see with the light of God.
4. With the Love of God, I forgive my brother.
5. With the Love of God, I forgive myself.
6. With the Love of God, I love myself.
7. God is the Love in which I am blessed.
"Perhaps you do not see the need for you to give this little offering. Look closer, then, at what it is. And, very simply, see in it the whole exchange of separation for salvation." (T-21.II.6:1-3)
Rev. Barbara Goodman Siegel O.M.C., is author of "Finding Your Self in the Mirror: Awakening Through Mirror Affirmations for the 365 Lessons of A Course in Miracles." She also is a Pathways of Light minister living in St. Louis, Missouri. Email: .(JavaScript must be enabled to view this email address) Web: Barbaragoodmansiegel.com

© Copyright 2019, Pathways of Light. https://www.pathwaysoflight.org
You may freely share copies of this with your friends, provided this notice is included.
Has this page been helpful to you?
Your contribution in support of this site is greatly appreciated. To make a tax deductible contribution or become a member online, go to http://www.pathwaysoflight.org/polshop/home.php?cat=254.
Or send a check or money order to Pathways of Light, 6 Oak Court, Ormond Beach, FL 32174-2623 (USD only, please) Thank you for your support.