April-June, 2019
Journeying Through This World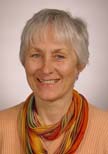 … with the Course in hand. So many lessons, so much time, so many thoughts, and feelings that lead us into many different directions. I am busy un-learning.
What belief do I need to let go of? What pain is creeping in that is uninvited and yet keeps me focused on it? What has gotten me into this grumpy mood that I don't want to do anything but bite back and attack?
I try to quiet myself and still those thoughts that come flashing in from all sides. Breathing in, breathing out. Forgiving and letting go.
Then, out of seeming nowhere comes the Thought: "I Am the Christ." I stop and listen. Really? Where did that come from? That would not be the ego.
And so I focus on being Christ. I feel a gentle joy within my heart, and for this moment, and the next and the next, I feel at peace and feel a light shining; first a small one, then it is growing … How big can I let it grow?
I know this is me also. I have not totally let go of this personality, this worldly appearance in a made-up world. But, for the moment, I can feel the strength of the Light within me, and nothing else is really important right now. I sense there are many around me who are loving companions, and I am grateful.
I am welcome in the Christhood. How peaceful the Joy.
Rev. Maria Kingsley is a Pathways of Light minister living in Tucson, Arizona. Email: .(JavaScript must be enabled to view this email address) 520-780-0170
© 2019, Pathways of Light. https://www.pathwaysoflight.org
You may freely share copies of this with your friends, provided this copyright notice and website address are included.
---
Back to main page of Miracles News.
Has this page been helpful to you?
Your contribution in support of this site is greatly appreciated. To make a tax deductible contribution or become a supporting member online, click here.
Or send a check or money order to Pathways of Light, 6 Oak Court, Ormond Beach, FL 32174-2623 (USD only, please) Thank you for your support.
Articles by
Pathways of Light Ministers
and Others.
Pathways of Light Membership
Support Pathways of Light with an annual membership donation or become a sustaining member through monthly contributions. Includes printed Miracles News magazine mailed quarterly. Click here.
Subscribe to printed version.
To have Miracles News magazine mailed to you quarterly, Click here.
Most recent entries
Miracles News has been viewed 1072051 times
Archives