April-June, 2018
We Don't Need Love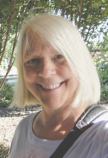 I was preparing for my trip to see the folks in Florida. Joyful! Joyful! I spent the day before I left with my beautiful granddaughter. We often draw, paint, or make things together and as we do, we talk. She shares about her friends or school and I share some of the lessons/gifts I have learned on my spiritual journey.  
I had the idea of making valentine cards for each other. It started with hearts and border designs in pinks and purples. She likes to draw cats and dogs. She drew us standing next to each other with big smiles and birdies flying around us. Singing, of course.  
The message that came to me is a version of a Beatles song that I love so dearly. I have sang my own version of it many times. I think the Beatles would have evolved to this version if they had A Course in Miracles in the early 60's. So I wrote my version which is, " All we are is Love" inside my card to her.
When my granddaughter saw this she said, "Aren't the words, "All we need is love?" I said, "We don't need love because we are love."
Oh! She was thinking it over as Spirit was helping me restate the idea in a fun way. I played around with different ways to say it. Spirit said, "We don't need love, cuz we BE Love!" She also wrote it in her own words on her card for me: we dont nid love cas we are love. She is six. She is eternal. She is my joy coach. She is pure Love. 
Now I look at my beautiful Valentine card every day, reminding me of the Truth. All we are is Love, Love. Love is all we are.
Rev. Susan Comello is a Pathways of Light minister living in Madison, Wisconsin. Email: .(JavaScript must be enabled to view this email address)
© 2018, Pathways of Light. https://www.pathwaysoflight.org
You may freely share copies of this with your friends, provided this copyright notice and website address are included.
---
Back to main page of Miracles News.
Articles by
Pathways of Light Ministers
and Others.
Pathways of Light Membership
Support Pathways of Light with an annual membership donation or become a sustaining member through monthly contributions. Includes printed Miracles News magazine mailed quarterly. Click here.
Subscribe to printed version.
To have Miracles News magazine mailed to you quarterly, Click here.
Most recent entries
Miracles News has been viewed 943044 times
Archives