January-March, 2018
What Will It Take?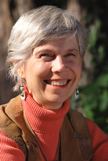 At the assisted living facility where I used to work, one of the memory impaired residents entered a room and closed the door. The problem was, it wasn't her room. When the housekeeper pointed out her mistake, the resident became belligerent and started to barricade the door.
From the common living room where I was giving a presentation, I could watch what was going on. None of the staff, nor her grown daughter who had been called in, were having any luck convincing the woman that that room was not her home. Because they were being gentle and trying not to further confuse or frighten her, when I left a half hour later, the problem still had not been resolved.
In hindsight, I can see how perfectly that situation mirrored, and still mirrors, what I am experiencing as I study A Course in Miracles. The Course tells me repeatedly that this body that I believe I reside in is not my true home. That my true home is at one with God in Spirit — not in the world of form. It teaches this slowly and gently through 365 daily lessons so as not to overwhelm or frighten me.
As much as I swear I want to know and live the truth, my defenses go up and I dig in my heels. This body must be my home! I can see it, feel it, and touch it. I can attack with it or be attacked. I have to protect it. I have to feed it. I experience pain with it… On and on it goes. The Course reminding me of the truth, and me inventing one scenario after another to disprove it; afraid to let go of the image I have made; unwilling to admit that I might be wrong.
I wonder what it finally took to convince that woman that the territory she was so staunchly defending was not her home.
I wonder what it will take to convince me.
The Voice
If you've ever watched the popular vocal talent show, The Voice, you've seen the four judges selecting members for their team through a process called "blind auditions." They sit with their backs to the singers so that their choice is based solely on the voices they are hearing. They cannot be distracted or influenced by the many other factors that would be evident if they were allowed to watch them perform.
I realize that I am a lot like the judges. I, too, am listening to, and comparing, different voices; the ego's voice of fear and the Holy Spirit's voice for Love. The difference is, I usually forget to turn my back on what my eyes would tell me. I often choose which voice to listen to based on appearances. Gradually, I am learning that my eyes never show me the truth. True vision comes when I close my eyes and listen only to the voice of love within.
On the show one voice is ultimately chosen above all others to be the best, but everyone knows that there are a number of superb voices worth listening to. Unlike the show, there are only two voices I can choose between and only one of them is real. The ego's fearful voice only leads me to more illusion and suffering. The voice for love leads me home. I know it's time to close my eyes and choose again because, between these two voices, quite frankly — there's no contest.
Rev. Paula Richards, O.M.C., is a Pathways of Light minister living in North Billerica, Massachusetts. Email: .(JavaScript must be enabled to view this email address)
Web: spiritrisingministries.com
© 2017, Pathways of Light. https://www.pathwaysoflight.org
You may freely share copies of this with your friends, provided this copyright notice and website address are included.
---
Back to main page of Miracles News.
Articles by
Pathways of Light Ministers
and Others.
Pathways of Light Membership
Support Pathways of Light with an annual membership donation or become a sustaining member through monthly contributions. Includes printed Miracles News magazine mailed quarterly. Click here.
Subscribe to printed version.
To have Miracles News magazine mailed to you quarterly, Click here.
Most recent entries
Miracles News has been viewed 935179 times
Archives