To gain the most from A Course in Miracles Text Made Simple, we recommend that
you read the corresponding chapter and section in the Text of the Second or
Third Edition of A Course in Miracles published by the Foundation for Inner Peace.
---
Tell a Friend
about this article or send the link with a
Click link to go to:
Previous Section • Next Section • Chapter Index
Chapter 21: Reason and Perception
Section VIII: The Inner Shift
Read ACIM Chapter 21, Section VIII (pages 465-66)
What is the inner shift that brings us to a place of constant joy and happiness?
Jesus is guiding us to the truth about ourselves and every brother. The truth is, God is changeless Love, and so are we because we are Love's extension. The inner shift what is required is related to that important fourth question Jesus talked about in the last section: "And do I want to see what I denied because it is the truth?" (T-21.VII.5:14) Jesus is guiding us to a shift in what we value so that we move toward wanting to see the constant and changeless Love of God above all else. We are being taught to shift our values from the inconstant and ever changing world of the ego to the reality of God's wholeness, which brings us constant happiness and joy. We are being taught to shift our focus from believing in the helplessness and powerlessness that comes with the ego thought system to accepting the constant joy and happiness that comes from remembering God.
Are we always seeing what we desire to see in our heart of hearts?
What we want to see we will see. As long as we desire to see differences, diversity and the constantly changing world of the ego, that is what we will see. Jesus tells us, "He goes from life to death, the final proof he valued the inconstant more than constancy. Surely he thought he wanted happiness. Yet he did not desire [happiness], because it was the truth, and therefore must be constant." (1:5-7) In this section, Jesus reminds us that God is changeless joy and happiness. God is what is true; God is what is real. Jesus is helping us to understand that when we want to see something different from the truth, we are denying our happiness and choosing to see what is not real.
How can we tell if we are allowing ourselves to become aware of God's happiness?
As we allow ourselves to become aware of God's happiness, we will become aware that it is eternal — it does not come and go. God's happiness is not fleeting. It is constant and stays the same. Jesus tells us, "The constancy of happiness has no exceptions; no change of any kind. It is unshakable as is the Love of God for His creation. Sure in its vision as its Creator is in what He knows, happiness looks on everything and sees it is the same. It sees not the ephemeral, for it desires everything be like itself, and sees it so. Nothing has power to confound its constancy, because its own desire cannot be shaken. It comes as surely unto those who see the final question is necessary to the rest, as peace must come to those who choose to heal and not to judge." (2:3-8)
Is becoming aware of God's happiness the same as accepting the holy instant?
Becoming aware of God's happiness comes along with accepting God's wholeness, or holiness. This is the same as accepting the holy instant. Jesus tells us, "What is the holy instant but God's appeal to you to recognize what he has given you? Here is the great appeal to reason; the awareness of what is always there to see, the happiness that could be always yours. Here is the constant peace you could experience forever. Here is what denial has denied revealed to you. For here the final question is already answered, and what you ask for given. Here is the future now, for time is powerless because of your desire for what will never change. For you have asked that nothing stand between the holiness of your relationship and your awareness of its holiness." (5:1-7)
What happens as we truly desire to receive what God has given us?
If we see a world of separation, we have denied what God has given us because we cannot see wholeness and separation at the same time. The good news is that we can change our mind about what we want to see. We can choose to see what we denied before. We can become aware of God's wholeness because it is our true Identity for eternity. "You who complete God's Will and are His happiness, whose will is powerful as His, a power that is not lost in your illusions, think carefully why you have not yet decided how you would answer the final question." (4:1) We are learning to say 'yes' to that last question, "Do I want to see what I denied because it is the truth?" (T-21.VII.5:14)
As we desire to receive what God has given us, we will receive His peace and happiness. We will receive what never changes — the holy instant. We are being gently guided to 'the inner shift' that brings us to the awareness of what is true eternally. We are learning that only God is true and all the rest is merely illusions that constantly shift and change. When we want His peace and happiness above all else, we will receive it.
Click link to go to:
Previous Section • Next Section • Chapter Index
Has this page been helpful to you?
Your contribution in support of this site is greatly appreciated. To make a tax deductible contribution or become a supporting member online, click here.
Or send a check or money order to Pathways of Light, 6 Oak Court, Ormond Beach, FL 32174-2623 (USD only, please) Thank you for your support.
This section has been viewed 1132870 times
Reference Keys for
A Course in Miracles Quotes
Free Online Resources
We'd Like to Hear from You
ACIM Minister Training
ACIM Practitioner Courses
Events
Featured Items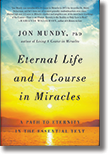 New! Eternal Life and A Course in Miracles by Jon Mundy, PhD. A look at what the Course tells us about death and how it is we come to see into Eternity. Learn more.

God Possibilities by Tom Golinski. An inspirational book for ACIM students/ teachers worldwide. A powerful tool to help you accelerate receiving Holy Spirit's inspiration. Learn more.

Prayer for All Solutions by Rev. Joe Wolfe. A single, flowing prayer that invites the reader to a genuine acknowledgement of the truth that God Is, and that our complete and total happiness is God's only intention. More….

Listen & Receive 30-Day Home Study Learn to receive insight for your life in a form that is perfect for you …heal fears, find joy & peace. Learn more.

Minister Training — based on principles of A Course in Miracles, including counselor training and ordination. More….

24 ACIM Practitioner courses including 50-page study guide, CD's with facilitator. More….

From the Christ Mind scribed by Darrell Morley Price. A simple, yet profound message that you can immediately apply to current circumstances. More….

Hey, Holy Spirit, It's Me Again by Rev. Myron Jones. An indispensable guide for anyone on the path of ACIM with insights on the 1st 90 lessons. More….

Forgiving Kevin Audio book by Rev. Larry Glenz. A moving and inspiring true story of a father/son relationship that withstood seven years of addiction, recovery, and relapse. More….

Healing Family Relationships Applying the Principles of A Course in Miracles 6 CD audio book by Rev. Myron Jones. Learn how family relationships offer fertile grounds for forgiveness and healing your judgments of the world. More.