To gain the most from A Course in Miracles Text Made Simple, we recommend that
you read the corresponding chapter and section in the Text of the Second or
Third Edition of A Course in Miracles published by the Foundation for Inner Peace.
---
Tell a Friend
about this article or send the link with a
Click link to go to:
Previous Section • Next Section • Chapter Index
Chapter 9: The Acceptance of the Atonement
Section V: The Unhealed Healer
Read ACIM Chapter 9, Section V (pages 171-173)
What happens when we do not know that the Holy Spirit is in our minds?
We cannot go to the ego mind for healing. The ego is the part of the mind that believes in separation. It cannot be expected to offer the means to recognize oneness, which is the only healing. Whether what we teach heals or not depends upon which guide we choose. When we believe we are of ourselves alone and try to heal, we have chosen the wrong guide. When we recognize that we are not of ourselves alone, that we share our one Identity as an extension of God's Love, we are following the Guide that heals.
We cannot give what we don't know we have. If we don't know the Holy Spirit is in our minds, we will not recognize the truth in our brother's mind. Because the Holy Spirit is in our right mind and is our link to Reality, when we offer the Holy Spirit's vision of wholeness, we offer the perception of Reality to our brothers. This is true healing, for it brings release from illusions. Because release from illusions brings release from guilt and fear, this release always stimulates gratitude to the Holy Spirit, the Light in our minds.
When are we instrumental in helping our brothers heal?
We are instrumental in helping our brothers heal as we let our own minds be healed. As we open to the truth in our minds, we acknowledge the truth in every brother's mind. At the level of truth, our minds are joined. There is no separation. The Holy Spirit is always the Healer. Because the Holy Spirit is the truth in everyone's mind, everyone can access it as he is ready and willing.
As we let our minds be healed by the Holy Spirit, we are demonstrating that the Holy Spirit is the Healer. We know the Holy Spirit is not just in our mind but in every mind and we have confidence in our brother that he can access the Holy Spirit just as we have. As we open to the Holy Spirit, He shows the way to both of us. The Holy Spirit is in charge and the only sane thing to do is follow. The peace of God comes to every mind that asks for it and is willing to accept it. God's peace heals all nightmares and shows us that they are not true. "Trust Him, for help is His function, and He is of God. As you awaken other minds to the Holy Spirit through Him, and not yourself, you will understand that you are not obeying the laws of this world." (8:11-12)
Click link to go to:
Previous Section • Next Section • Chapter Index
Has this page been helpful to you?
Your contribution in support of this site is greatly appreciated. To make a tax deductible contribution or become a supporting member online, click here.
Or send a check or money order to Pathways of Light, 6 Oak Court, Ormond Beach, FL 32174-2623 (USD only, please) Thank you for your support.
This section has been viewed 1198673 times
Reference Keys for
A Course in Miracles Quotes
Free Online Resources
We'd Like to Hear from You
ACIM Minister Training
ACIM Practitioner Courses
Events
Featured Items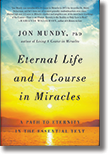 New! Eternal Life and A Course in Miracles by Jon Mundy, PhD. A look at what the Course tells us about death and how it is we come to see into Eternity. Learn more.

God Possibilities by Tom Golinski. An inspirational book for ACIM students/ teachers worldwide. A powerful tool to help you accelerate receiving Holy Spirit's inspiration. Learn more.

Prayer for All Solutions by Rev. Joe Wolfe. A single, flowing prayer that invites the reader to a genuine acknowledgement of the truth that God Is, and that our complete and total happiness is God's only intention. More….

Listen & Receive 30-Day Home Study Learn to receive insight for your life in a form that is perfect for you …heal fears, find joy & peace. Learn more.

Minister Training — based on principles of A Course in Miracles, including counselor training and ordination. More….

24 ACIM Practitioner courses including 50-page study guide, CD's with facilitator. More….

From the Christ Mind scribed by Darrell Morley Price. A simple, yet profound message that you can immediately apply to current circumstances. More….

Hey, Holy Spirit, It's Me Again by Rev. Myron Jones. An indispensable guide for anyone on the path of ACIM with insights on the 1st 90 lessons. More….

Forgiving Kevin Audio book by Rev. Larry Glenz. A moving and inspiring true story of a father/son relationship that withstood seven years of addiction, recovery, and relapse. More….

Healing Family Relationships Applying the Principles of A Course in Miracles 6 CD audio book by Rev. Myron Jones. Learn how family relationships offer fertile grounds for forgiveness and healing your judgments of the world. More.