July-September, 2017
Happy Mother's Day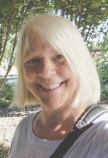 They say "Happy Mother's Day" and I smile and say, "Thank you." I think of my mother and I smile. I feel closer to her now. She has been gone for over 15 years. I have affection and appreciation for her. My mother is myself. My daughters are myself. My grand-children are myself.
I also felt the ego rise up. OOOooo. The ego likes to get heard when it comes to mothers and daughters and grand-children in this so-called life. This form of special relationship is still catching "me" sometimes. It's amazing how many shades of special can come up with family issues.
I was okay yesterday for awhile. It was a beautiful day outside, sunny and bright. I have learned not to expect all the expectations that have sparked the ego in the past. But, still, apparently there are a few layers to forgive. The ego wanted to be oh so appreciated and told how I am surely the most wonderful mother that ever lived! Well, at least some form of that adoration! At least just a little tiny bit of adoration! Of being special, of being "loved."
I wasn't even aware of how it was "here," hanging around, within me yet without even being conscious of it. It has been a long-held belief in separation that has required continued diligence to observe, and to release to Love. I am so grateful Spirit showed me this morning, the "day after," how I had let this belief creep in, let it get me down, and then miraculously, forgiven as I remembered the Truth: That the ego and what it believes is simply not true.
It happened while looking at Facebook, of all things. All things can be a teaching situation, with openness and willingness. I had thought I got through the day okay yesterday. I worked on my expectations and appreciated the day as it presented itself. But then today, I looked at Facebook and saw the happy celebrations of all sorts of Mother's Day gatherings, wishes and appreciations. I felt the ego deflate my well-being. I felt sad. I did not get that kind of special appreciation!
The sadness lasted only a short while. I really do appreciate the way Spirit comes to me and reminds me of the Truth before much time is spent in suffering. I asked Holy Spirit to look at this with me. Why am I so sad, when before I was fine?
Holy Spirit said, "Write about it. It may be something for others to realize: Special relationships require specific words or actions to make them okay. Your relationships with mother and daughters are special relationships, because you want them to show up in a certain way in order for you to feel happy. Give every aspect of all relationships to me. There is nothing special about your mother or your daughters or any person. We are all the same love. Remember this and return to joy and peace."
Thank you God for helping me see where I still have remnants of unhealed beliefs in separation. I am here to extend love in every moment to ALL. Miracles bloom and grow with our willingness to forgive all illusions. The choice for love is given me. There are no shades of special in Love. There is only Love. I choose Love now. I return Home. The rest is just a funny dream, merrily, merrily, I am One with God.
Rev. Susan Comello, O.M.C., is a Pathways of Light minister living in Madison, WI. Email: .(JavaScript must be enabled to view this email address)
© 2017, Pathways of Light. http://pathwaysoflight.org
You may freely share copies of this with your friends, provided this copyright notice and website address are included.
---
Back to main page of Miracles News.
Has this page been helpful to you?
Your contribution in support of this site is greatly appreciated. To make a tax deductible contribution or become a supporting member online, click here.
Or send a check or money order to Pathways of Light, 6 Oak Court, Ormond Beach, FL 32174-2623 (USD only, please) Thank you for your support.
Articles by
Pathways of Light Ministers
and Others.
Pathways of Light Membership
Support Pathways of Light with an annual membership donation or become a sustaining member through monthly contributions. Includes printed Miracles News magazine mailed quarterly. Click here.
Subscribe to printed version.
To have Miracles News magazine mailed to you quarterly, Click here.
Most recent entries
Miracles News has been viewed 880450 times
Archives