July-September, 2017
The Power of the Inner Voice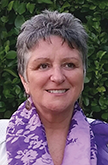 I was a determined, self-employed successful business woman, who for 25 years was highly driven to prove my self-worth in the world, taking financial business risks, making and losing money. I was steadily building a self-image from having a beautiful home, cars, clothes and expensive holidays. I believed that this would make me feel important and that this was my true identity. I entered into an intimate relationship, thinking that it would enhance my life even further as my partner held an important position in society. So wow! Life couldn't be any better!
Totally unexpectedly my "perfect" life, came crashing down around me; my relationship ended suddenly resulting in financial problems affecting my home and business. It felt like the whole world I had so diligently created was being very quickly eroded. At this time I began to receive guidance from the Inner Voice which spoke to me of my true Self — a Self which abided above and beyond the turmoil of the world.
A few nights later, during a period of intense distress, I experienced a profound shift in my awareness. I found myself totally surrendering my ego attachments which I realised were the cause of all my suffering. I found myself saying to Jesus, "I'm at the end of my tether. I can't do this anymore. It's over to you."
It was at this point that I made a commitment to search for a more fulfilling and spiritual way to live. However, my spiritual journey really began in 2008 when I started to read A Course in Miracles. I joined a group in Belfast and I spent the next five years reading the daily lessons. Then in 2012 I was so happy to be invited to become a facilitator of the group.
During the summer of 2013, I felt a deep desire to devote more time praying and reading the Course. I declined an invitation to travel to America and I opened my home for meetings to share the teachings of the Course with other students.
I had also mentioned to my spiritual teacher, that I would love to take six months off work to spend more time studying the Course. It was during this period that I began experiencing a call to read repeatedly the Characteristics of the Teachers of God. I was especially drawn to the first characteristic — The Development of Trust.
Working through this first section on Trust asking, going within, questioning Spirit as to what this was saying to me, I began to ask why I was being guided to spend so much time on this one characteristic. As I studied and questioned and listened I began to have the direct experience of peace, joy, love and awareness of a deeper connection with God.
In November 2013 I was diagnosed with breast cancer. I was deeply shocked to be informed by my doctor that it was invasive and aggressive and that I needed to take a year off work to have chemo and radiotherapy. My earlier prayers asking for six months off work were doubly answered! That was the day I realised that my life would never be the same. In January 2014 I started my treatment. So now this was an opportunity to cultivate deep trust in God and a deep devotion of prayer. Trusting in God was going to give me the strength to open into the unknown and accept what was, letting go of all my fears and expectations.
Against all advice I accepted an invitation to facilitate at a retreat in Greece, having been reassured by my Inner Voice that that this was the perfect next step in my development as a Teacher of God.
By now I was loving my new way of living, handing everything over to my Inner Teacher, the inner Voice of God within. All decisions were coming from my Higher Self as to where to go, what do and what to say. I was back aligned again with my peace. During this journey I had experienced letting go and surrendering to all the structures that had held my known identity in place.
Totally unexpectedly and unplanned, I was asked by a colleague who was undecided as to whether she should continue her training in ministry with Pathways of Light to have a look at one of her Pathways courses. She emailed me course 114:The Transforming Power of Trust. I couldn't believe it! Once again I asked Spirit for inner Guidance and my Inner Voice clearly told me that this was for me to do and not her. It was very clear to me that I was being directed on this path of ministry. During my days of treatment I would sit with Spirit and do my inner work, feeling that I was bringing more light into my own life and the world. I was ordained as a Pathways of Light minister in March of 2016.
I had an invite to travel to Germany in May to share on "Oneness in Relationships" and I was feeling so happy knowing that within each one of us lie reservoirs of love. I had become so dedicated to awakening to the love that is our true Nature and a gateway to deeper truth.
Before leaving for Germany I had asked my spiritual teacher if I could borrow a book to read by Alan Watson, entitled "What Is Death?" Not knowing why, but once again I was feeling a great invitation from Spirit to go deeper. Life was starting to unfold at a rapid pace and now I decided to give up being self-employed and to become a Teacher of God. This was my calling for sure. I remember how excited I was as I was having so many direct experiences under God's guidance and knowing deep down I never had been so happy. My next step just unfolded and that was to start to exit out of my business and trust God that all would be well.
After returning home from Germany in early June 2016 I had started to feel in pain my back, so I went to see my doctor. Within minutes of speaking with her I ended up in hospital for some scans. Shortly after that I was diagnosed with cancer on my liver, vertebrae and pelvis. I was suddenly staring death in the face and being told I had two months to live. I was in total shock and started to question my relationship with God. "Why, was this happening to me for the second time?" I screamed at God. This time there was no denying the vulnerability I was feeling.
A few days later, lying in my hospital bed my Inner Voice whispered, "Still will I trust You." That was all I heard. This took me to a place of a deeper experience of trust within, realising in a profound way what was truly valuable, and that Spirit and not the body is real. Today, nine months later, I am through the chemo treatment and am waiting on further results.
The teachings from A Course in Miracles have been the best thing that has ever happen to me. The more I put them into the practice the more I receive.
Paying attention to that Inner Voice, the voice that is with us 24/7 will give me the grace to deal with whatever is for my higher good. To keep my mind awake, I always remember that I have a choice. I can choose again when the ego mind tries to put me into fear. I'm holding life differently now. I live a happier and more peaceful life, as no decisions are made without first asking and listening to the Voice for God. I hold deep gratitude for the ease and grace I have received.
Rev. Patricia Black, O.M.C., is a Pathways of Light minister living in Belfast, Northern Ireland. Email: .(JavaScript must be enabled to view this email address)
Website: miraclemind.ie
© 2017, Pathways of Light. http://pathwaysoflight.org
You may freely share copies of this with your friends, provided this copyright notice and website address are included.
---
Back to main page of Miracles News.
Has this page been helpful to you?
Your contribution in support of this site is greatly appreciated. To make a tax deductible contribution or become a supporting member online, click here.
Or send a check or money order to Pathways of Light, 6 Oak Court, Ormond Beach, FL 32174-2623 (USD only, please) Thank you for your support.
Articles by
Pathways of Light Ministers
and Others.
Pathways of Light Membership
Support Pathways of Light with an annual membership donation or become a sustaining member through monthly contributions. Includes printed Miracles News magazine mailed quarterly. Click here.
Subscribe to printed version.
To have Miracles News magazine mailed to you quarterly, Click here.
Most recent entries
Miracles News has been viewed 903987 times
Archives