April-June, 2017
What Do You Want?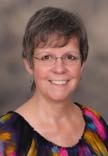 I ask myself this often. What do I want? More than anything, I want the peace of God. More than anything, I want to know my Oneness with my Creator, but is this what I really want?
My actions show me I want order. I want to know what's going to happen next and how it's going to happen. My actions show me I want to be in control. I want to call the shots. I want to schedule my life and have everything show up on time as predicted. I think I feel very safe when I'm able to do this, but is this really safety or is it me playing God?
It's always when I have to accept something I can't change that I am reminded, once again, just how dependent I am on God. It's only when I refuse to be dependent on God that I feel fear. If I'm not accepting my dependence, I'm trying to be the god of my life. I'm not in control. I never have been and never will be.
Of course I'm dependent on God! This requires me to be humble. The ego doesn't like this at all. It wants to be arrogant. If I listen to the ego it tells me that God doesn't love me which fills me with incredible fear. The ego tells me I'll never be good enough; never be worthy and that I don't need God. The ego wants to kill me so God can't. That's the crucifixion.
The ego is simply confused. Thankfully, the Holy Spirit in me knows what's going on and is always quietly telling me to remember who I am. I'm God's child. I'm totally dependent on Him. I must trust Him with my life and my schedule if I'm to have any peace at all. That's the resurrection.
One thing that helps me is to remember the repeated message in Lessons 201 through 220: "I am not a body. I am free. For I am still as God created me." Often these words come to my mind when I'm feeling stressed. When I am able to accept this about myself I'm able to accept the gift God gave me when He created me whole and perfect like Himself. Now I can stop listening to the ego. The ego knows nothing.
My Self accepts the Atonement as it is. It doesn't try to put the chains of conditions on God. It accepts the Love of God by knowing we are One. Only I can crucify myself. God's not even interested. He only loves me as His own. God has given me the grace to accept this. I cannot learn grace, I can only accept it and in accepting grace, I have accepted the Atonement for myself. That's why I'm here — to allow the Holy Spirit to remove all the blocks to Love's presence in me. If I would know myself as part of God, I must recognize that I am very holy. As part of Him, I am dependent on Him.

I humbly accept this as the Truth about me and my brother and I accept the Oneness of Love. I accept Who God is and Who I am. I'm no longer afraid to live my life. I'm no longer afraid to let Him call the shots. I'm accepting and allowing His Love to work through me. I use my life as a mirror to teach me the things I need to learn and I accept the Holy Spirit's help in this learning. This is what I really want and knowing this brings me the Peace of God.
Rev. Maura Williams, O.M.C., is a Pathways of Light minister living in Hot Springs, Arkansas. Email: .(JavaScript must be enabled to view this email address)
© 2017, Pathways of Light. http://pathwaysoflight.org
You may freely share copies of this with your friends, provided this copyright notice and website address are included.
---
Back to main page of Miracles News.
Has this page been helpful to you?
Your contribution in support of this site is greatly appreciated. To make a tax deductible contribution or become a supporting member online, click here.
Or send a check or money order to Pathways of Light, 6 Oak Court, Ormond Beach, FL 32174-2623 (USD only, please) Thank you for your support.
Articles by
Pathways of Light Ministers
and Others.
Pathways of Light Membership
Support Pathways of Light with an annual membership donation or become a sustaining member through monthly contributions. Includes printed Miracles News magazine mailed quarterly. Click here.
Subscribe to printed version.
To have Miracles News magazine mailed to you quarterly, Click here.
Most recent entries
Miracles News has been viewed 860011 times
Archives