Browse All Ministers | Available Minister Services | By ACIM Practitioner Course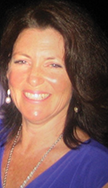 Rev. Laurie J. Nevin, Lucan, ON
Living the role of an Ordained Ministerial Counselor while continuing to devote my life to the teachings of A Course in Miracles, is living authentically from my True Self. I've chosen A Course in Miracles as the path Home for me and Pathways of Light offers further illumination on this journey. This path involves mind healing, miracles, and awakening to the Truth; the return to one's Holy Self… the return to Love (God).
As a result of the turbulence I caused for myself in this illusory world, my seeking for answers from the outside naturally changed to going within where Truth resides. It's as if some cracks were made for the Light to shine in. The ego mind was in control far more than the Christ Mind. A silent yet nagging desperation ran through my entire being and the "search for meaning" began at a young age. I feel extremely thankful for the miracles I've received and continue to receive on this gentle awakening journey "home."
I AM in Love with God and so are you! "Together we are ONE in Love in God." I believe the reason I am still walking this planet is to be an extension of this Love and healing to all. I made the decision to turn my life and will over to the care of God. I ask God to use me every day and for the Holy Spirit to lead the way. It is my mandate to live from my Holy Self, which in turn allows me to be a part of your healing and awakening. As I heal and awaken, the world I see heals and awakens too. This makes my heart sing as I witness and receive the gifts of the Holy Spirit; knowing that it is always an equal healing affecting everyone.
My services include weddings, spiritual ceremonies, counseling, public speaking, group facilitation, and writing. I'm passionate about facilitating spiritual care within psychiatric services and allowing the deep healing of Holy Spirit to lead the way.
Rev. Laurie is also a Pathways of Light Spiritual Relationship Counselor and is available for the 12-week Spiritual Relationship Counseling program.
"Heaven is neither a place nor a condition. It is merely an awareness of perfect Oneness and the knowledge that there is nothing else; nothing outside this Oneness and nothing else within." ACIM, T. Ch.18
Click here to visit Laurie's website.
Call Laurie at 519-854-8541.
To email Laurie, Click Here.
Rev. Laurie J. Nevin offers the following services as a Pathways of Light Minister:
This page has been viewed 239058 times
Free Online Resources
We'd Like to Hear from You
ACIM Minister Training
ACIM Practitioner Courses
Featured Items

Hey, Holy Spirit, It's Me Again by Rev. Myron Jones. An indispensable guide for anyone on the path of ACIM with insights on the 1st 90 lessons. More….

The Lifetimes When Jesus and Buddha Knew Each Other by Gary Renard. Clarifying the difference between duality and nonduality. Learn more.

Eternal Life and A Course in Miracles by Jon Mundy, Phd. A Path to Eternity in the Essential Text. Learn more.

True Forgiveness by Rev. Jennifer McSween. The Proven Path from Pain to Power in 5 Simple Steps. Learn more.

Listen & Receive 30-Day Home Study Learn to receive insight for your life in a form that is perfect for you …heal fears, find joy & peace. Learn more.

Minister Training — based on principles of A Course in Miracles, including counselor training and ordination. More….

24 ACIM Practitioner courses including 50-page study guide, CD's with facilitator. More….

Live Your Happy by Rev. Maria Felipe. A real-world approach to living happily, based on A Course in Miracles. Learn more.

From the Christ Mind scribed by Darrell Morley Price. A simple, yet profound message that you can immediately apply to current circumstances. More….

Forgiving Kevin Audio book by Rev. Larry Glenz. A moving and inspiring true story of a father/son relationship that withstood seven years of addiction, recovery, and relapse. More….

Healing Family Relationships Applying the Principles of A Course in Miracles 6 CD audio book by Rev. Myron Jones. Learn how family relationships offer fertile grounds for forgiveness and healing your judgments of the world. More.