Browse All Ministers | Available Minister Services | By ACIM Practitioner Course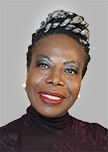 Rev. Jennifer McSween, Nuns Island, QC
Jennifer McSween, O.M.C., is a Life Coach and Metaphysical Practitioner offering Spiritual Mind Treatments. She has a B.A. and M.A. in Counseling Psychology and is currently pursuing a Doctorate in Counseling Metaphysics. Jennifer is also a professional speaker, a member of the Canadian Association of Professional Speakers and founder of Life Works Empowerment Network. She is an Associate Member of the International Metaphysical Ministry and board certified pastoral counselor.
To email Jennifer, Click Here.
Rev. Jennifer McSween offers the following services as a Pathways of Light Minister:

Rev. Laurin Kyle, Rawdon, QC
Rev. Laurin Kyle is an Ordained Ministerial Counselor and avid student of A Course in Miracles.
Laurin facilitates correspondence courses by phone via the internet. She offers Accessing Inner Wisdom counseling by phone and Skype/Internet voice. Spiritual Awakening and Healing Inner Child 8-wk programs are offered one-on-one by phone.
"I am grateful to be helpful and look forward to facilitating Pathways of Light courses to further your healing and your awakening to your true purpose. I am an experienced Pathways of Light facilitator and Accessing Inter Wisdom Counselor as well as a Yoga and Méditation Teacher. Your peace and your purpose are important to me and I welcome being of service."

Call Laurin at 514-701-5953. (Please leave a message.)

To email Laurin, Click Here.
Rev. Laurin Kyle offers the following services as a Pathways of Light Minister:
Rev. Laurin Kyle offers the following Miracles Practitioner courses:
This page has been viewed 239041 times
Free Online Resources
We'd Like to Hear from You
ACIM Minister Training
ACIM Practitioner Courses
Featured Items

Hey, Holy Spirit, It's Me Again by Rev. Myron Jones. An indispensable guide for anyone on the path of ACIM with insights on the 1st 90 lessons. More….

The Lifetimes When Jesus and Buddha Knew Each Other by Gary Renard. Clarifying the difference between duality and nonduality. Learn more.

Eternal Life and A Course in Miracles by Jon Mundy, Phd. A Path to Eternity in the Essential Text. Learn more.

True Forgiveness by Rev. Jennifer McSween. The Proven Path from Pain to Power in 5 Simple Steps. Learn more.

Listen & Receive 30-Day Home Study Learn to receive insight for your life in a form that is perfect for you …heal fears, find joy & peace. Learn more.

Minister Training — based on principles of A Course in Miracles, including counselor training and ordination. More….

24 ACIM Practitioner courses including 50-page study guide, CD's with facilitator. More….

Live Your Happy by Rev. Maria Felipe. A real-world approach to living happily, based on A Course in Miracles. Learn more.

From the Christ Mind scribed by Darrell Morley Price. A simple, yet profound message that you can immediately apply to current circumstances. More….

Forgiving Kevin Audio book by Rev. Larry Glenz. A moving and inspiring true story of a father/son relationship that withstood seven years of addiction, recovery, and relapse. More….

Healing Family Relationships Applying the Principles of A Course in Miracles 6 CD audio book by Rev. Myron Jones. Learn how family relationships offer fertile grounds for forgiveness and healing your judgments of the world. More.