Browse All Ministers | Available Minister Services | By ACIM Practitioner Course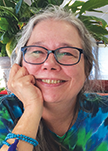 Rev. Tacey Reese, Benton, AR
Tacey Reese, O.M.C., is an Ordained Ministerial Counselor, a Licensed Professional Counselor and a Reiki Master Teacher. She holds a Bachelor's Degree in Sociology and a Masters Degree in Counseling, and has been a student of A Course in Miracles since the early 1980s. She is also an ordained minister through Universal Life Church. She facilitates a weekly ACIM study group. She is a frequent speaker at Mt Pleasant Methodist Church in Little Rock, AR.
As a counselor and minister, Tacey has merged the healing power of Reiki and the teachings of A Course in Miracles with her counseling practice to create a unique healing experience. She focuses on helping people access the Truth within them, offering a supportive and loving environment in which they can learn to do this. Her life is truly a life of Spirit.
Tacey offers ministerial services in the Little Rock area. She is available to facilitate Pathways of Light courses in person, by phone, teleconference or Zoom. These courses include ministerial training as well as the 8-week Healing Your Inner Child Program and the 8-week Spiritual Awakening Program. The 8 week programs can be taken individually or in a group. She is also available for individual Accessing Inner Wisdom Counseling.
"We each have within us the capacity to awaken, to extend only love and to live a life of joy and peaceful empowerment." - Tacey
Call Tacey at 501-860-4631. (Please leave a message.)

To email Tacey, Click Here.
Rev. Tacey Reese offers the following services as a Pathways of Light Minister:
Rev. Tacey Reese offers the following Miracles Practitioner courses:
This page has been viewed 317131 times
Free Online Resources
We'd Like to Hear from You
ACIM Spiritual Counselor Training
ACIM Practitioner Courses
Featured Items

Spiritual Counselor Training — based on principles of A Course in Miracles, including ordination. More….

Hey, Holy Spirit, It's Me Again by Rev. Myron Jones. An indispensable guide for anyone on the path of ACIM with insights on the 1st 90 lessons. More….

Eternal Life and A Course in Miracles by Jon Mundy, Phd. A Path to Eternity in the Essential Text. Learn more.

True Forgiveness by Rev. Jennifer McSween. The Proven Path from Pain to Power in 5 Simple Steps. Learn more.

Listen & Receive 30-Day Home Study Learn to receive insight for your life in a form that is perfect for you …heal fears, find joy & peace. Learn more.

Spiritual Counselor Training — based on principles of A Course in Miracles, including ordination. More….

24 ACIM Practitioner courses including 50-page study guide, CD's with facilitator. More….

Live Your Happy by Rev. Maria Felipe. A real-world approach to living happily, based on A Course in Miracles. Learn more.

From the Christ Mind scribed by Darrell Morley Price. A simple, yet profound message that you can immediately apply to current circumstances. More….

Forgiving Kevin Audio book by Rev. Larry Glenz. A moving and inspiring true story of a father/son relationship that withstood seven years of addiction, recovery, and relapse. More….

Healing Family Relationships Applying the Principles of A Course in Miracles 6 CD audio book by Rev. Myron Jones. Learn how family relationships offer fertile grounds for forgiveness and healing your judgments of the world. More.