Browse All Ministers | Available Minister Services | By ACIM Practitioner Course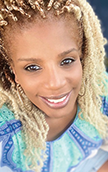 Rev. Toyia Denise, Johns Creek, GA
I am Toyia Denise. A student and teacher of God. My purpose is to continue to learn while helping others in remembering who they really are, I do this by using my intuition, education and direct connection with God to support the releasing of trauma and embracing Divinity. I integrate these consciousness-raising concepts in every facet of my being.
I am a Pathways of Light Ordained Ministerial Counselor, Professional, Spiritual and Executive Life Coach. I am also IT Executive in Product Strategy/Product Management
My expertise is supporting others in cultivating their vision and facilitating internal dialog to actualize it.
My interests include one-on-one coaching, facilitating classes, International and Domestic Spiritual Retreats, as well as teaching Writing Within Writing Classes to support individuals find their writing voice.
I completed my BA in Psychology at Ashford University, and earned a Masters Degree in Organizational Leadership Development at Gonzaga University.
I have also received a coveted Masters Certification in Servant Leadership from Gonzaga, University.
It would be my joy to support you on your spiritual journey.
Call Toyia Denise at 404-202-3334 (Please leave a message.)
Rev. Toyia Denise is also a Pathways of Light Spiritual Relationship Counselor and is available for the 12-week Spiritual Relationship Counseling program.
Visit Toyia Denise's website:
To email Toyia, Click Here.
Rev. Toyia Denise offers the following services as a Pathways of Light Minister:
Rev. Toyia Denise offers the following Miracles Practitioner courses:
This page has been viewed 314986 times
Free Online Resources
We'd Like to Hear from You
ACIM Spiritual Counselor Training
ACIM Practitioner Courses
Featured Items

Spiritual Counselor Training — based on principles of A Course in Miracles, including ordination. More….

Hey, Holy Spirit, It's Me Again by Rev. Myron Jones. An indispensable guide for anyone on the path of ACIM with insights on the 1st 90 lessons. More….

Eternal Life and A Course in Miracles by Jon Mundy, Phd. A Path to Eternity in the Essential Text. Learn more.

True Forgiveness by Rev. Jennifer McSween. The Proven Path from Pain to Power in 5 Simple Steps. Learn more.

Listen & Receive 30-Day Home Study Learn to receive insight for your life in a form that is perfect for you …heal fears, find joy & peace. Learn more.

Spiritual Counselor Training — based on principles of A Course in Miracles, including ordination. More….

24 ACIM Practitioner courses including 50-page study guide, CD's with facilitator. More….

Live Your Happy by Rev. Maria Felipe. A real-world approach to living happily, based on A Course in Miracles. Learn more.

From the Christ Mind scribed by Darrell Morley Price. A simple, yet profound message that you can immediately apply to current circumstances. More….

Forgiving Kevin Audio book by Rev. Larry Glenz. A moving and inspiring true story of a father/son relationship that withstood seven years of addiction, recovery, and relapse. More….

Healing Family Relationships Applying the Principles of A Course in Miracles 6 CD audio book by Rev. Myron Jones. Learn how family relationships offer fertile grounds for forgiveness and healing your judgments of the world. More.