Browse All Ministers | Available Minister Services | By ACIM Practitioner Course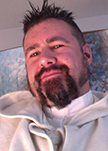 Rev. Bryan Rice, Canandaigua, NY
Bryan has been on the spiritual journey from an early age. He has felt the pull of the Divine to awaken through the study of numerous paths, but none so diligently as he has through A Course in Miracles and one of Jeshua's (Jesus') other revelations, The Way of Mastery. In 2001, Bryan had an amazing mystical encounter with Divine Love, with the Christ, that led him to meet many people that served as wayshowers and to transcend limited thinking through forgiveness and releasing the past. He has sought to heal his mind through Jeshua's (Jesus') teachings throughout the ages and feels called to share wisdom he has received to aid in the liberation and release of others from pain, guilt, and suffering.

In addition to being a Pathways of Light Ordained Ministerial Counselor, Bryan was ordained as a priest in the independent sacramental movement in 2011 (Order of the Friends of Jeshua), he is an interfaith minister, a Kundalini Yoga Instructor/Reiki Practitioner, and both an initiated shaman and swami as well. Bryan has had to overcome a lot of adversity in his life but attributes his recovery, discovery, and awakening to the "Real Presence" of Jeshua (Jesus) in his life, a true manifestation of the Holy Spirit. Bryan began his journey with the Pathways of Light curriculum back in 2009 and has been drawn to it ever since.
Bryan seeks to reform old and outdated sacraments with an emphasis on self-realization and awakening to the True Christ Nature we all share.
Bryan plans to continue using his background in Communications, Film, Video Production, multi-media, and art his in his ministry. Bryan is a published author and poet, and is a recording artist, singer, songwriter, and writes and records meditations all found on the website bryanrice.org. His music and writing, especially with his blog and the books he is working on are a huge part of his ongoing desire to serve in the awakening of this world and has been a reflection of his journey out of suffering.
Bryan has had an active wedding ministry, has been a caregiver to the aging, a counselor to at-risk youth and has worked in other capacities in the Human service field as well. His goal is to jumpstart a grassroots non-profit movement he has called Project New Humanity. To learn more about that visit his website projectnewhumanity.org.
Bryan facilitates Pathways of Light OMC courses and helps guide others to discover their Inner Teacher and true Self through Accessing Inner Wisdom Counseling as well as Miracles Practitioner courses. He officiates original and customized non-denominational wedding ceremonies. In addition, he celebrates memorial services, baptisms, and other ceremonies honoring life transitions.
To email Bryan, Click Here.
Rev. Bryan Rice offers the following services as a Pathways of Light Minister:
Rev. Bryan Rice offers the following Miracles Practitioner courses:
901 902 903 904 905 910 916 920
This page has been viewed 188641 times
Free Online Resources
We'd Like to Hear from You
ACIM Minister Training
ACIM Practitioner Courses
Featured Items

The Lifetimes When Jesus and Buddha Knew Each Other by Gary Renard. Clarifying the difference between duality and nonduality. Learn more.

Eternal Life and A Course in Miracles by Jon Mundy, Phd. A Path to Eternity in the Essential Text. Learn more.

True Forgiveness by Rev. Jennifer McSween. The Proven Path from Pain to Power in 5 Simple Steps. Learn more.

Listen & Receive 30-Day Home Study Learn to receive insight for your life in a form that is perfect for you …heal fears, find joy & peace. Learn more.

Minister Training — based on principles of A Course in Miracles, including counselor training and ordination. More….

24 ACIM Practitioner courses including 50-page study guide, CD's with facilitator. More….

Live Your Happy by Rev. Maria Felipe. A real-world approach to living happily, based on A Course in Miracles. Learn more.

From the Christ Mind scribed by Darrell Morley Price. A simple, yet profound message that you can immediately apply to current circumstances. More….

Hey, Holy Spirit, It's Me Again by Rev. Myron Jones. An indispensable guide for anyone on the path of ACIM with insights on the 1st 90 lessons. More….

Forgiving Kevin Audio book by Rev. Larry Glenz. A moving and inspiring true story of a father/son relationship that withstood seven years of addiction, recovery, and relapse. More….

Healing Family Relationships Applying the Principles of A Course in Miracles 6 CD audio book by Rev. Myron Jones. Learn how family relationships offer fertile grounds for forgiveness and healing your judgments of the world. More.