July-September, 2019
A Lesson on Impatience from My Inner Guidance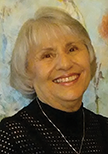 My lesson on impatience came while I was meditating on A Course in Miracles Workbook Lesson 151 –"All things are echoes of the Voice for God." The lesson says, in essence, to give God all the thoughts that come into your mind while you are meditating on this main thought and let them be purified.
What kept coming into my mind was my anger at an individual (who I will call Sue) that I had been with at a meeting the evening before I did this lesson. Sue, in my ego mind, had displayed considerable impatience with me while I was sharing and I felt myself reacting with anger. I didn't like these thoughts of anger toward Sue and I asked to see what they were about and to have them "purified." Below is the conversation I had with my Inner Guide.
Guide: Here is your lesson: Impatience is unloving. It makes the recipient feel unworthy, unloved and unlovable. This is a lesson for you to see what impatience does because, as you know, you have a tendency to be impatient and I want to help you heal that. So thank Sue for her impatience as it teaches you directly what you are doing when you are impatient. That is all the lesson is for. It is not to make you feel less than or unlovable. Sue certainly wouldn't say you are unlovable. Remember, anger is there to make the other person feel guilty. You want to make Sue guilty for being impatient with you.
Me: But she always seems to want to disagree with me or one up me when I share a thought. Purify that please.
Guide: Again, anger. We will not analyze her needs which, like yours, have not been totally healed. So, even if she is doing this, the "Why" is none of your business. Your business is to not to react from your ego and project guilt onto Sue for that is judgment. And, in the same vain, do not project guilt toward yourself for your ego reaction either, for that is judgment also.
The anger you allowed to happen from what you perceived as Sue's impatience came from your ego's interpretation that said that her impatience meant that what you were sharing was unworthy of everyone's time. Then the ego, which is very good at manipulating your old beliefs about yourself, turned the thought of unworthy into your being unloved and unlovable. Amazing, isn't it that all of this could come from an egoic interpretation of someone being impatient? You felt you lost your "Mo Jo." Actually, that was just your ego reacting and she let the air out of it. That is good. Now come back to Me being your Voice and your Guide and not your ego. All is well. Good lesson!

Me: Thank you! Yes, that was a great lesson and I truly no longer feel any anger toward Sue. She enabled me to have a very deep understanding of what my impatience does and I am very grateful to her.
Rev. Barbara Goodman Siegel, author of "Finding Your Self in the Mirror: Awakening Through Mirror Affirmations for the 365 Lessons of A Course in Miracles O.M.C. is a Pathways of Light minister living in St. Louis, MO. Email: .(JavaScript must be enabled to view this email address) Web: Barbaragoodmansiegel.com
© 2019, Pathways of Light. https://www.pathwaysoflight.org
You may freely share copies of this with your friends, provided this copyright notice and website address are included.
---
Back to main page of Miracles News.
Has this page been helpful to you?
Your contribution in support of this site is greatly appreciated. To make a tax deductible contribution or become a supporting member online, click here.
Or send a check or money order to Pathways of Light, 6 Oak Court, Ormond Beach, FL 32174-2623 (USD only, please) Thank you for your support.
Articles by
Pathways of Light Ministers
and Others.
Pathways of Light Membership
Support Pathways of Light with an annual membership donation or become a sustaining member through monthly contributions. Includes printed Miracles News magazine mailed quarterly. Click here.
Subscribe to printed version.
To have Miracles News magazine mailed to you quarterly, Click here.
Most recent entries
Miracles News has been viewed 1188953 times
Archives