April-June, 2021
A Word from Holy Spirit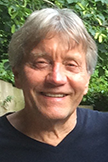 Every morning when I wake up I pray and meditate, and then I ask Holy Spirit for a word. I never know what that word will be, but I've noticed that the word is exactly what I need for that day. Some words I've received are "Kindness, Trust, Peace, Love, Light, Open-mindedness, Patience." This morning I received the word "Blessing"... and I had no idea how that word would be helpful in my day.
That afternoon I was walking down the street in London and I saw two policemen coming out of an apartment building. I was curious, and so I stopped and waited across the street to see what was going on. They were dressed in yellow luminescent jackets, and had guns and handcuffs. British police don't usually carry guns, so this was something big.
Behind them came eight more uniformed policemen, and they surrounded a man in his mid 20s. He was wearing trousers with a drawing sewn into the legs, so I guessed it was a drug bust? Or it could be domestic violence? I hear that lots of people are forced to live with their partners 24/7 during the Coronavirus lockdown, and abuse is common. I stood there on the street and felt petrified. I was full of fear even though I was just a bystander. My ego thoughts had me locked in hell.
They escorted the man over to the police van, and as they crossed the road I remembered the word Holy Spirit gave me that morning… "Blessing." So I sent blessings to the man. I blessed him in his peace, his comfort, his acceptance, his gentle awakening. And then remembered the policemen, and so I sent them blessings. I blessed them in their peace, their comfort, their gentleness, their light.
And as I stood there sending them blessings, I noticed that the fear and panic I had were gone. I was feeling relaxed, calm, loving. Holy Spirit gave me the perfect word that morning to lift me up from my nightmare thoughts, and bring me back to peace. Thank you Holy Spirit.
Rev. Dan Strodl is a Pathways of Light minister and publisher of Miracle Worker magazine in London, UK. His email is: .(JavaScript must be enabled to view this email address) Visit Miracle Network online at www@.Miracles.org.uk
© 2021, Pathways of Light. https://www.pathwaysoflight.org
You may freely share copies of this with your friends, provided this copyright notice and website address are included.
---
Back to main page of Miracles News.
Has this page been helpful to you?
Your contribution in support of this site is greatly appreciated. To make a tax deductible contribution or become a supporting member online, click here.
Or send a check or money order to Pathways of Light, 6 Oak Court, Ormond Beach, FL 32174-2623 (USD only, please) Thank you for your support.
Articles by
Pathways of Light Ministers
and Others.
Pathways of Light Membership
Support Pathways of Light with an annual membership donation or become a sustaining member through monthly contributions. Includes printed Miracles News magazine mailed quarterly. Click here.
Subscribe to printed version.
To have Miracles News magazine mailed to you quarterly, Click here.
Most recent entries
Miracles News has been viewed 1309457 times
Archives