October-December, 2017
Awakening Through My Special Relationships — The Happy Dream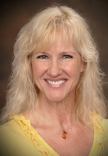 There are no words to describe the abundance of limitless peace, love and joy I am experiencing for having accepted the Atonement — the correction of my thoughts by Holy Spirit, but as a teacher of God I shall try.
The Atonement has been and continues to be the prayer and desire of my heart, my only goal, my only focus in this dream, which is truly a happy one now! I have no pain or conflict in my mind whatsoever; only peace, light, love and joy. True cause and effect as taught in ACIM.
In my last article published in Miracle News, I stated that my next article would be about my moving to the one state in the union I'd sworn all my life I'd never live, reflecting my vow to the ego to never live in a state of exquisite blissful peace and joy. This article contains my story about breaking my vow to myself to never move to Minnesota but it also contains a very unexpected, though much hoped for, happy surprise for breaking my vow to the ego.
In that last article, I'd also written of experiencing in my mind my unholy special love-hate relationship with a lover healed to a holy one. Since leaving that relationship in form and moving to Minnesota, I have never let go of the hope of one day being friends with this man, of seeing him beyond his body, for there is a connection that is so strong that I cannot forget him, no matter how often I have thought I wanted to. It's not an obsession but simply the awareness that this man is always with me in everything I see and do and say; how I experience myself now as my Self. I've always known he is me and I am him and Spirit uses him to speak to me but now I am experiencing this truth on a much hoped for and grander scale than I could imagine.
Let's start with my move nearly two years ago from Michigan, where I'd lived all my life of 53 years, to Minnesota. It had everything to do with my daughter, Stephanie who'd come here two years prior at age 22 to attend one of the world's most renowned rehab facilities. She was in active addiction and heroin was her drug of choice.
In July of 2013, I put her on a plane to Minneapolis, not knowing when or even if I'd see her again. I'd already surrendered her to God, having let go and entrusting her journey to Him, for I'd come to completely accept that I did not know what her journey was to entail, where it was to take her or whether she was to continue in or release her body. I'd made peace with whatever it was to be.
I have zero doubt that my dedication to applying the Course's teachings diligently and vigilantly and devoting my forgiveness work to Steph over the years is what saved her. Since her arrival in my dream, she has reflected my ego self from childhood into adulthood. But despite all the heartache, anguish, pain and suffering our relationship acted out for the both of us to see, never once did we hate each other nor banish the other from our love when so many other parents and children would have and did!
I believe it is because of applying the Course's principles and accepting the Atonement for myself and all the world, and facing my darkness and allowing it to be healed that Steph is alive. She is not only alive, clean and sober for three years now and thriving, she is working her 12 Step program with willingness and dedication based on my demonstration of doing so with the Course.
She has brought into my dream my prophecy I had when pregnant with her 26 years ago. I thought for sure I was carrying a boy who was to be named Derek. But it turned out that it was Steph whom I was carrying. As my learned trust in and dependence on Divine design and timing would have it, Steph met the one whom she'd been aware of missing all her life — a young man also in treatment whose name is Derek.
Their meeting was one of instant recognition and their union is something holy to behold indeed! The same held true for him and me before meeting in person three years ago. We first met on Facebook messenger a few months prior. Derek, too, is three years clean and sober and the first man I have ever felt truly safe being my authentic self with! He is the son I foresaw all those years ago. It was upon his insistence that I move out here to be with Steph and him that I felt safe enough to trust Spirit's guidance to break my vow to never move to Minnesota. I had questioned Spirit incessantly for a solid year what I was to do regarding the man I was involved with and He'd responded consistently with, "Do nothing but trust Me."
For good measure, Spirit spoke to me through this man yet again. Intuitively knowing that I was being guided to take flight away from the form of our relationship as it was. But having no clue beyond that of how it was to play out, I informed my lover that I was doing so. We agreed to meet and talk. He told me to go to Minnesota to be with my daughter when I broke down in tears, telling him of her magical and enchanting light and love when she's clean and sober and that I was missing it. I stopped crying and began laughing as I told him of my vow to never live there. I had no way of knowing that day that it would be the last time I saw or spoke to him. Or that my move to Minnesota was already in the works per Spirit's Divine design and timing. It was just a matter of a few weeks until I was on my way. Spirit so clearly spoke to me through my lover that day.
After making my decision to move, I intuitively knew I had to end all contact with this man for fear I'd not go if I saw or spoke with him. Or worse, that my ego's fear of my choosing to listen to God's Voice over it would bring an unnecessary forgiveness lesson by projecting onto this man my fear of letting go and being let go of and forgotten.
Shortly thereafter, without a home or job lined up in Minnesota, I quit my job and broke my apartment lease, costing me $2400 and I didn't care! It was my biggest leap of faith into the unknown yet and all prior ones were huge! All I could do was trust in and depend on my Source, my True lover, my True friend — Holy Spirit.
I'm leaving out much detail for the purpose of keeping this as brief as possible. All that's truly necessary to share is how truly safe we are to let go and trust, to listen to and follow the prompts!
Yet again, I have been abundantly blessed to see and experience how absolutely wrong I was to ever energize fear based on my beliefs and self-concepts. I feared living in Minnesota because of my belief that the winters here are longer than Michigan's. In fact, the last two since moving here in Sept 2015 have been milder and shorter. I give thanks and praise to Spirit for this! I absolutely love living here. It is beautiful and a veritable vortex of vibrant, healing energy. I was so meant to be in this state for it is truly reflective of the state of my mind.
Not only am I living with Steph and Derek in the same house, which was Derek's desire and the one Steph was so clearly guided to find, but it is the happiest home the three of us have ever known. Steph wanted me to move here to experience what love in the form of a healthy, happy relationship looks like and she missed me as much as I did her. I am witness to their holy relationship being free of ownership, possession, control. Theirs is a love I never knew was possible. And I am so blissfully peaceful and joyfully content being the observer, the witness to God in action through these two mighty companions, and being included in their love. I am blessed with the glimpse of how God feels about all of us when we love each other and include Him in our relationships.
This brings me to tell of my unexpected, happy surprise. As a result of my absolute willingness to let all things be exactly as they are without judgment and to trust, I was yet again receiving prompting to reach out to the man whose form I left back in Michigan, the state reflecting my entire past in my mind. After resisting it for a year and a half since moving here for fear of rejection (ego backlash), I have been given the answer to my prayer and desire of my heart since meeting him. I reached out to him 3 months ago via text for the singular purpose of being and extending love with zero thoughts of reciprocity, of receiving anything from him, trusting that all I give I am truly and ultimately giving to my Self.
The effect of the cause, my changed mind about my Self, about Love Itself-God, is my holy relationship with my Self being acted out in form with this man, my lover whom I see now without the past, without judgment of myself or him. Thus I am free to see only our innocence. Being two states apart, we are together in form only by phone and it is enough, thus perfect. It is his voice and laugh I'd longed to hear, and now I can and do. It's exactly as it is with God. I can hear His Voice for God is always with me, in everything I see, say and do and Spirit is still using this man to show me that my hope with him is now my ever present and constant experience — that our relationship reflects my relationship with God.
The Course teaches that I can only remember God, His love for me and mine for Him, by remembering my brother, his love for me and mine for him. And so it is with this man. I have learned that I never left him in his mind as he hasn't mine, that he's always loved me and is happy to welcome my return to him. It's why I couldn't forget him because God would never let me forget Him.
Of all the words in the Course, the ones I learned early on to value and hold near and dear are these paraphrased: True forgiveness is remembering all the thoughts of love I ever gave and were given me and all else must be forgotten.
This is my experience now of my world. It is the happy dream. I hold all the world in my thoughts of peace, light, love and joy and want this experience for ALL my brothers.
Praise be to God for keeping His promise via Holy Spirit that once I accept His plan for salvation, there will be nothing else Holy Spirit will not arrange for me without my effort… that I need take thought for nothing and am to be careless of everything except the only function I would fulfill — forgiveness, for it truly is the key to God's will for you, me, us — happiness!
I have no way of knowing if my lover and I are to be reunited in form beyond the phone but it doesn't matter. The fear of not knowing is just gone!
Though we hope to be at some point and trust that all things are possible with love, we are in complete agreement that the love we are and are one with is eternal and can never be taken from us. And for us, the awareness that love is all there is is enough!
Rev. Linda LaCasse is a Pathways of Light minister living in Eagan, MN. Email: .(JavaScript must be enabled to view this email address)
© 2017, Pathways of Light. https://www.pathwaysoflight.org
You may freely share copies of this with your friends, provided this copyright notice and website address are included.
---
Back to main page of Miracles News.