January-March, 2019
Awakening to My True Self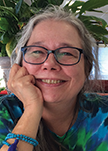 As I fully and completely accept that I and my Higher Self are one, my entire world view changes. Now I see with the innocence of the child I once was, who knew that this world was not the real world and who was simply curious about this place she had found herself in. I know myself as only Love and I extend that Love to every one and every thing, including my personality self. I am no longer dismayed at seemingly being confined to an illusory planet but I revel in the opportunity to walk the earth, certain of each step I take on this earthwalk because I am consistently guided by my Inner Teacher and I act on that guidance. This guidance helps me live in increased joy and peace; it helps me immediately recognize any seeming attack as simply a call for love; it brings an even higher vibration to my work as a counselor and a healer and a teacher and the people who come to me for assistance can feel this and it helps them heal their own minds even faster.
As I fully and completely accept that I and my Higher Self are one, my entire vibration changes. Financial abundance becomes natural to me and I always have more than enough money for all my earthly needs as well as plenty to share. All my relationships are enriched as I recognize consistently that every person I see is Christ. I no longer experience fear in any form in any relationship, only love and acceptance. Judgment is simply a thing of the past. The physical body moves into complete vibrant health so that I have plenty of energy to accomplish the tasks I am given. As my Higher Self, I play and have fun on earth. I laugh more than I ever have before and this increases my vibration even more!
As I fully and completely accept that I and my Higher Self are one, I become more and more aware of the multitudes of teachers and helpers that are my Heavenly Helpers and I develop deeper and richer relationships with them as well. Jesus, the first teacher I was consciously aware of; Mother Mary and Mary Magdalene, White Buffalo Calf Woman and Standing Bear, Archangel Gabriel, my ancestors, and many others whose names I do not know yet. I am so grateful to be a part of this lineage and to fulfill my part in it as we awaken humankind and even others beyond this earth.
As I fully and completely accept that I and my Higher Self are one, I am filled with gratitude and love beyond measure. I offer gracious thanks to my Creator and to those before me and around me. Aho, Amen, and Blessed Be. It is so. Let the eagles fly!
Tacy Reese is a Pathways of Light ministerial candidate living in Benton, Arkansas. Email: .(JavaScript must be enabled to view this email address)
© 2018, Pathways of Light. https://www.pathwaysoflight.org
You may freely share copies of this with your friends, provided this copyright notice and website address are included.
---
Back to main page of Miracles News.
Has this page been helpful to you?
Your contribution in support of this site is greatly appreciated. To make a tax deductible contribution or become a supporting member online, click here.
Or send a check or money order to Pathways of Light, 6 Oak Court, Ormond Beach, FL 32174-2623 (USD only, please) Thank you for your support.
Articles by
Pathways of Light Ministers
and Others.
Pathways of Light Membership
Support Pathways of Light with an annual membership donation or become a sustaining member through monthly contributions. Includes printed Miracles News magazine mailed quarterly. Click here.
Subscribe to printed version.
To have Miracles News magazine mailed to you quarterly, Click here.
Most recent entries
Miracles News has been viewed 1129463 times
Archives