October-December, 2017
Egoland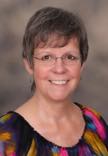 Once in a while I hear a fellow Course student say something like, "This is all a dream, so it doesn't really matter." For whatever reason, that thinking doesn't work for me. If I think I'm a body and I'm experiencing a problem, I can't just dismiss it with a statement like that. It does matter because healing takes place on an ego level. I must bring my illusion to Truth. I can't just cast off my illusion as unreal and be done with it.
Sometimes it feels like life requires too much of me. Sometimes I want to get away from everyone and everything in my life. Sometimes it feels like everything is spinning out of control and I'm lost in a disconcerted state of confusion. I suddenly realize, I am trying to protect myself, defend myself or in some other way, trying to avoid dealing with a perceived enemy or problem.
It's times like these I begin to realize exactly what I'm doing. I'm fighting. I'm resisting. I'm shaking my head, "No" and pounding the air with my fists. I'm stomping my feet and throwing a fit and I'm wasting an horrendous amount of time and energy and I am stuck in egoland.
There is a better way. It has taken me a long time to learn this way. It is a gentle way, a quiet way, a way of letting go.
First, I remember I am the only one who can control my thoughts. My thoughts are totally up to me. Then I remember the world I see is the ego world and if I'm upset I've been using the ego thought process. I remember everything outside of me is not who I truly am. And then I remember who I am. I may need to close my eyes to get a break from all of the visual stimulation. It only takes a minute and I'm reassured of who and what I am. I am created in the image and likeness of God. God is love. I am a part of His Love. This is the truth about me.
Now I'm able to bring the crazy world I see to Truth. Nothing has changed outside of me but inside I've remembered something important: I won't find peace or comfort outside of me. "The Comforter of God is in me." (ACIM, T-11.II.7:8) I can allow the Holy Spirit to help me bring the the error I see to Truth by remembering this. This is a change of mind. This is the gentle, quiet way of letting go of the world. This is a miracle. I'm very grateful and I'm at peace.
Holding on to peace in ego land is why what happens here matters. The Course asks me a very important question: "Would I rather be a hostage of the ego or Host to God?" (T-11.II.7:1)
As much as I would like to deny my experience here, egoland is where healing happens. Healing is not necessary anywhere else but here.
Maybe I'll get to the place someday that I can easily discount what's happening before my physical eyes, but for now, learning to let the Holy Spirit help me see things differently is what works for me. Remembering my brothers and I are Hosts to God is what helps me walk in peace through ego land.
Judgment
Living in the world without judgment is just about impossible. I judge everything my senses sense. I make my judgments very sweetly sometimes. A friend recently commented that she sometimes dresses her judgments up, and calls them opinions.
We think we use our judgments to organize our lives and ourselves. This world is a dualistic world. It would be impossible to survive here without judgment, but we need to recognize how faulty our judgments are, how wrong we are sometimes. Accepting this as true allows me to form opinions, make choices and otherwise judge without taking myself too seriously. I try not to cling too tightly to my judgments. This way I can allow the Holy Spirit to work with me and through me showing me the way I see things is not always the way they are. My judgments of others are nothing more than my projections of my judgments of myself.
"You have no idea the tremendous release and deep peace that comes from meeting yourself and your brothers totally without judgment. When you recognize what you are and what your brothers are, you will realize that judging them in any way is meaningless. In fact their meaning is lost to you precisely because you are judging them. All uncertainty comes from the belief that you are under the coercion of judgment. You do not need judgment to organize your life, and you certainly do not need it to organize yourself. In the presence of knowledge all judgment is automatically suspended, and this is the process that enables recognition to replace perception." (T-3.VI.3:1-6)
I don't always know what's best. Admitting I don't know helps me suspend my judgments in whatever pretty costumes I've put on them. The world is constantly changing. Truth never changes. God is still Love. Every man is still my brother and we are still one.
Rev. Maura Williams, O.M.C., is a Pathways of Light minister who lives in Hot Springs, Arkansas. Email: .(JavaScript must be enabled to view this email address)
© 2017, Pathways of Light. https://www.pathwaysoflight.org
You may freely share copies of this with your friends, provided this copyright notice and website address are included.
---
Back to main page of Miracles News.
Articles by
Pathways of Light Ministers
and Others.
Pathways of Light Membership
Support Pathways of Light with an annual membership donation or become a sustaining member through monthly contributions. Includes printed Miracles News magazine mailed quarterly. Click here.
Subscribe to printed version.
To have Miracles News magazine mailed to you quarterly, Click here.
Most recent entries
Miracles News has been viewed 942307 times
Archives