April-June, 2021
Following God's Plan, Not Our Own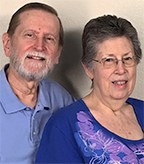 We are in our late 70's. Here in Florida, COVID-19 has expanded greatly and the hospitals are stressed. We work in the office portion of our residence with Deb and Colleen Fee. We all would like to receive the vaccinations as soon as they are available. Recently the county health department announced they were giving the vaccines near us on a first-come first-served basis. People started camping out in their cars on the road the day before the announced date. If we wanted to be vaccinated, we would have to wait.
After pausing and recognizing we were disappointed, we realized we needed to hand this "problem" to the Holy Spirit. We asked, "How would you have us see this?"
We opened the Course to Workbook Lesson 254 and read, "Father, today I would but hear Your Voice. In deepest silence I would come to You, to hear Your Voice and to receive Your Word. I have no prayer but this: I come to You to ask You for the truth. And truth is but Your Will, which I would share with You today."
We remembered that we have been carried our whole lives, even when we did not recognize it. We remembered there is no hurry and we remain eternally safe in the Mind of God. We felt that feeling of patience… and heard that whatever we need will come in God's perfect plan.
This lesson taught us that our ego thoughts tell us we are weak, capable of being harmed. These ego thoughts tell us we are separate and alone, so we need to plan for our safety and seek for love to be complete.
Whenever any of these ego thoughts in their various forms enter our mind, it is a signal that we need to step back. We need to remind ourselves that these are not our real thoughts, for we are not the ego. By stepping back and disconnecting our allegiance from the ego, we quiet the ego's voice in our mind. We open our minds to God's Voice.
Our real Thoughts are the Thoughts of Love we share with God. God's sole Will is to extend Love. That is how He created His Son. As His Son, we share His Will. Our true Self's Will is to extend Love and nothing else. Our true Self, God's Son, co-creates with Him. Extending Love is our will. It brings us joy and peace of mind.
We have been practicing the tenets of the A Course in Miracles for quite some time. But we needed to be reminded once again to be mindful of our thoughts. In our practice of reading the Course together daily, we randomly opened to Workbook Lesson 196, "It can be but myself I crucify."
The Lesson tells us: "For once you understand it is impossible that you be hurt except by your own thoughts, the fear of God must disappear. You cannot then believe that fear is caused without."
"When the fear of God is gone, there are no obstacles that still remain between you and the holy peace of God." (W-pI.196.8:3-4;12:2)
When we believe we are a body, we are attacking the Self God created one with Him. We are trying to limit the extension of His Love. Since Love is all that is real, this limit can only seem to be real in a dream in which we believe we have successfully separated from God. This is our Self crucifixion.
This dream has no effect on Reality. But to free ourselves from our self-imposed limitation, we need to learn to change our thoughts about the world and our identity. We are not a body and this dream of a world is nothing more than a projection of the belief that the body and separation are real. This belief is the cause of all our fear.
A belief is nothing more than a thought, and thoughts can be changed. This change happens when we change their source. While we identify with the ego, our thoughts stem from the ego's denial of Love.
But we can choose another Source, the Holy Spirit. He knows that only Love is real because He is an extension of God's Thought. As our inner Teacher, His mission is to teach us to remember the one Thought we share with God. It is the opposite of the ego's thoughts. Holy Spirit's Thoughts extend Love. They bring with them a vision that sees the oneness of Love everywhere. Fear is dispelled, for Love only blesses.
This practice turned our feelings of disappointment for not receiving the vaccine into a blessing and mind healing opportunity. It opened our mind to receive God's Love.
When we are willing to pause when our thoughts are not peaceful, we have help to change our thoughts. We can always receive the Help we need to return to peace.
God's Plan for us is to lead us out of our mistaken dedication to the ego belief in separation. We learned once again that every circumstance that comes up every day is another opportunity for mind healing.
Revs. Robert and Mary Stoelting are co-founders of Pathways of Light. E-mail: .(JavaScript must be enabled to view this email address)
© 2021, Pathways of Light. https://www.pathwaysoflight.org
You may freely share copies of this with your friends, provided this copyright notice and website address are included.
---
Back to main page of Miracles News.
Has this page been helpful to you?
Your contribution in support of this site is greatly appreciated. To make a tax deductible contribution or become a supporting member online, click here.
Or send a check or money order to Pathways of Light, 6 Oak Court, Ormond Beach, FL 32174-2623 (USD only, please) Thank you for your support.
Articles by
Pathways of Light Ministers
and Others.
Pathways of Light Membership
Support Pathways of Light with an annual membership donation or become a sustaining member through monthly contributions. Includes printed Miracles News magazine mailed quarterly. Click here.
Subscribe to printed version.
To have Miracles News magazine mailed to you quarterly, Click here.
Most recent entries
Miracles News has been viewed 1309437 times
Archives