October-December, 2022
Forgiveness Brings Happiness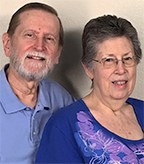 In all our years of working with A Course in Miracles, we have found that forgiveness and happiness go together. As we are willing to let go of our false ideas of being separate and alone following the guidance of the Holy Spirit, we experience a sense of freedom and joy that comes with fulfilling our true function.
Forgiveness guides us to look past this world of separation to see our oneness with our Creator and every brother. We willingly shed our judgments in favor of healing and blessing our brothers. With Holy Spirit, we are safely led out of the dream of separation to find the eternal Love that has always been ours.
In the preface of ACIM, we are told, "Forgiveness is the Holy Spirit's great learning aid in bringing this thought reversal about. …As we learn to recognize our perceptual errors, we also learn to look past them or "forgive." At the same time we are forgiving ourselves, looking past our distorted self concepts to the Self That God created in us and as us." (ACIM Preface, xi)
We are now in the 46th year of our marriage. At the time we felt that Holy Spirit brought us together for a purpose. For the most part in the early days we still had a lot to learn about what true forgiveness was and how it would bring us the greater sense of peace and happiness we are now experiencing.
In the mid 70's we both joined the staff of a program in the USA called, the Inner Peace Movement. Its main focus was on the practice of first noticing when we were not in a place of inner peace and, second, stopping long enough to open our minds to the Guidance of the Holy Spirit. This practice has led us on quite a remarkable journey over many years that helped us live in the world while remembering this world is not our Home.
Spirit brought A Course in Miracles to us in the early 80's. This was very exciting to us and we felt drawn to delve deeply into practicing the principles of this transforming book every day. In 1988 Holy Spirit guided us to move to Kiel, Wisconsin where Robert's elderly parents had built a retreat center on a lake in the woods.
As we look back we have come to realize how each new step Spirit guided us through over the years was part of training us for what was to come. In 1989 we were guided to facilitate a 3-day Spiritual retreat. With a group of 30 people we practiced following Holy Spirit's guidance all through the three-day program.
As we shared what we were receiving with each other in the group, we all healed together as we practiced following Holy Spirit's guidance with changing our thoughts that needed to be healed.
During this program we all shared with each other about the blessings we were receiving as we let Holy Spirit show us how to change our mind about the way we were seeing the problems we were experiencing in this world. It gradually became clear to us all that the most important ingredient to healing our minds is to be willing to quiet our minds, listen to Holy Spirit's guidance and forgive our mistaken thinking.
We were guided over the next several years in the development of over 50 courses, including a 22-course Ministerial Training Program and a 24-course ACIM Practitioner Program. We understood that the course materials we were receiving were exactly what we needed to learn, reinforce and practice daily.
As we focused on each course and practiced what we were learning, we found that our life experience continued to gradually become more peaceful and happy. We still experienced times where we fell into the pothole of forgetfulness, but we were progressing and knew what we needed to do to forgive our fearful thoughts with Holy Spirit's help.
We know that we have an inner Teacher Who is always there, waiting for us to allow our mistaken thoughts once again to be healed by the Holy Spirit. Sometimes it seemed to us that we were slow learners, but gradually we learned that the Holy Spirit has infinite patience and knows that in truth, like all our brothers, we never left Heaven.
The Holy Spirit wants every brother to experience the happiness that comes with true forgiveness. He wants us to recognize all our unforgiving thoughts as we go through each day and learn a new way of seeing that brings us happiness.
In ACIM Lesson 121 we all are taught that as we practice watching our thoughts and are willing to let Holy Spirit lead us to look past the ego's fearful thoughts, we are choosing a life of Love and happiness.
He tells us: "Here is the answer to your search for peace. Here is the key to meaning in a world that seems to make no sense. Here is the way to safety in apparent dangers that appear to threaten you at every turn, and bring uncertainty to all your hopes of ever finding quietness and peace. Here are all questions answered; here the end of all uncertainty ensured at last." (W-pI.121.1:1-4)
Forgiveness is the better way. It clears away the empty substitutes that keep us searching where we cannot find a lasting answer to what we seek. It reveals the Light of truth that has always been with us, hidden only by illusions of separation and specialness.
Today, with you, we choose to accept the Holy Spirit's help to see past illusions to the Light of Love in which we live. Let us join together in the practice of forgiveness and find the Love we never lost in truth.
Meditation — As you slowly read each part below between the dots, take the time to do what it says… relax and breathe it in… Relax, let go… and open to Holy Spirit's help in seeing the ever-present Love of God that is everywhere… Think of a time when something or someone upset you… … Ask yourself, "How would Holy Spirit respond to this situation?" … …
Let the Holy Spirit lift the veil of illusions to see your universal oneness instead of separation… … You are shown the truth of your eternal Reality as one in Love with God and every brother … … You happily remember that you are safe and happy in the one Mind of God and have never left… …

Take notes on what you learned during this meditation and how you can apply it in your life to experience greater happiness and peace. (This meditation is an excerpt from the new Pathways of Light e-course 3002: Forgiveness Brings Happiness, pages 18-19)
Robert and Mary Stoelting are founders of Pathways of Light. Website: http://www.pathwaysoflight.org Email: .(JavaScript must be enabled to view this email address)
© 2022, Pathways of Light. https://www.pathwaysoflight.org
You may freely share copies of this with your friends, provided this copyright notice and website address are included.
---
Back to main page of Miracles News.
Has this page been helpful to you?
Your contribution to support this site is greatly appreciated. To make a tax deductible contribution with a credit/debit card, click here.
Click here to donate from your PayPal account.
Or send a check to Pathways of Light, 12530 Lions Chase Court, Huntley, IL 60142.
Articles by
Pathways of Light Ministers
and Others.
Pathways of Light Membership
Support Pathways of Light with an annual membership donation or become a sustaining member through monthly contributions. Includes printed Miracles News magazine mailed quarterly. Click here.
Subscribe to printed version.
To have Miracles News magazine mailed to you quarterly, Click here.
Most recent entries
Miracles News has been viewed 1601612 times
Archives