July-September, 2020
God Is Doing for Me What I Cannot Do for Myself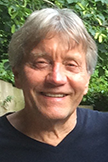 I am so grateful that God's Voice (the Holy Spirit) is always there 24/7 to give me guidance. All I have to do is ask, and be willing to listen. This was so helpful recently. I received a text message from the son of a creative partner I worked with many years ago. He told me that his dad was dying and he wanted to talk to me. I haven't spoken to him for 30 years because I had a grievance that I couldn't let go of. I have been practicing true forgiveness for many years and forgiven many people in my life, but this one I wasn't ready to hand over.
We had a successful advertising agency, and worked together as a creative team for 14 years. We won many creative awards, new clients were flooding in, and business was booming. And then one day we had a disagreement that we couldn't resolve. So behind my back, he called a meeting with the other board members … I wasn't invited. He somehow got them to agree to kick me out of my own agency.
Overnight I lost my income, confidence, and reputation, and it didn't take long for the rest of my life to fall apart; my family, and my beautiful home in the country. Before I knew it I was on my own with nothing.
Responding to the son's request that I phone his dying dad wasn't an easy decision. I didn't know what to do. So I quieted my mind and asked for guidance … "Holy Spirit, what should I do?" I received a gentle prompt, "Call him."
Before I picked up the phone, I asked again, "Holy Spirit, what would you have me say?" What came back was, "Let go of your judgments and focus on his light, his innocence, his kindness."
And that's what I did. I called him and he could hardly speak. He made the occasional grunt, and so I did all the talking. I told him how he has changed my life in such a wonderful way. I reminded him that he gave me a book "The Road Less Travelled" which awakened something inside of me. After reading the book I wanted a therapist, and he recommended the one he was seeing. He told me about Alcoholics Anonymous meetings, and I went along. I had a lot of identification with the sharing I heard.
The therapist I started seeing was a 12-step therapist, and he told me that I wasn't an alcoholic, so Alcoholics Anonymous wasn't the right meeting for me. But I would benefit from another 12-step fellowship, Codependents Anonymous. I went to a few meetings and this began my spiritual journey.
From there I moved on to Buddhism, which I did for many years, then onto A Course in Miracles. From there I joined a Pathways of Light Ordination program, and became an Ordained Ministerial Counselor.
I told my dying friend that there was nothing of more value than my spiritual journey and I owed it all to him. He was my angel. He made a few grunts that I couldn't understand, and asked me to please text him.
Soon after I received an email from his wife, telling me that he was smiling all through the phone call, and at the end he said "I love you, please text me." This was so out of character for a butch guy like him. I'm sure he never told another man he loved them.
This phone call was so healing for the both of us. I am so grateful for God's Voice, which is always there to heal our minds.
Rev. Dan Strodl is a Pathways of Light minister and publisher of Miracle Worker magazine in London, UK. His email is: .(JavaScript must be enabled to view this email address) Visit Miracle Network online at www@.Miracles.org.uk
© 2020, Pathways of Light. https://www.pathwaysoflight.org
You may freely share copies of this with your friends, provided this copyright notice and website address are included.
---
Back to main page of Miracles News.
Has this page been helpful to you?
Your contribution in support of this site is greatly appreciated. To make a tax deductible contribution or become a supporting member online, click here.
Or send a check or money order to Pathways of Light, 6 Oak Court, Ormond Beach, FL 32174-2623 (USD only, please) Thank you for your support.
Articles by
Pathways of Light Ministers
and Others.
Pathways of Light Membership
Support Pathways of Light with an annual membership donation or become a sustaining member through monthly contributions. Includes printed Miracles News magazine mailed quarterly. Click here.
Subscribe to printed version.
To have Miracles News magazine mailed to you quarterly, Click here.
Most recent entries
Miracles News has been viewed 1322888 times
Archives