October-December, 2023
Healing the Split Mind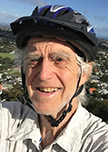 For many years I suffered from depression. The irrational fears, dense self hatred and guilt were so great that I could not face them. They were too scary. I was barely breathing.
It all started one fateful day when I was 14. I was sitting by another student in a high school class in Israel. We were pushing each other's arms and he told me one sentence with just two words in Hebrew. The English translation has three words: "You are gay."
The words penetrated my mind like a sharp knife. When I came home I opened the old testament and read in Leviticus 20 13: "And a man who lies with a male as one would with a woman both of them have committed an abomination; they shall surely be put to death; their blood is upon themselves." I wanted to die.
I envied my father who was 57 years old at the time that he did not have so many years left on the earth… I did not share this with anyone for years. Shame was too great and I stuffed it into my subconscious. My mind split. "Because your mind is split, you can perceive as well as think." (T-6.II.9:3) This is when the depressions started for me in this life.
Split mind leads to split life. On the surface I was a happy teenager. The inner life was hell. There was a constant chatter in my mind that I hid from awareness. I tried to prove to myself that I was not gay and started to hate gay people. I felt so alone. No one would guess since I tried to hide my thoughts both from myself and others.
Fast forward about 30 years: I became a Math professor at Ithaca College. I had a loving wife and was a father of two beautiful girls. The old fears took other forms and the mental pain and agony were unbearable. Then came a miracle. My wife told me to listen to the radio. It was an interview of a man called Jerald Jampolsky who wrote a book named "Love Is Letting Go of Fear".
The words of Dr. Jampolsky were soothing my inner agony and I bought this small book. I read it and at the very end it said that all the ideas came from another book called "A Course in Miracles" (ACIM). I decided to buy that book also.
I tried reading ACIM but it did not make sense. It was filled with Christian concepts and I was Jewish. The book stayed with me for two years and one day when I just could not bear the mental agony of guilt any longer, I opened the book and it became a celestial poem. It soothed my sick mind. I found a local ACIM group and started to study the Course with other people. I started feeling better. Still the mind was split.
Moving fast forward 30 years later: Until recently I continued suffering from depressions that would be very painful and lasted for weeks. In between there were weeks and months of living a happy life. Each time the depression would strike I would feel terribly guilty.
I wanted to be saved. I wanted to find a formula where I would not suffer from these depressions. I did not realize that the "I" that wanted the depression to stop was not me. Only very recently (listening to Keith Kavanagh was very helpful for me) I experienced a breakthrough and this is what I want to share with you.
There were two insights: The reason for my severe depression was that the constant chatter in my mind was so scary that I was hiding my scattered thoughts from myself. My mind turned against itself. "A mind that has been blocked has allowed itself to be vulnerable to attack, because it has turned against itself." (ACIM, T-8.VII.10:7)
I knew what to do: One night, when I could not sleep because of the attack, I was simply breathing (Michael Brown's Presence process helped me) for hours and writing down pages of that scattered garbage that was in my mind. It purified me.
The second insight that came about a week later: I AM not the chatter. There is no need to stop the chatter. The chatter cannot stop the chatter. I realized experimentally that I can choose Love instead of fear, simply by choosing it. For example, when I get irritated by something (either a painful thought or a seemingly external trigger), I notice it and allow the feeling or thought to be there without judging it.
This is becoming my constant practice now. I am just a beginner in this but it feels so good to practice it, and I am becoming stronger. I am no longer afraid of the depression as I used to be. I am learning that I have a choice. The choice is always in the present moment. I am learning that I am not that insane chatter in my head. I know I am Love.
Dani Novak is a Pathways of Light ministerial student who lives in Ithaca, NY. Email: .(JavaScript must be enabled to view this email address) Web: https://www.ithaca.edu/faculty/novak (607)379-2463
© 2023, Pathways of Light. https://www.pathwaysoflight.org
You may freely share copies of this with your friends, provided this copyright notice and website address are included.
---
Back to main page of Miracles News.
Has this page been helpful to you?
Your contribution to support this site is greatly appreciated. To make a tax deductible contribution with a credit/debit card, click here.
Click here to donate from your PayPal account.
Or send a check to Pathways of Light, 12530 Lions Chase Court, Huntley, IL 60142.
Articles by
Pathways of Light Ministers
and Others.
Pathways of Light Membership
Support Pathways of Light with an annual membership donation or become a sustaining member through monthly contributions. Includes printed Miracles News magazine mailed quarterly. Click here.
Subscribe to printed version.
To have Miracles News magazine mailed to you quarterly, Click here.
Most recent entries
Miracles News has been viewed 1785812 times
Archives