October-December, 2019
Heaven Is Here. Heaven Is Now.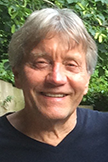 "Heaven is here. There is nowhere else. Heaven is now. There is no other time. No teaching that does not lead to this is of concern to God's teachers." (M-24.6)
Since childhood I believed that Heaven was a place you went to after you died. It was up in the sky, amongst the clouds, and you were greeted at the gates by angels flying about. And if you had led a sinless life, the gates of Heaven were open to you, and you sat on a cloud with God.
"Why wait for Heaven? It is here today." (W-pI.131.6:1-2)
But with A Course in Miracles all my beliefs have been turned upside down, including my beliefs about Heaven. I now see Heaven as in my mind, always there, waiting for me to choose my right mind.
"Heaven is here, and Heaven is your home." (S-IV.8.9)
As I let go of the ego's insane dreams and see this world with true vision, Heaven comes to the fore. Through forgiveness, (letting go of false beliefs), the dream changes from fear to love. I gently awaken to the fact that I am one with all my brothers. We share infinite love, joy and peace. Heaven is the realization that we are all one, all share peace, all share light. This beautiful realization comes to us as we release the ego's insane stories.
But the ego's thought system doesn't give up easily when it senses the game is up. It tries to hook us back into the dream with fear, anxiety, stress and guilt. It has thousands of tricks to snag us, and it takes great diligence and willingness not to be hooked back in.
Last night I was woken up at 1 a.m. by some noisy kids partying in the communal gardens. I felt angry and started thinking of ways to retaliate. I thought of calling the police, or the noise team, but knew I would have to wait hours for them to arrive. I thought of going down and yelling at them. Why were they so inconsiderate? Who are they? Where are their parents? Do they belong here? Would I get into a fight? Do they have a knife? I was totally hooked into the ego's rant.
"Heaven is the decision I must make." (W-pI-138)
I decided to step back and ask the Holy Spirit for guidance. I stood there by the window and quietly asked Holy Spirit, "What would you have me do?" What came to me was, "They are innocent, simply calling for love. Send them blessings and love. Then close the window and put on the fan." So that's what I did.
"How can you know whether you chose the stairs to Heaven or the way to hell? Quite easily. How do you feel? Is peace in your awareness?" (T-23.II.22:6-9)
I could no longer hear them in the garden.
I smiled and felt peace return. My heart was filled with a reflection of Heaven, and I had a great night's sleep.
Rev. Dan Strodl is Manager of Miracle Network in the UK, Pathways of Light Spiritual Counsellor, and Accessing Inner Wisdom Counsellor. Email: .(JavaScript must be enabled to view this email address) Website: http://www.danstrodl.com
© 2019, Pathways of Light. https://www.pathwaysoflight.org
You may freely share copies of this with your friends, provided this copyright notice and website address are included.
---
Back to main page of Miracles News.
Has this page been helpful to you?
Your contribution in support of this site is greatly appreciated. To make a tax deductible contribution or become a supporting member online, click here.
Or send a check or money order to Pathways of Light, 6 Oak Court, Ormond Beach, FL 32174-2623 (USD only, please) Thank you for your support.
Articles by
Pathways of Light Ministers
and Others.
Pathways of Light Membership
Support Pathways of Light with an annual membership donation or become a sustaining member through monthly contributions. Includes printed Miracles News magazine mailed quarterly. Click here.
Subscribe to printed version.
To have Miracles News magazine mailed to you quarterly, Click here.
Most recent entries
Miracles News has been viewed 1129458 times
Archives