April-June, 2019
Holy Spirit, Teach Me to Love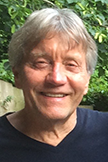 At the beginning of 2019, I set my intention to bring love into the world. I considered how I could do this and thought of kindness, compassion, smiles, listening, affirming others. As I carried love into the new year, I felt more joy, love, and peace. My hourly mantra was "I am love."
Last week I was reading a book called The Miracle of Real Forgiveness by Tom Carpenter. A passage from the book jumped out at me. Tom suggested we ask, "Holy Spirit, teach me how to love." I felt drawn to it, and then I thought… "Hmmm ..... I already know how to love." But I did it anyway.
Every hour I would stop and say, "Holy Spirit, teach me how to love." And my experience of extending love grew in ways I never would have guessed.
I live in a large apartment complex with many neighbors, and have been treating them as friends even though I don't know many of them. I have engaged them in conversation, smiled, and helped them in anyway that seemed appropriate.
There is one girl who I don't know, and I said to her "Hi, are you new here?" She turned to me and said with an angry scowl on her face, "You already know that!" Then I asked what her name was, and she said "Why do you want to know?" I became frightened and decided to say nothing to her in the future.
Then I saw her last week, and we shared the tiny elevator together. She had the usual scowl on her face, and so I turned inward and said "Holy Spirit, teach me how to love."
Then a thought came to me ... "Send her silent blessings." And so I thought "I bless you in your joy, I bless you in your peace, I bless you in your happiness." And as the elevator reached the ground floor she turned to me and smiled, and I smiled back. Thank you Holy Spirit.
A few days ago I was at home and my partner's phone rang. She answered the phone ... made a grimacing expression ... and handed me the phone. On the other end was a neighbor who has mental health issues, and was screaming down the line. All I could understand was "Help me!!!" So I put on my shoes and went over to her apartment.
On the way I said, "Holy Spirit, teach me how to love." As I walked in she was screaming so loud I couldn't understand what she wanted. I asked her what was wrong, and all she could do was point to a dozen eggs broken on the floor.
I got a broom to clean it up and she screamed even louder, and pointed to a mop on the balcony. I got the mop and cleaned up the eggs, and then went over to her, sat down next to her, and held her hand. And a few moments later she calmed down.
I'm starting to see that as we bring love into the world, our world changes. Thank you Holy Spirit.
Rev. Dan Strodl is a Pathways of Light minister and publisher of Miracle Worker magazine in London, UK. His email is: .(JavaScript must be enabled to view this email address) Visit Miracle Network online at www@.Miracles.org.uk
© 2019, Pathways of Light. https://www.pathwaysoflight.org
You may freely share copies of this with your friends, provided this copyright notice and website address are included.
---
Back to main page of Miracles News.
Has this page been helpful to you?
Your contribution in support of this site is greatly appreciated. To make a tax deductible contribution or become a supporting member online, click here.
Or send a check or money order to Pathways of Light, 6 Oak Court, Ormond Beach, FL 32174-2623 (USD only, please) Thank you for your support.
Articles by
Pathways of Light Ministers
and Others.
Pathways of Light Membership
Support Pathways of Light with an annual membership donation or become a sustaining member through monthly contributions. Includes printed Miracles News magazine mailed quarterly. Click here.
Subscribe to printed version.
To have Miracles News magazine mailed to you quarterly, Click here.
Most recent entries
Miracles News has been viewed 1065534 times
Archives