July-September, 2018
I Am Still as God Created Me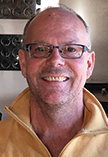 Before I started one of my smaller meditations that I am trying to do hourly, I heard some arguing from a mother and father of a two year old across the street from me. I was working on ACIM Lesson 110, I am as God created me. I was led to include my neighbors saying, "We are all as God created us to be." I had a great meditation seeing everyone in the Light that we all are. I also sent Love and peace to them and then out to the Sonship.
A couple of minutes after I finished, the mother and father started screaming at each other. The mother then yelled, "Please help!… Anyone…please help!" I was still very connected with my inner Guide, the Holy Spirit, and was prompted to call 911.
With 911 still on the line and asking Holy Spirit to guide us all, three neighbors and myself went over. I did not feel any fear because I consider both the mother and father my friends along with having that connection with the Holy Spirit. With tears in my eyes though, I was led by Holy Spirit to calm everyone down. The father took off on his bicycle before the police showed up. When they did arrive, I was emotionally wiped out, gave the mother a hug and then walked home.
I immediately went to my meditation chair repeating, "We are all as God created us to be." My inner Guide said that I was needed here to send out Love and to remember my brothers in their true state as Love… It came to me that all of this is coming up for my healing along with the entire Sonship… and that we are all safe in the Love of God — still perfect, innocent and untouched by anything this ego dream seems to show us.
I then sensed myself rising above the situation, with my neighbors right by my side. I could see their Light, love and complete innocence… I could see us holding hands and dancing around in a circle of complete joy, singing merrily, merrily, life is but a dream. Birds and butterflies were joining us in this celebration of our oneness in Gods love.
I was visibly shaken by this episode, but because Holy Spirit was and is with me, I was able to get back to my true peaceful self as love quickly.
Every morning and many times a day I ask Holy Spirit to guide me to help me see with His vision. I am so blessed and thankful for ACIM and Pathways of Light courses to give me tools to stay connected with my inner Guide, to love and keep me in peace.
Holy Spirit was able to help me see everyone involved in this drama as innocent, pure Love… that we are all calling for that God given love.
The beauty of the ACIM Workbook daily lessons are that every lesson is capable of guiding me back to the Holy Spirit and to the peace of love I try to live.
I do not know what anything means, but the Holy Spirit has led me to be here at this time for healing myself, my neighbors and the Sonship. I know that there are still lessons I need to learn and I am so thankful that they are coming up to be seen, healed and released. I am receiving lessons to bring me back to the peace and Love that is my true Self. Holy Spirit is showing me that these bodies are not our true selves. He is saying this is how I can heal — to give Him the judgments and fear the ego wants me to see and feel.
It works! I did not get sucked in to judging the situation. Nobody is at fault. No one is guilty. Everyone is innocent, pure love. This is how Holy Spirit is showing me to see it. So I put my trust in Him and I do see that Love in everyone; I do see that innocence, that guiltlessness. We are all the Son of God, the Son of Love — pure love, whole and complete within our Source. All of my brothers are my saviors and I am theirs.
Thank you, Holy Spirit, for helping me see my brothers as their true Self. Thank you for reminding me of our one true Self as pure Love.
A couple of day's later the mother, father and son came over. We talked about the whole situation and she said she knows that she has guardian angels. She wishes she could hear them. I said, "Ask for their help as soon as you can when you wake up. Ask them to guide you as many times as you can throughout the day. Ask them to help you in your sleeping time as well. Whether you call it your guardian angels, the good in ourselves, Spirit, Holy Spirit, our inner Guide, Jesus, Buddha, Love or God — take time to go within to listen or just to find the peace that you so deserve."
Rev. Greg Hesch is a Pathways of Light minister living in Ormond Beach, Florida. Email: .(JavaScript must be enabled to view this email address)
© 2018, Pathways of Light. https://www.pathwaysoflight.org
You may freely share copies of this with your friends, provided this copyright notice and website address are included.
---
Back to main page of Miracles News.
Has this page been helpful to you?
Your contribution in support of this site is greatly appreciated. To make a tax deductible contribution or become a supporting member online, click here.
Or send a check or money order to Pathways of Light, 6 Oak Court, Ormond Beach, FL 32174-2623 (USD only, please) Thank you for your support.
Articles by
Pathways of Light Ministers
and Others.
Pathways of Light Membership
Support Pathways of Light with an annual membership donation or become a sustaining member through monthly contributions. Includes printed Miracles News magazine mailed quarterly. Click here.
Subscribe to printed version.
To have Miracles News magazine mailed to you quarterly, Click here.
Most recent entries
Miracles News has been viewed 1040507 times
Archives