January-March, 2019
Jesus in the Window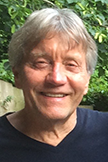 When I was four years old I walked out of my house holding my granddad's hand. As we walked down the path, I looked back and saw in my bedroom window Jesus smiling at us. I said to granddad "Look! Jesus in the window!" Granddad yanked my arm, pulled me into his car, and told me not to be so stupid.
My family used to drag me to church every Sunday. I didn't like seeing Jesus hanging on the cross with nails in his hands, and being told he died for my sins. That didn't make sense to me even at an early age. I left traditional religion as soon as I could escape, and turned to a different god, the god of materialism. I went into advertising, and was given a job in the creative department of a big advertising agency on Madison Avenue, and flourished in this insane world.
Years later I owned an advertising agency with an alcoholic creative partner. He was going to AA meetings and was seeing a 12 step therapist to try to heal his addiction. One day my creative partner gave me a book called 'The Road Less Traveled' by Scott Peck, and I had another gentle nudge.
It dawned on me that this materialistic lifestyle wasn't working. I thought I had everything I could possibly want to be happy: a big house, tennis court, swimming pool, horses, expensive cars, an advertising agency with my name on the door and all the power and prestige that comes with it. But the truth was I felt sad, lonely, and depressed. I knew that what was missing was Spirit.
I went to my business partner's therapist and started to get real about what was going on. I was able to be honest about how unhappy I was. He suggested I go to a 12-step meeting, co-dependence anonymous, and it was there I had another gentle nudge. This 12-step program woke me up to something deep inside me … my Higher Power. Suddenly I felt joy and happiness reappear in my life. I loved my new life and lost interest in the world of possessions. My business partner and my wife both kicked me out of their lives, and I was fine with that. I went from having immense material abundance to a suitcase with a few books and a change of clothes. And I was so happy, I was connected to my Source again.
From there I was drawn to Buddhism where I learned to meditate, but was upset when I asked where God was in this teaching. I was told that Buddha never talked about God, because it was indescribable. I felt lost and confused following a spiritual program with no mention of God.
And then A Course in Miracles came into my life with another gentle nudge. I went to a workshop and the speaker talked about everything I was looking for. I embraced this teaching from Jesus with all of my being, and my connection to Spirit deepened. I now walk through my day holding Jesus' hand, and experience God's beautiful gifts — love, peace and joy.
I can see now that I have been guided all through my life with gentle nudges, starting with Jesus in the window.
Rev. Dan Strodl is a Pathways of Light minister and publisher of Miracle Worker magazine in London, UK. His email is: .(JavaScript must be enabled to view this email address) Visit Miracle Network online at www@.Miracles.org.uk
© 2018, Pathways of Light. https://www.pathwaysoflight.org
You may freely share copies of this with your friends, provided this copyright notice and website address are included.
---
Back to main page of Miracles News.
Has this page been helpful to you?
Your contribution in support of this site is greatly appreciated. To make a tax deductible contribution or become a supporting member online, click here.
Or send a check or money order to Pathways of Light, 6 Oak Court, Ormond Beach, FL 32174-2623 (USD only, please) Thank you for your support.
Articles by
Pathways of Light Ministers
and Others.
Pathways of Light Membership
Support Pathways of Light with an annual membership donation or become a sustaining member through monthly contributions. Includes printed Miracles News magazine mailed quarterly. Click here.
Subscribe to printed version.
To have Miracles News magazine mailed to you quarterly, Click here.
Most recent entries
Miracles News has been viewed 1170471 times
Archives