July-September 2019
Miracles News, July-September 2019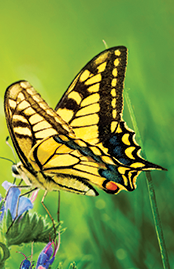 We fly free
when we accept
our oneness in
God's Love.
Pathways of Light Miracles News is published quarterly in print and online to provide a forum for Pathways of Light ministers to share their process of allowing the Holy Spirit to heal their minds. As we read and share these miracle stories with each other, we are inspired and we inspire each other to accelerate our return Home to Love, peace and happiness.
Subscriptions to the printed version are available without charge, but tax-deductible donations are gratefully received to support the printing and mailing expenses of this magazine. A suggested donation of $25.00 a year is invited.
Pathways of Light is nonprofit, providing spiritually focused courses with A Course in Miracles orientation, and has served spiritual awakening for over 27 years. Pathways of Light is dedicated to joining with people around the world in awakening to the Love and peace of God. As part of this joining, Pathways of Light offers training in a new kind of spiritual ministry.
© 2019, Pathways of Light. https://www.pathwaysoflight.org
You may freely share copies of this with your friends, provided this copyright notice and website address are included.
---
Back to main page of Miracles News.
Has this page been helpful to you?
Your contribution in support of this site is greatly appreciated. To make a tax deductible contribution or become a supporting member online, click here.
Or send a check or money order to Pathways of Light, 6 Oak Court, Ormond Beach, FL 32174-2623 (USD only, please) Thank you for your support.
Articles by
Pathways of Light Ministers
and Others.
Pathways of Light Membership
Support Pathways of Light with an annual membership donation or become a sustaining member through monthly contributions. Includes printed Miracles News magazine mailed quarterly. Click here.
Subscribe to printed version.
To have Miracles News magazine mailed to you quarterly, Click here.
Most recent entries
Miracles News has been viewed 1188978 times
Archives