January-March, 2017
Old Time Religion: "You're an Abomination. Get Out!"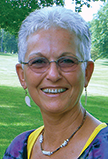 Being recently ordained by Pathways of Light Spiritual College, I seek the path where I may best serve. I have been following a vital teaching of the Course: Listen. And as Rev. Mary Gerard Lenihan, O.M.C. would say, "Pause for Inspiration in the midst of everyday life."
These easy to remember steps of "Pause for Inspiration include: PAUSE. The decision to stop in the moment. STEP BACK. The decision to get out of my own way. STEP ASIDE. The decision to invite Inspiration Within to help. And LET INSPIRATION GUIDE. The decision to choose my Inspired Mind and follow the Wisdom of Inspiration."
I'm grateful to Mary. Following the Pause Steps has brought me to, what should have been, an obvious insight. As a gay woman—a woman who was previously married to a wonderful man with whom I have two amazing adult-children; a woman who has been in a committed relationship with a loving, beautiful and talented woman for nearly three decades, I saw the Light: Serve the LGBTQ community. Of course!
I suffered for years as a closeted Catholic. Being preached at and lectured to from the pulpit I was sent the message that I was damned to the flames of hell. However, I couldn't publicly grieve or lash out. So I did what so many LGBTQ people do. I damned myself. I escorted myself to hell. I internalized the hate and attempted to hide it deep within.
Years ago at a workshop, I heard a woman tell of suppressing feelings and needs. I'm paraphrasing when I relate her message: Hiding something you fear is like burying yourself alive. You clamor and claw at yourself as you attempt to dig your way back out… to life.
Clamor and claw I did. Hiding my sexuality was life-taking. Bit by bit society and the church sent devastating messages that I was no good. That I was a mistake. That I was to be stricken down. I listened and believed those messages. At that time, I didn't realize that I was listening to my ego that, through my fear, was taking sheer delight in witnessing my incremental demise.
Society at-large fed into the diatribe that so many of my brothers and sisters and I were force fed. Having been born within the early years of the Baby Boomer spectrum, medical and psychological practices were still evolving. Open minds had not caught up with open wounds. There were numerous instances of conversion therapy that I was subjected to. The electric shocks to my brain didn't change me, but they removed numerous memories and my self-worth. They reinforced what I had come to believe: I was an unchangeable abomination!
While in education for over 32 years as both a teacher and administrator, I feared being outed. My job was on the line as was my reputation and my family. In the closet, I huddled in fetal position for years. Listening to colleagues tell stories of the love-of-their-lives while socializing over lunch in the teacher's lounge, I could only sit there with a wooden smile on my face and bury my story, my pain and my fear even deeper.
The late '80s and early '90s brought a miracle! A metaphorical shovel was handed to me as a way of digging myself out of my tomb. Dignity-Integrity, a joint organization and gathering place for Catholic and Episcopalian LGBTQ individuals, couples and families offered spiritual masses and services. The brave priests and nuns who served and ministered to the community extended unconditional love, hope and a renewal of our faith. There was no condemnation, no old time religion. They offered us Life through the Truth of the Holy Spirit. Through my willingness to accept those messages, my self-perception was transformed.
By pausing, getting out of my own way, inviting Inspiration and then listening, I now realize that I have the opportunity to serve the organization that once served me, that helped save my life. I can also reach out our local PRIDE organization and offer my gifts of joining in spirit and extending love and acceptance, which I have come to realize will become a vital part of my Peace and Harmony Ministry.
Rev. Barbara Adams, O.M.C. was ordained in July 2016. This past October, she invited her Pathways facilitator, Rev. Maria Felipe from L.A. to perform a local ordination near her home in upstate NY, which was witnessed by family and friends. Rev. Barb can be contacted at: .(JavaScript must be enabled to view this email address)
© 2016, Pathways of Light. https://www.pathwaysoflight.org
You may freely share copies of this with your friends, provided this copyright notice and website address are included.
---
Back to main page of Miracles News.
Has this page been helpful to you?
Your contribution to support this site is greatly appreciated. To make a tax deductible contribution with a credit/debit card, click here.
Click here to donate from your PayPal account.
Or send a check to Pathways of Light, 12530 Lions Chase Court, Huntley, IL 60142.
Articles by
Pathways of Light Ministers
and Others.
Pathways of Light Membership
Support Pathways of Light with an annual membership donation or become a sustaining member through monthly contributions. Includes printed Miracles News magazine mailed quarterly. Click here.
Subscribe to printed version.
To have Miracles News magazine mailed to you quarterly, Click here.
Most recent entries
Miracles News has been viewed 1670162 times
Archives