January-March, 2020
Perfect Creation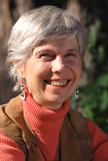 I was recently moved by a video I watched about service animals. This young boy, Matt, is epileptic, and he now has a service dog. Merlin can sense an oncoming seizure long before it occurs, giving Matt's family time to medicate and protect him.
It was what Matt's mother said that really got my attention: "When Merlin looks up into Matt's face, he doesn't see a kid with epilepsy. He sees the most perfect creation God ever made. If you see that sort of adoration reflected back at you day after day, it changes the way you feel about yourself." Wow! Isn't that precisely what A Course in Miracles has been trying to teach me to do for all these years? To look right past what my senses are showing me, and see God's perfection in everyone and everything?
We just never know how Holy Spirit is going to reach us with His message of love. We need to pay attention because love is all around us. And love is God's perfect creation.
Rev. Paula Richards, O.M.C., is a Pathways of Light minister living in North Billerica, MA. Email: .(JavaScript must be enabled to view this email address) Web: spiritrisingministries.com Call me at 508-517-9361
© 2019, Pathways of Light. https://www.pathwaysoflight.org
You may freely share copies of this with your friends, provided this copyright notice and website address are included.
---
Back to main page of Miracles News.
Has this page been helpful to you?
Your contribution in support of this site is greatly appreciated. To make a tax deductible contribution or become a supporting member online, click here.
Or send a check or money order to Pathways of Light, 6 Oak Court, Ormond Beach, FL 32174-2623 (USD only, please) Thank you for your support.
Articles by
Pathways of Light Ministers
and Others.
Pathways of Light Membership
Support Pathways of Light with an annual membership donation or become a sustaining member through monthly contributions. Includes printed Miracles News magazine mailed quarterly. Click here.
Subscribe to printed version.
To have Miracles News magazine mailed to you quarterly, Click here.
Most recent entries
Miracles News has been viewed 1144739 times
Archives