April-June, 2023
Puzzled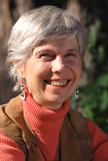 One of the best things about the used bookstore near me isn't the books. It isn't the lovely couple who own it or the warm, welcoming space they've created. It's the puzzles. Row upon row of used jigsaw puzzles that you can rent for a full month.
Not everyone enjoys doing puzzles. I happen to love it if there is a pretty picture and not just some mind-boggling challenge. I don't feel the need to prove myself in that way. But, as I sat the other evening, pouring out the contents of another 1,000-piece puzzle box, I couldn't help wondering what the fascination is with cutting a photo into many pieces only to put them back together again. Why would anyone do that? It somehow felt important to have an answer.
I asked Holy Spirit to explore this with me because I suspected that puzzle-making might be a metaphor for life. A Course in Miracles tells us over and over that we are whole, complete, and perfect, that we are One. But we are experiencing ourselves as billions of separate individuals trying to rejoin, to see where we fit into the bigger picture. Again, why would we do that?
When I was care giving for my mom, her dementia created a lot of confusion and unpredictability. I would often find solace in making a puzzle. With each piece that I connected, it felt as though I were bringing order to the chaos. There was a peacefulness in knowing that, with persistence, I would ultimately be able to complete the scene. I enjoyed experiencing the photo more intimately by focusing on the size, color, and shape of each individual piece and taking time to see where and how it fit in. The finished puzzle size was also larger and grander somehow than the photo on the box.
Is our human experience like making a puzzle? Are we learning, through loving, how to bring order to the chaos? Are we developing a faith that, with persistence, we will ultimately experience the truth that we are One with our Creator? Are we using time to experience the characteristics of each individual, getting to know each part of ourselves more intimately? Are we seeing how we interconnect and fit into the larger whole? Through experiencing what it's like to be what we are not, are we expanding in our capacity to love, discovering that the whole is, indeed, greater than all its parts?
Beyond puzzle-making, why do we choose to do anything that we do? Paint a picture? Try a new food? Move across the country? Why did we choose to have this human experience? Maybe we don't need a reason for what we choose to do. Perhaps the only answer to "why we do what we do" is that, in our God-given power and freedom, we wanted to.
Rev. Paula Richards, O.M.C., is a Pathways of Light minister from Green Valley, AZ. Email: .(JavaScript must be enabled to view this email address): SpiritRisingMinistries.com Phone: 508-517-9361
© 2023, Pathways of Light. https://www.pathwaysoflight.org
You may freely share copies of this with your friends, provided this copyright notice and website address are included.
---
Back to main page of Miracles News.
Has this page been helpful to you?
Your contribution to support this site is greatly appreciated. To make a tax deductible contribution with a credit/debit card, click here.
Click here to donate from your PayPal account.
Or send a check to Pathways of Light, 12530 Lions Chase Court, Huntley, IL 60142.
Articles by
Pathways of Light Ministers
and Others.
Pathways of Light Membership
Support Pathways of Light with an annual membership donation or become a sustaining member through monthly contributions. Includes printed Miracles News magazine mailed quarterly. Click here.
Subscribe to printed version.
To have Miracles News magazine mailed to you quarterly, Click here.
Most recent entries
Miracles News has been viewed 1789376 times
Archives