April-June, 2019
Spirit's Serenade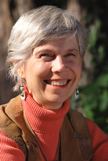 Have you ever noticed how easily you can sometimes recall lyrics from a song you listened to years ago? I've often said that, if you want to remember something, just put it to music. That's what the Holy Spirit often does for me.
There's a little ditty I remember hearing as a teen:
Show me the way to go home. I'm tired, and I want to go to bed.
I had a little drink about an hour ago, and it went right to my head. No matter where I roam, over land or sea or foam, you can always hear me singing this song,
show me the way to go home.
At age 97, my mom is reverting more and more often to singing songs from long ago. That song is a particular favorite. I've begun to notice that she always seems to start singing it right when I am exasperated about something (even though I think I am hiding my frustration from her).
It finally dawned on me that, if I substitute the word "dream" instead of "drink," the song takes on a whole new meaning.
Every morning I do ask Holy Spirit to show me the way home. And now, when I'm upset, I know He serenades me with that song to remind me that I'm caught up in the dream.
A year or so ago I had a similar experience. For many days in a row, the same melody kept running through my head. When I finally took notice and tried to think what song it was, I sensed that it was a John Denver song.
When it finally came to me, I felt like Jesus was speaking directly to my heart!
Follow me, where I go, what I am, who I know.
Make it part of you to be a part of me.
Follow me up and down, all the way, all around. Take my hand and say you'll follow me.
Sometimes, not all the words of a song seem relevant, but when there is guidance given, you just know. You hear what you are meant to hear. Another song segment that I find helpful goes like this:
Follow me, everything is all right.
I'll be the one to tuck you in at night.
And if you want to leave, I can guarantee
you won't find nobody else like me.
Holy Spirit has guided and comforted me through song many, many times over the years. I am so grateful for these loving and gentle reminders that I am not alone.
I've especially learned to pay attention to the very first lyrics I hear when I turn on the car radio. The most profound communication I ever received through music happened the morning of my late husband's passing. He had been in a motorcycle accident, and I was called to the emergency room. He passed away just before I arrived. As I drove home that morning, amid my intense grief, I had the crazy urge to turn on the radio. The first lyrics I heard were these:
As I lay me down to sleep, I pray that you will hold me dear. Though I'm far away, I whisper your name into the sky, and I will wake up happy.
I can't begin to tell you how much comfort that brought.
Often, when I first wake up or throughout the day, songs will be playing in my head. Sometimes it is simply a tune I've heard recently that I haven't let go. But, more often than not, if I pay attention, I will recognize the Holy Spirit lovingly guiding me — showing me the way to go home.
Rev. Paula Richards, O.M.C., is a Pathways of Light minister living in North Billerica, MA. View her inspiring videos at: http://www.pathwaysoflight.org/home/video_links Email: .(JavaScript must be enabled to view this email address) Web: spiritrisingministries.com
© 2019, Pathways of Light. https://www.pathwaysoflight.org
You may freely share copies of this with your friends, provided this copyright notice and website address are included.
---
Back to main page of Miracles News.
Has this page been helpful to you?
Your contribution in support of this site is greatly appreciated. To make a tax deductible contribution or become a supporting member online, click here.
Or send a check or money order to Pathways of Light, 6 Oak Court, Ormond Beach, FL 32174-2623 (USD only, please) Thank you for your support.
Articles by
Pathways of Light Ministers
and Others.
Pathways of Light Membership
Support Pathways of Light with an annual membership donation or become a sustaining member through monthly contributions. Includes printed Miracles News magazine mailed quarterly. Click here.
Subscribe to printed version.
To have Miracles News magazine mailed to you quarterly, Click here.
Most recent entries
Miracles News has been viewed 1065536 times
Archives