January-March, 2018
The Messenger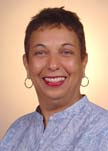 "When I respond with Love, I am accepting God's gift. When I respond with Love, I am channeling God, who is Love, to my brother."
This insight burst into my mind two days after the POL Ministers check-in meeting on Tuesday. Our sharing included a discussion about the events in Las Vegas two days prior, in the context of there being only two states — Love or a call for Love.
The conversation centered around the truth that, no matter what seems to be happening in the outer world of form, there is only one true way to look at it — it is an expression of Love, or it is a call for Love.
With Holy Spirit in charge, the discussion acknowledged that the "murderer" is also within us, and while it was "he, the other," who carried out this seemingly blatant, extreme act of aggression, we recognized the dynamic.
After the meeting, with Holy Spirit, I reflected further on this idea. We can accept those actions as coming from a place of lack of awareness of the fullness of Love within. This creates states of pain and fear, resulting in judgments, criticisms, and condemnation, obviously culminating in an explosion within that led to those actions. While our own "explosions" may not be as obvious as to be heard around the world (Quantum Physics may have something to say about that!), when we are being honest with ourselves, the pattern is indeed familiar: In our guilt and fear, we isolate ourselves; in our perceived pain, we close ourselves off; we "blow up" at our kids, stupid people, other drivers; we "shoot" first and ask questions later when someone dares to question our place in our specially created world; we "repeat" our arguments continuously so our partner will finally say, "you're right." Why?
ACIM says it simply: "If you did not believe that you deserved attack, it would never occur to you to give attack to anyone at all." (T-31.III.2:7)
The following questions then galloped through my mind: Which moment today should I choose to not give my love to? Which space of time is not worthy of my awareness? Which interaction, with which person, should I not bother with because it would be a waste of my time, and I don't like them anyway? Which brother on the street should I ignore today because I have better things to think about? When I am washing dishes today, which one is beneath my dignity to give my attention to? As I move from one activity to another, in which space of time can I be unloving, because I need to focus on other things?
Seeing my everyday behavior and obvious mind-set from this perspective was a stunning revelation. It led me to see that if I give "love" only when it suits me, then I am in that separate world, of my own making, and I am calling out for Love as did my brother. If Love has no conditions, boundaries or limitations, why do I allow limitations to impede its flow?
As ACIM states: "Your real terror is of redemption." (T-13.III.1:11), and as Marianne Williamson says, in part: "Our deepest fear is not that we are inadequate. Our deepest fear is that we are powerful beyond measure. It is our Light, not our darkness, that most frightens us."
The place of illusion, the dimension of separation, in which we think we have abandoned God, is just that — an illusion. Since "A messenger is not the one who writes the message he delivers." (W-pI.159.5)
If I accept my true role, then my only message is Love. Looking into this mirror, our brother has given us another chance to choose again; to choose to be the messenger and not the other, and we bless him for that opportunity.
Rev. Vicki Rostant, O.M.C. is a Pathways of Light minister living in Toronto, Ontario, Canada. Email: .(JavaScript must be enabled to view this email address)
© 2017, Pathways of Light. https://www.pathwaysoflight.org
You may freely share copies of this with your friends, provided this copyright notice and website address are included.
---
Back to main page of Miracles News.
Articles by
Pathways of Light Ministers
and Others.
Pathways of Light Membership
Support Pathways of Light with an annual membership donation or become a sustaining member through monthly contributions. Includes printed Miracles News magazine mailed quarterly. Click here.
Subscribe to printed version.
To have Miracles News magazine mailed to you quarterly, Click here.
Most recent entries
Miracles News has been viewed 935176 times
Archives