January-March, 2018
There Is a Thing Called Happiness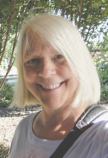 There is a thing called happiness. What is it? How do I get it? How do I keep it? Where does it go?
I spent much of my life here looking for happiness — looking, searching, waiting, hoping. When I was a little girl, happiness seemed like something other people had. Other people knew how to do it right, to be happy. I saw Prince Charming rescue the princess and surely that had to be happiness. They even said they lived happily ever after. "Some day my prince will come. Some day, I will be happy." That's what kept me going in the seeming endless muck of life which mostly was the opposite of happy. I was sad, confused, disillusioned and lonely.  
I was thinking about the path I've been on for over 25 years since finding A Course in Miracles. The ego finds so many ways to question the Truth.
Recently, I was lying in bed. I was fine. I lay there and suddenly a fear thought of scarcity and lack welled up, seemingly out of nowhere. OOOooo, it gained momentum quickly. Like a hungry blood sucker, it swelled up in my mind very fast. I felt my body react — heart racing, head hurt, sick stomach. It was almost shocking how quickly I went from feeling okay to awful.
Thank you God that I have practiced with ACIM for all these years. I became aware of how the fear thought created the suffering I was experiencing. I prayed, "Holy Spirit, I have some fear thoughts. I give all fear thoughts to You. I ask peace to replace this mistaken thinking. I am willing to be happy." It took a few repetitions of prayer to Holy Spirit. Apparently, I am still learning to let go of fear. Holy Spirit answered my prayer, as always, with peace returning. I have faith in Love.
Another aspect of this happiness path really became apparent recently as well. It's kind of the opposite end of the drama spectrum. I was just kind of "blah" one day. "Oh, nothing is happening," the ego said. "It's too quiet, it's boring. My life is so not exciting." Translated as: I am not happy.
Well, Thank you God, again! I caught the thought. I realized my energy and thoughts were spiraling down, just because I was having some quiet, peaceful time! I was so very grateful to Holy Spirit for coming to me, reminding me that the need for DODODOING is a way for busyness to distract from being in the Truth… that Peace is my goal. I remembered to open to peace, open to being satisfied with what is, to know and accept that I need do nothing except accept the Peace of God. Joy returned once again. So simple, yet it's everything I needed to "find" my happiness.  
I have come such a long way on the path of Love, the same Path we all are on. Often, I am happy. Simply happy. I know my little girl self would be joyous to know that I have found a way to be happy in this insane world. It is NOT about the Prince coming to save me and make my life worth living. It's about letting go of believing that the world can make me happy. The world includes relationships, friends, the body, even my cherished family. Only the choice to be Love in every moment "works."
I don't know if I've ever admitted this "publicly," but I am a pragmatist at heart. Sometimes the Course get so "wordy" and "lofty" and even expects me to give up the belief that this body is real! For God's Sake!
But what I have found countless times, and ACIM has proven to me, is that the only way to be happy in this world is to forgive everything, including the body, and choose Love as the Truth.
Love is the Way. It is not politics or money or bodies. So much of human life is measured by these things. But I have heard Holy Spirit tell us that the only thing that matters is Love. Love is the medium through which we are either happy or miserable.

Pragmatist satisfied: Choosing Love and forgiving everything else brings happiness. The joyful Child of God within rejoices. The grateful human form living the happy dream relaxes and trusts God's plan.
Happiness was and always is an inside job. I open to the Love within me and I remember Who I am.
I am peace. I am joy. I am Love.
Rev. Susan Comello is a Pathways of Light minister living in Madison, Wisconsin. Email: .(JavaScript must be enabled to view this email address)
© 2017, Pathways of Light. https://www.pathwaysoflight.org
You may freely share copies of this with your friends, provided this copyright notice and website address are included.
---
Back to main page of Miracles News.
Articles by
Pathways of Light Ministers
and Others.
Pathways of Light Membership
Support Pathways of Light with an annual membership donation or become a sustaining member through monthly contributions. Includes printed Miracles News magazine mailed quarterly. Click here.
Subscribe to printed version.
To have Miracles News magazine mailed to you quarterly, Click here.
Most recent entries
Miracles News has been viewed 935180 times
Archives