April-June, 2021
We're Entitled to Miracles, Not a Perfect Pain-Free Life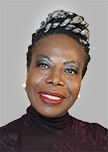 Given the way last year, 2020, unfolded — for all of us — you might think that I'm in denial when I say that for me, 2020 was a year of miracles.
Here's what I mean: I officiated my last wedding ceremony on March 14th, 2020. This brought the most lucrative part of my ministerial business and the part I enjoy the most — officiating weddings — to a screeching halt as most of the world went into lockdown.
We were now restricted in terms of how we shopped, where we traveled, and the way we socialized. On April 28th my mother died from complications of COVID-19, five days after coming down with the first symptoms. Since she had been living in a senior's residence at the time, I had not seen or hugged her for six weeks prior to her death due to the lockdown restrictions.
By appearance, none of this qualifies as a miracle. As a matter of fact, from the perspective of the world or on the level of form, all of these events occurring at the same time, is more like a recipe for worry, pain, and fear. A recipe for misery, not miracles.
However, from the perspective of A Course in Miracles, a miracle has nothing to do with the presence or appearance of anything on the level of form. Rather, according to the Course, a "miracle" is a change in our perception that allows us to feel safe, healed, empowered, and at peace regardless of circumstances or conditions.
Workbook Lesson 77 teaches "I am entitled to miracles." To be entitled to something means it is ours by "right." We need do nothing to earn it. We simply have to claim it. The Course also teaches that Forgiveness is the means to miracles. How we are to practice forgiveness is by looking past the form or appearance of a troubling circumstance or condition and recognize the truth that lies behind. And the truth is that regardless of what we see, encounter or experience, all that is ever taking place is that we are experiencing the thoughts and ideas that are in our minds, in different forms.
To be entitled to miracles does not mean that we'll never experience pain, fear, or lack of peace.
What it does mean is that we all have the ability to remember the truth and to choose to look at everything and everyone from the perspective of truth in any moment or situation that we do not find peaceful. Practicing forgiveness is the way we claim the miracles to which we are entitled.
This is what I did in each of those seemingly troubling situations I mentioned earlier that I experienced in 2020. Whether it was feeling the deep sense of loss over my mother's passing, feeling concerned about losing a big chunk of my income and not being able to serve in a way that I enjoy most, or feeling stressed and worried about the restrictions and changes in my lifestyle and how I interacted with others.
I practiced forgiveness and this allowed me to experience a sense of peace throughout the year, despite those on-going conditions. I still feel that sense of peace today, even though I have not been able to officiate any weddings since March 14th, 2020. In spite of the fact that here in Quebec, where I live, we went into a deeper lockdown in October. On December 25th, further lockdown measures were implemented. All non-essential stores, businesses, and services were closed.
Despite the fact that in mid-January, an 8:00 p.m. to 5:00 a.m. curfew was added and is still in effect at the time of this writing, February 11th, 2021. Still… I am at peace. I'm not entitled to a perfect pain-free life. As a matter of fact, as long as I am metaphorically "here," i.e. as long as I experience myself as a body, living in a world surrounded by other bodies and forms, I will experience pain, fear, or lack of peace in some form.
I am however entitled to miracles, meaning, that in any moment in which I experience any form of fear, pain, or lack of peace, I have the right to practice forgiveness and experience miracles instead. That's what I did in 2020 and this is why I say that for me, 2020, was a year of miracles.
Rev. Jennifer McSween, O.M.C., is a Pathways of Light Minister living in Montreal, Canada. Email: .(JavaScript must be enabled to view this email address)
Website:
© 2021, Pathways of Light. https://www.pathwaysoflight.org
You may freely share copies of this with your friends, provided this copyright notice and website address are included.
---
Back to main page of Miracles News.
Has this page been helpful to you?
Your contribution in support of this site is greatly appreciated. To make a tax deductible contribution or become a supporting member online, click here.
Or send a check or money order to Pathways of Light, 6 Oak Court, Ormond Beach, FL 32174-2623 (USD only, please) Thank you for your support.
Articles by
Pathways of Light Ministers
and Others.
Pathways of Light Membership
Support Pathways of Light with an annual membership donation or become a sustaining member through monthly contributions. Includes printed Miracles News magazine mailed quarterly. Click here.
Subscribe to printed version.
To have Miracles News magazine mailed to you quarterly, Click here.
Most recent entries
Miracles News has been viewed 1309467 times
Archives