April-June, 2018
Why Do Affirmations?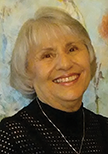 Okay, I can hear you saying: "Why should I do mirror affirmations? It really seems silly. And say them out loud? Even more preposterous! Anyway, aren't affirmations pretty 'Sixties'? No one does that anymore! I am a modern person. I don't need those affirmations and affirmations that go with the ACIM lessons are really a step too far. I will just read the lessons and, Barbara, even if I have your book, I will just read the affirmations when I read my daily lesson."
My answer to you is that I understand where you are coming from and what you are saying, but there may be nothing more powerful than looking yourself in the mirror and saying out loud: "I am the holy child of God."
What if whatever image you think of as Holy Spirit, (i.e. Jesus, Mother Mary, your higher Self, etc.) what if this image appeared in form right in front of you, looked you straight in your eyes and said: "( name ), you are the holy, innocent child of God. God wants you to know this indisputable fact and He has sent me here to tell it to you personally." Can you imagine how powerful that would be? Would you believe Him/Her? Would it change your belief about yourself forever? I think so!
And so, dear one, when you look in the mirror straight into your own eyes, that is exactly what you are doing. Your higher, holy Self is telling you who you really are. You are the form of the Holy Spirit that God has sent to give you the message (and everyone else on earth as well)! In the Course Jesus says: "You are my voice, my eyes, my feet, my hands through which I save the world. The Self from which I call to you is but your own." (W-pI.R-V.9:3-4)
I hope you won't think I am writing this just to sell more books. I am actually posting the affirmations for Monday through Friday's lessons for free on my Facebook page at https://www.facebook.com/barbaragoodmansiegel/. I was guided to start posting the affirmations for free because it does absolutely no one any good if I was guided to spend three years putting the book together along with ACIM Text quotes that reflect what the lesson teaches and no one knows about it. So here it is. Your ego may resist this powerful tool, so give it an honest trial time and see if doing the affirmations actually takes your intellectual knowledge of the lessons and carries their beautiful messages from your head down into your heart.
Rev. Barbara Goodman Siegel, O.M.C., author of "Finding Your Self in the Mirror: Awakening Through Mirror Affirmations for the 365 Lessons of A Course in Miracles," is a Pathways of Light minister living in St. Louis, Missouri. Email: .(JavaScript must be enabled to view this email address)
Web: Barbaragoodmansiegel.com
© 2018, Pathways of Light. https://www.pathwaysoflight.org
You may freely share copies of this with your friends, provided this copyright notice and website address are included.
---
Back to main page of Miracles News.
Articles by
Pathways of Light Ministers
and Others.
Pathways of Light Membership
Support Pathways of Light with an annual membership donation or become a sustaining member through monthly contributions. Includes printed Miracles News magazine mailed quarterly. Click here.
Subscribe to printed version.
To have Miracles News magazine mailed to you quarterly, Click here.
Most recent entries
Miracles News has been viewed 943033 times
Archives