July-September, 2022
A Journey of Awakening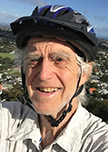 I, this mythical me, was born in Israel as an only child in 1949 to a couple, Zdenka and Zvonko Novak, who lost most of their family in the Holocaust (in the Balkans, former Yugoslavia, 1941). Until age 14 I seemed to experience a happy childhood. The black bird appeared in my life in the form of a high school mate who told me that I was gay. This memorable moment caused me to spiral down quickly into insanity. I will not bother you with the details except to mention that death would have been the sweetest solution, yet I knew that it was not an option and decided to continue living.
Around age 17 I was introduced to Yoga and later to Zen buddhism. I started studying pure Mathematics and in 1976 moved with my wife Haya and our three year old daughter to the USA to complete my PhD at the University of Connecticut in Storrs. After completing my studies our second daughter was born and the four of us moved to Ithaca NY for my first and only job as a college mathematics teacher at Ithaca College (https://www.ithaca.edu/faculty/novak).
Most of my life from age 14 until about 2020 I suffered from deep depressions and at the same time continued to explore spirituality in various forms. The first of the two most significant forms was ACIM. I heard Jerald Jampolsky talk on NPR about the book he wrote: "Love is Letting Go of Fear." I bought the ACIM book but could not read it for two years because of the Christian style that collided with my Jewish background. But when I entered into a most severe depression the book became an infinite poem and I was singing it in my attic. I also started going to a local ACIM group.
A few years later I experienced another form of transformation when a being of light (in the form of Sathya Sai Baba) entered into my body one night and much fear was transformed. I started traveling to India and ACIM took the back seat until C0VID-19 started. Haya and I got stuck in New Zealand for two years. There I found the Pathways of Light inspirational ACIM daily lessons and also other current ACIM lighthouses.
I am starting to know that I am not this body nor the mind but am always connected to my Source. This means that I am also not my personality and that the stories I believed and still partially believe in are only relatively true. For example, one story that I am starting to release is that I am a child of Holocaust survivors and that I was my mother's first husband Fritz who died on the Island of Pag in 1941. But to completely let go of a story, I need to clear the roots and traces that may still be haunting me in the darkness of my subconscious mind. The process still continues.
When my mother died in 2003, I started preparing for a 14-year exploration of the past that started in 2005 and ended in 2019. I wanted to find out what actually happened to my mother's family. I believe that I need to complete this investigation so that gradually I will be able to let go of the story and eventually all stories and travel the journey without distance from nowhere to Now Here. I summarized my findings in this 18 minute youtube video: https://www.youtube.com/watch?v=Zairekm47Yw
I am very grateful for A Course in Miracles and the Pathways of Light program that help me navigate from the unreal to the Real, gradually bringing me back to the sanity of my True Nature. (I started taking the ministerial courses with Greg Hesch).
Over the years I experienced so many miracles that were like drops of water to a man dying from thirst in the desert of this world. One memorable experience was that out of a deep depression I was transported to a white room with lots of water, that was actually my mother's womb. Then suddenly, I saw a cave and in it the ugliest and scariest monster my mind could imagine. When I saw the monster I was literally transported to Heaven and sang Hallelujahs for about 15 minutes.
Later I understood that I was so happy since I knew that I am not that monster (my fears) but an infinite soul always united with God. The monster was a symbol for my distress in the womb when my mother, who was pregnant with Trauma and guilt, could not respond to my call for Love.
I hope to continue sharing inspiring experiences in the upcoming offerings of Miracles News.
Dani Novak is a Pathways of Light ministerial student who lives in Ithaca NY. Email: .(JavaScript must be enabled to view this email address)
© 2022, Pathways of Light. https://www.pathwaysoflight.org
You may freely share copies of this with your friends, provided this copyright notice and website address are included.
---
Back to main page of Miracles News.
Has this page been helpful to you?
Your contribution to support this site is greatly appreciated. To make a tax deductible contribution with a credit/debit card, click here.
Click here to donate from your PayPal account.
Or send a check to Pathways of Light, 12530 Lions Chase Court, Huntley, IL 60142.
Articles by
Pathways of Light Ministers
and Others.
Pathways of Light Membership
Support Pathways of Light with an annual membership donation or become a sustaining member through monthly contributions. Includes printed Miracles News magazine mailed quarterly. Click here.
Subscribe to printed version.
To have Miracles News magazine mailed to you quarterly, Click here.
Most recent entries
Miracles News has been viewed 1732359 times
Archives