July-September 2019
Miracles News, July-September 2019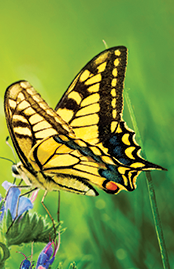 We fly free
when we accept
our oneness in
God's Love.
---
July-September, 2019
How Much Do You Want?

Let's start with money, since most course students seem to be over fifty years old. Do we have the amount of financial security we think we need? (Rent/mortgage, health insurance, retirement income, discretionary fund, and whatever else we can come up with.) How much money do we really want? Remember, when our budget spreadsheet is complete, if, (deep down) we would really like more, then we don't have as much as we want.
What about our intimate relationship(s)? Are they what we want? Do we wish they were different? Perhaps if our partner was willing to change even a little bit, (for their own betterment — of course) we'd have the companionship going into our golden years, which would support our spiritual journey in the exact manner we're certain we need. Are our relationships good enough? Do we want more?
In addition, what about health? Do we want to experience our physicality differently than it is? How much "health" do we want? Again, if we wished our bodies were different, then we aren't content with how we are now.
---
July-September, 2019
Receiving Holy Spirit's Correction
It is helpful to reinforce what a miracle really is according to A Course in Miracles. In the ego's thought system a miracle is getting that shiny new car, getting rich or finding that special someone who will always love us, no matter what.
In truth, a miracle is receiving Holy Spirit's correction in our perception of everything we see in the world of separation. A Course in Miracles tells us, "A miracle is a correction. …It merely looks on devastation, and reminds the mind that what it sees is false. It undoes error, but does not attempt to go beyond perception, nor exceed the function of forgiveness. …Yet it paves the way for the return of timelessness and Love's awakening, for fear must slip away under the gentle remedy [the miracle] brings." (W-pII.13.1)
---
July-September, 2019
The Final Day

Father, if today I were to
join you in Heaven
I would want to bring
the total awareness of
Our Love with me.
I would want to see,
up until my last breath,
the Love that emanates
and fills all things within
this world of form.
---
July-September, 2019
A Miracle with 8% Interest

What is a miracle? A miracle is a shift in perception from fear to love. Instead of seeing the world through fear, anxiety, stress, judgments and grievances, we see through the eyes of love, peace and happiness. While miracles are a healing of our mind, they can manifest in our outer world ... as healing of an illness, money issues, relationship struggles etc.
To choose a miracle is to invite Holy Spirit to guide us. To hold a grievance is to forget who we are. When Holy Spirit replaces a grievance with a miracle, we re-awakened to the truth of who we truly are. The result is happiness. The opportunity for everyday miracles is there for all of us, we just need willingness and mind training. True forgiveness (letting go of judgments) is the key to bringing miracles into our lives. As we notice our upsets, grievances, judgments, and hand them over to the Holy Spirit, they dissolve into nothingness, and in their place comes peace. When practiced regularly it becomes a habit, and in time our world shifts from anxiety to peace, from judgments to acceptance, from fear to happiness.
---
July-September, 2019
Another Step Out of the Closet

I have recently completed my work on my website: larryglenz.com. I felt guided to do this, but it has been difficult for me to tell people that it even exists.
Although I enjoy being an Ordained Ministerial Counselor (O.M.C.) for Pathways of Light over the past 11 years, I have remained "in the closet" about my ministry to much of my family and friends with whom I have had the longest relationships. We just don't talk about it.
My past identity for most people has been as a history teacher, athletic coach, and part-time bartender. Although I remain a volunteer assistant coach, my pursuits in life have greatly changed since my retirement 11 years ago.
---
July-September, 2019
Do Not Arrest Your Thought in This World

There are two sentences in the Text, Section III, paragraph 16 that feel really meaningful to me this morning. One is that "freedom from illusions lies only in not believing them." I love this for its simplicity. Yes, it can feel difficult not to believe in what seems so real, but then that is the purpose of the illusion, to feel real. So, when I experience the effects of believing in the illusion, I ask the Holy Spirit to remove those thoughts from my mind, the thoughts I believe that could not be real.
---
July-September, 2019
Don't Let Ego Drive False Narratives for You

Be careful what you tell yourself and also what you believe about yourself. The ego likes to make you believe you are not worth anything. The ego wants you to loathe yourself and feel worthless. In Dr. Wayne Dyer's book, Your Sacred Self, he describes "Some Typical Peace Avoidance Behaviors." He says that, "When you have an absence of peace at any time in your life, know that your ego, the false idea of yourself, is responsible."
Here are some peace avoiding behaviors:
---
July-September, 2019
True Prayer — Prayer That Is the Medium of Miracles

I started hosting a Weekly Podcast in December 2018. The title is "Understanding the Language of A Course in Miracles."
As the title suggests, the purpose of this Podcast is to help fellow Course students to better understand what the Course is really saying so they can more effectively apply the Teachings to their specific circumstances and situations.
I have been A Course in Miracles Student, Teacher, POL Counselor and Course Workshop Facilitator for close to 20 years, and I remember how much I struggled in my early years as a Course student, trying to figure out what the Course was really saying.
---
July-September, 2019
How Do You See Your Life? How Does Your Helpful Self See Your Life?

Do you ever notice those thoughts in your mind telling you all the things wrong with you and your life? I do. As a Pause for Inspiration Mentor, I run across a lot of people who do too! We tend to think we are alone in having these thoughts; we're not. Thoughts telling you that there is no hope for you, you've made too many wrong turns, why bother, it's too late for me, etc., are favorite one-liners of this me-jokester. But we don't have to believe the words of this confounded joker.
Yesterday, I was about to do some simple movements to help calm my mind and wring out accumulated stress. I always begin with a Pause for Inspiration, and in this one pause, I received the following suggestion from My Helpful Self, "Let go of your perceptions and judgments of you and your life."<
---
July-September, 2019
Letting Our True Self Lead
Our greatest challenge to staying in Peace, chaos free, is to retain the memory of our deepest truth. It is indeed not easy to keep this precious gem close to our hearts continually. The world throws questions, situations where once again we believe the reality of the events and the truth fades at those times. As we relax, focus on peace and love, always strive to look beyond appearances or our individual perceptions, and insist on only looking all the way to the inner light/unity, we can retain this truth.
---
July-September, 2019
A Lesson on Impatience from My Inner Guidance

My lesson on impatience came while I was meditating on A Course in Miracles Workbook Lesson 151 –"All things are echoes of the Voice for God." The lesson says, in essence, to give God all the thoughts that come into your mind while you are meditating on this main thought and let them be purified.
What kept coming into my mind was my anger at an individual (who I will call Sue) that I had been with at a meeting the evening before I did this lesson. Sue, in my ego mind, had displayed considerable impatience with me while I was sharing and I felt myself reacting with anger. I didn't like these thoughts of anger toward Sue and I asked to see what they were about and to have them "purified." Below is the conversation I had with my Inner Guide.
---
July-September, 2019
Heaven Is the Decision I Must Make

Heaven, what is Heaven to me? To me, Heaven is Life itself, and so I want to be sure to know how to choose Life. I have recognized at times that Life is the Oneness with Spirit that brings me joy, freedom, peace of mind and all Guidance in the many different situations I find myself in. But I need to choose to be connected more often, more certainly; I want to remember where all things come from. And so I decide that Heaven is my Life. And yet, I don't always remember to choose or decide. How do I stay connected and feel the clarity of Life with me at all times?
In Lesson 138 we are clearly told that we need to make a decision, and it must be for Heaven. This lesson describes how we will come to make the right decision, and what the path to Heaven is while we are in bodies.
---
July-September, 2019
Merely Look
Part of the definition of forgiveness is to merely look. To merely look sounds simple. Throughout the text of A Course in Miracles, Jesus asks us to "merely Look." What does this mean? Merely looking does mean to see the deception, fear, or turmoil the ego portrays. It does mean for us to see that the ego's guidance leads to attack thoughts, feelings of victimization and pain. It does not mean we see the treachery of the ego and recoil or try to get rid of it. It does not mean we see its ugliness and try to make it "better" as if we could improve it. Jesus is not asking us to let the ego go. He is asking us to realize that the one looking at the ego is not the ego. We are looking at what we have made, it is not us. This realization gradually ends our identification with the ego.
---
July-September, 2019
Well, Son of a Gun

Yep, that's the title, or theme I heard after an intense session with the Holy Spirit this morning. He uses terminology like that to amuse and astound me. And, astounded I was!
Just to set the stage, let me give you the cliff notes of "my story." It's a psychological mind-bender with only small doses of wild romance and very little in terms of thrilling. It's important for me to share the "highlights" or, more appropriately "lowlights" of this saga for perspective. However, I would hazard a guess that my story is not unlike every other story with different names, faces, and zip codes.
---
Has this page been helpful to you?
Your contribution in support of this site is greatly appreciated. To make a tax deductible contribution or become a supporting member online, click here.
Or send a check or money order to Pathways of Light, 6 Oak Court, Ormond Beach, FL 32174-2623 (USD only, please) Thank you for your support.
Back to main page of Miracles News.