October-December, 2016
The Greatest Gift


The greatest gift… that I give to me,
is listening to Guidance, from Eternity.
To be quietly still… is my sacred choice,
while awaiting Eternity's "Still Small Voice."
This is also The Gift… you may give to yourself,
no matter the matter… Heaven will help.
---
October-December, 2016
What Does Being a Teacher of God Mean?

Ever since I got ordained as a Pathways of Light minister in 2005, I thought of myself as a teacher of God. But I was focusing on the form and not on the true content.
I thought being a teacher of God meant having students and teaching them about the Course or ACIM Practitioner courses. I thought it meant preparing others to become ministers.
I thought being a teacher of God meant having my own ministry or giving workshops about Course related topics. I love facilitating these programs but does this give me the title teacher of God?
---
October-December, 2016
Shifting My Vigilance

I have been using the idea of being vigilant for my thoughts and giving them to the Holy Spirit for healing. I have been doing this for a long time now and it is a good practice. I notice my thoughts, give them to the Holy Spirit, and accept His correction. Simple and effective. Something I have been guided to add to my practice is to pay more attention to my tendency to try to heal myself.
---
July-September, 2016
Miracles News, July-September, 2016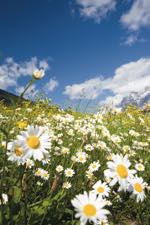 You are the Light
of the world…
You shine on
All as One…
---
July-September, 2016
We Are All Perfect Love

For the past year, it seems like I have been experiencing one illness after another. I have also been in deep communion with Holy Spirit and asking for healing? What is going on?
Workbook Lesson 76 in ACIM says, "I Am Under No Laws but God's." From my understanding, the Law of God is the Law of Perfect Love. If I am not experiencing Perfect Love, then I am believing in the ego law of fear and guilt. The belief in fear and guilt are the obstacles that are blocking my awareness of seeing my brothers and myself as God's Perfect Love. The belief in fear and guilt are the beliefs that are calling to be healed if I am to experience God's Perfect Love.
---
July-September, 2016
Trust

Sometimes I doubt myself. I can think of a million and one reasons not to trust myself, but I'm beginning to see this is a very destructive habit. I'm working, once again, on trust and trust always boils down to trusting myself.
I tell myself, "I don't trust you." I tell myself, "People cannot be trusted," and world affairs would prove this to me. But what is trust? If I already know I can't trust anything outside myself, then what is trust? If I'm constantly trying to control or influence situations outside of myself, am I trusting?
---
July-September, 2016
On High

I freed myself
and learned to fly,
My outstretched wings
against the sky.
"I'm free" I shout
as I sail and soar,
bound by the chains
of fear no more.
---
July-September, 2016
Sick Leave from God

I am involved with a group in St. Louis, Missouri that is practicing the "Choose Again" method developed by Diederik Wolsak. This is a process for looking at one's upsets and core beliefs. It is based on the principles of Attitudinal Healing and A Course in Miracles.
There are six steps involved in this process that is to be used whenever one is upset. The purpose of this article is not to explain how the steps work, but to share one of the processes I did over an upset in the hope that it might help someone else see what is truly going on when anger and attack are allowed to have their way with our minds.
---
July-September, 2016
Rules for a Happy Day

My favorite time of the day is early in the morning before anyone wakes up. I start my day before I even get out of bed. I lie there a moment and think about God. I let appreciation and gratitude flow over me and then I surrender my self to Him. I offer my body, mind and soul to my Maker, and I ask Him to use me to help us awaken.
Then with coffee in hand, I sit on my patio, weather permitting, and in my sanctuary otherwise, and I decide what kind of day I would like to have. I don't ask the ego this question. I get still, listen to the great variety of birdsongs in my yard, and I wait for inspiration. Nearly always, I know that I want a happy day.
---
July-September, 2016
The Excitement of Letting Go

One year ago I was asked if I would be willing to sell the rights to my book, Forgiving Kevin, to an independent filmmaker. It is a story of my son's heroin addiction and ultimately his fatal overdose.
I was surprised and honored by the proposal but was not sure I wanted to allow our story to be changed in any way. Someone other than me would write the adapted screenplay. That idea made me a bit uneasy to be sure.
I took the issue to Holy Spirit and felt a clear message come to me. "Say yes to the movie proposal, then let go of it." I was excited that Holy Spirit would be using our story to help others. Nevertheless, my family and I had some concerns about the veracity of the movie.
---
July-September, 2016
Recognizing Separation

Why is it so difficult to see how we are following the ego? I can recognize that I have fear, that I don't like what my life looks like. I can let go of individual instances where I chose to stay in fear, but I did not know exactly what it was that made me choose that. I got a better understanding of it recently.
I have been working on individual instances where I had chosen to project, attack, hide or deny what was really happening. I was able to forgive others and myself for my thoughts and actions that I knew were not very good, to say the least. But, ego stuff kept creeping up, and I really wanted to get to the very bottom of this. This is what happened next:
---
July-September, 2016
Welcome Home

Many years ago, as a small child three years old, I remember traveling in an old car driven by my father. It was a '49 Chevy ( a thirteen year old car) and we were leaving Texas, the home of his father and family and headed for the Chicago area.
I remember standing on the floor of the rear of the car, hanging onto the front bench seat, my left arm around my father as he drove. My older brother sat in the passenger seat next to my dad. I was thoroughly excited and loved riding in his car.
---
July-September, 2016
The One About Rules

Who really wants to follow rules? People in prison? Illegal immigrants? Politicians? The clergy? Law (rule) enforcement? Taxpayers? Unhappy people everywhere? Does anyone want to, "follow the rules?"
In ACIM Chapter 30 alone, more than fifteen rules are listed. Jesus has much to say about rules. Throughout the course, He mentions spiritual rules (laws, principles) that, if adhered to, will guarantee salvation. Jesus is also clear that since we haven't done anything wrong, we really don't need salvation anyway. (Ya gotta love A Course in Miracles!)
---
July-September, 2016
Learning to Forgive Promotes Healing

Relationships are a very good place for opportunities for us to see where we need to heal our minds.
How often do we hear ourselves or our brothers complain about something someone else said or did to make us unhappy? It is our thoughts that get out of control and when we believe our unhappiness is caused by some outside force we fall deeper and deeper into the perception we are alone and afraid and separate from our Source.
---
July-September, 2016
My Journey to Ordination

I view becoming an Ordained Ministerial Counselor as a symbol of my trust in Holy Spirit. I began my journey with Pathways of Light with no intention of becoming a minister, but Spirit kept nudging me to keep going. My facilitator, Rev. Maria Felipe, suggested that I continue with the courses to grow and develop for myself, not to feel pressure to become a minister. But as I continued, I began to feel excited to share with others.
---
Has this page been helpful to you?
Your contribution in support of this site is greatly appreciated. To make a tax deductible contribution or become a supporting member online, click here.
Or send a check or money order to Pathways of Light, 6 Oak Court, Ormond Beach, FL 32174-2623 (USD only, please) Thank you for your support.
Back to main page of Miracles News.