October-December, 2017
Howard's Gift Keeps Giving

What an inspiration…
my friend Howard
has been to me…
gifting, a twig…
that grew into a giant
willow tree!
Ahhhhhh! The gift
of his friendship…
as he walked through our door…
sharing twigs…
that became trees…
and oh, so much more!
---
July-September, 2017
Miracles News, July-September, 2017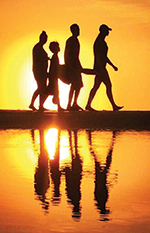 Christ's vision sees
beyond the body
to the
Light of Love.
---
July-September, 2017
Reconnecting to Our Call

"Child of God, you were created to create the good, the beautiful and the holy." (ACIM T-1.VII.2:1)
So what exactly is 'a teacher of God'? What exactly is 'our call' to be a minister of God? What exactly is 'reconnecting'?
A Course in Miracles tells me: "A teacher of God is anyone who chooses to be one. …. somehow, somewhere he has made a deliberate choice in which he did not see his interests as apart from someone else's. …The Call is universal. It calls for teachers to speak for It and redeem the world. Many hear It, but few will answer. Yet it is all a matter of time. Everyone will answer in the end, but the end can be a long, long way off. It does not matter who the teacher was before he heard the Call. He has become a savior by his answering." (M-1.1:1-2;2:4,6-9;3:7-8)
---
July-September, 2017
Remembering Our Dear Departed Rev. Linda Wisniewski

Dear Linda,
This is our message to you:
Linda means beautiful and when we think of you we are awed by your eternal beauty…
We are blessed by your ongoing extension of peace. which touches all of us…
---
July-September, 2017
What Does Being a Teacher of God Mean?

Ever since I got ordained as a minister of Pathways of Light in 2005, I thought of myself as a teacher of God. But I was really focusing on the form and not on the true content.
I thought being a teacher of God meant having students and teaching them about the Course or teaching them about the Pathways of Light Practitioner courses. I thought being a teacher of God meant preparing others to become ministers.
---
July-September, 2017
Poem for My Star Child

Inner child
hiding in the corners of fear,
Please look…
Nobody can hurt you here.
No harsh words
In any way,
Only kindness
And lots of play.
Oh, I see
You peeking out now!
---
July-September, 2017
The Power of the Inner Voice

I was a determined, self-employed successful business woman, who for 25 years was highly driven to prove my self-worth in the world, taking financial business risks, making and losing money. I was steadily building a self-image from having a beautiful home, cars, clothes and expensive holidays. I believed that this would make me feel important and that this was my true identity. I entered into an intimate relationship, thinking that it would enhance my life even further as my partner held an important position in society. So wow! Life couldn't be any better!
---
July-September, 2017
The Gleeful Ego

The ego gleefully loves to attack and does so constantly. We don't notice it much because that is considered normal and expected. Someone told me: "If I don't attack what someone says to me, I am considered stupid and gullible." We support the ego in all kinds of ways.
This is what I found for myself: There is a part within me that likes to attack, even though in subtle ways. She gets satisfaction from this. Yet, when I look at this and feel this attack thought, I really, really don't like the feeling it gives me. If I am not willing to tell myself to let it go, I distract myself quickly and don't do anything about it. But I do want to change it. And I know I can.
---
July-September, 2017
You're an Angel

Mother Teresa…."Not all of us can do great things. But we can do small things with great love." My Pathways buddy, Rev. Debra Bredican, shared this quote with me.
As a member of Holy Spirit's Awakening Crew, one of my assignments for several years now has been to sing a song entitled "You're An Angel" to others, when guided by Holy Spirit. Charley Thweatt sings the song on one of his albums. Charley, along with Oman and Shanti, put words from ACIM to music in the 70's & 80's, and you can hear this song and others on YouTube. (Charley's web address is musicangel.com)
---
July-September, 2017
Happy Mother's Day

They say "Happy Mother's Day" and I smile and say, "Thank you." I think of my mother and I smile. I feel closer to her now. She has been gone for over 15 years. I have affection and appreciation for her. My mother is myself. My daughters are myself. My grand-children are myself.
---
July-September, 2017
What Is Joy?

"What is joy?" A great question a friend of mine asked at a meeting where we were discussing A Course in Miracles. There were three of us at the table. I gave my definition which was that joy is being in peaceful happiness. The third woman gave her definition which was that joy was being in the present moment.
Neither answer resonated with my friend. She felt it should be more, greater than just happiness. After the meeting, the question kept rolling around in my head.
---
July-September, 2017
Book Review — Live Your Happy

Holy Spirit, I ask for your help and inspiration as I put into words how much I appreciate this wonderfully written book by Rev. Maria Felipe, Live Your Happy.
As a fairly new student of A Course in Miracles and support person for Pathways of Light, this book has made a perfectly timed (by Holy Spirit) and significant tool for my studies of the Course.
---
July-September, 2017
Why Allowing = Taking Action

Do you have a problem that you think about all the time? As soon as you wake up and while brushing your teeth, driving to work, having lunch and dinner, and finally lying awake in bed when you should be sleeping?
Rather than coming up with a solution, all you're doing is reviewing the same worries over and over:
---
July-September, 2017
The Goal of the Owls

One of the great blessings in my life has been to be a coach of the Lynbrook Owls varsity lacrosse team. I now serve as a volunteer assistant coach on a lacrosse program with which I have been involved for 45 consecutive years. In 2008 I turned over the head coaching duties to my friend and colleague who had been my assistant for many years.
I certainly have a great deal of experience coaching high school boys in several sports since 1972. My role, however, has radically changed. It is simple but significant. I help the players and coaches to focus on the Shakti.
---
July-September, 2017
The Need to Know

I find that my mind really has a hard time letting go of the need to know answers. My mind prefers to have a step-by-step playbook for how things should be moving forward and it experiences suffering when I don't have one to follow.
I am at the stage in my awareness where I fundamentally understand the "idea" that I Am Spirit, that I have a mind but I am not the mind, but I still get pretty easily pulled back into identification with my mind.
---
Has this page been helpful to you?
Your contribution in support of this site is greatly appreciated. To make a tax deductible contribution or become a supporting member online, click here.
Or send a check or money order to Pathways of Light, 6 Oak Court, Ormond Beach, FL 32174-2623 (USD only, please) Thank you for your support.
Back to main page of Miracles News.