April-June, 2017
Spider Mouse

Many years ago we attended church in a very old church building. It was a beautiful building inside and out. Our Sunday school room was in the balcony. You had to walk through the upstairs pews to get to the door of the room.
One Sunday my daughter went ahead of us. She came back as we got to the last step and the landing and she had a very worried look on her face. When I asked her what was wrong, she very quickly told me that she had just seen a "spider-mouse" walking across the floor. This piqued my interest and I went to see if I could find this thing she called a "spider-mouse." There, walking on the floor in front of me as only bats can do, was a little bat. I went to get someone else to trap him. The man who caught this little fellow did so very gently. He put a coffee can over the the top of his little head and slowly slipped a piece of cardboard underneath. He then took him outside and let him go.
---
April-June, 2017
Awakening Through My Special Relationships — Part 6

Beginning two and a half years ago, I had a series of articles published in Miracles News telling of my story of how Spirit had used specific special relationships to lead me to living a miraculous life. The last article left off alluding to the article that was to follow of Spirit's use of the relationship I was currently in at that time in 2014 in which I experienced much hopefulness, for I was witness to so much healing of my past. I was hopeful that this relationship would reflect back to me my relationship with God.
But that article was delayed until now for I had taken a detour with this relationship and fell down the rabbit hole, following it to the very bottom, to the core of my unconscious guilt where I discovered my deepest, darkest fear lay buried.
---
April-June, 2017
I Know Just What to Do

When I'm looking
for the Peace of God,
I know just what to do.
I bless the babbling
in my mind, and
this world fades from view.
I enter my inner Holy Place,
which is where I long to stay.
But I return with
the holy Thought,
that I have
found another way.
---
April-June, 2017
Affirmation of Truth

I am so in love with my true Self and
I know that the universe is working
in my life for my highest Good.
I am sinless, guiltless, shameless —

One with the Universe,
One with all Creation.
---
January-March, 2017
Miracles News, January-March, 2017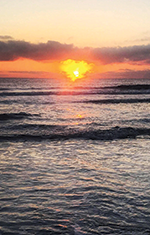 Our hearts are
filled with the
Light of Gratitude.
Photo © LeeAnn Kendall, leeannkendall.com
---
January-March, 2017
My Ancient Truth

I have a memory of being born in a cocoon of light and love. An ancient memory of God's love in creation… my ancient time of birth and of unspeakable joy, light, love and beauty. God wanted one more little child and so He thought of me. I am so loved.
In one sad instant, I made a crazy decision to experience time and distraction. I eroded my truth by straying and identifying with distraction. My ancient truth degraded through eons of time. But the good news is my ancient truth remains if I accept it. It will instantly return and overthrow all my illusions and distractions. It will instantly take its place as my sole reality as if nothing happened.
---
January-March, 2017
What I Call Practice

One of the many things I love about A Course in Miracles is that there are so many ways to practice. It is practicing that helps us to take the concepts deeper into our Right Mind and be guided by Holy Spirit.
Practicing ACIM has been a spiritual force that has guided me for many years. I started with the Workbook lessons over 20 years ago I still read a lesson every morning and try to remind myself of it throughout the day. I close my day with it before I close my eyes at night.
This is not a "chore" for me anymore but perhaps it was in the beginning. When I started the Workbook in 1994, I heard the comparison that doing the lessons is like lifting weights. I didn't have to enjoy them or believe them. However, I was taught that if I was willing to do the lessons every day, throughout the day, I would get spiritually stronger.
---
January-March, 2017
God's Promise

What have I promised you, do you know?

I know what I did not.
I never promised you the sun, the moon,
the stars, the heaven or earth.
I never promised to provide for you a house,

a car or money to buy what you wish.
I never promised to keep you safe
from how you chose to live.
I never promised to rescue you
from what you chose to do with your life.
What I did was not a promise,
it was a Gift.
The Gift is the extension of Who I am.
---
January-March, 2017
A Letter to God

Dear God,
Please take me back. I left and now I am miserable. I was beguiled by the idea of "doing my own thing." I wanted power. I wanted to be in control. I wanted to be the boss. So, I rebelled against You and left home. Now I suffer regret and want to come back. You try to tell me that I never left; that I only think I left; that I am still safely at home, dreaming that I left. You send Teachers to bring me that message over and over. While I don't totally get it, all I know right now is that I long to return home.
---
January-March, 2017
My Breath Is the Holy Spirit

The Holy Spirit lives through me as my breath. When I allow that truth to permeate my awareness and raise my consciousness, my life — indeed, my universe — becomes miraculous. Knowing that the Holy Spirit is present with me in such an intimate way, has moved me from a life saturated with enormous guilt, sadness and anxiety to one full of innocence, joy and peace.
I am discovering there is no limit to the ways I can use my Holy Spirit breath to heal my mind and heart. Following are, perhaps, my three favorite ways that the Holy Spirit and I collaborate using the breath to bring me into that space where miracles occur.
---
January-March, 2017
I Will Step Back and Let Him Lead the Way

Many of us felt a great deal of emotion upon hearing the results of the presidential election. I am sure that for some it was a time of joy and celebration, but, for others, it was a time of shock and fear. For me, the results of the election brought up a deep sense of grief. (OK, now you know who I voted for.)
---
January-March, 2017
My Dear Friend Had a Problem, or Was It Me with the Problem?

A question often asked is what Jesus means by Atonement. I always think of Atonement as undoing, and I think that Atonement and forgiveness are the same thing. This from Chapter 13: The Cloud of Guilt, further clarifies the meaning:
Atonement brings a re-evaluation of everything you cherish, for it is the means by which the Holy Spirit can separate the false and the true…
This is why I bring my thoughts to the Holy Spirit for interpretation. I want Him to separate the false from the true because I cannot do that. As Jesus goes on to say, I have accepted everything without distinction. I have a thought and I tend to believe it, simply because it was in my mind. Actually, I have taught myself not to automatically accept every thought, but I used to do so, and still do so sometimes.
---
January-March, 2017
Get in the Game

I heard it loud and clear. "Get off the sidelines and into the game." I was on the Pathways of Light annual meeting call and we were each asked to speak a message from Holy Spirit to the group. There were so many wonderful supportive loving messages and words shared as we joined together to share about the year prior and the year ahead. There was a pause and then I heard it as clear as day as if it were just for me.
---
January-March, 2017
Gratitude for My Friend

I love this time of year. The weather has cooled off a little bit. Even though I live in Florida, we still get a break from the extremely warm temperatures of July through September. And at Thanksgiving time, I am always reminded to pay attention to the things I am so grateful for, even if sometimes we lose the very things and people we love.
This is the time of year that we reflect over the past year and acknowledge all that we have learned. Some people really struggle during the holidays because it is a reminder of the people that are no longer with them. This year we lost a wonderful and lovely friend, she was my teacher for the Pathways of Light 900 courses, Linda Wisniewski. I loved her dearly and I will miss her tremendously and I know everyone who knew her feels like I do. Her light could brighten a room. It is no wonder that she left us during this time of thanksgiving. Because she is such a light that anyone who shared time with her would find themselves inspired by her, and grateful for the opportunity to know her. I am so thankful she came into my life. She was a wonderful teacher, she was so loving and kind. She never failed to let you know she was happy to even hear your voice.
---
January-March, 2017
Pinot Noir for the Higher Good!

When you give everything over to the Holy Spirit, where to go and what to do becomes obvious… and in my case, it feels easy! This was the case with my book Live Your Happy, forthcoming from New World Library in April, 2017.
I had no plans to write a book. I suffer from dyslexia, and honestly I don't like to write or read much. But as I've learned since becoming a minister, nothing is up to "me" — it's a matter of what serves the higher good.
---
Has this page been helpful to you?
Your contribution in support of this site is greatly appreciated. To make a tax deductible contribution or become a supporting member online, click here.
Or send a check or money order to Pathways of Light, 6 Oak Court, Ormond Beach, FL 32174-2623 (USD only, please) Thank you for your support.
Back to main page of Miracles News.