January-March, 2017
Old Time Religion: "You're an Abomination. Get Out!"

Being recently ordained by Pathways of Light Spiritual College, I seek the path where I may best serve. I have been following a vital teaching of the Course: Listen. And as Rev. Mary Gerard Lenihan, O.M.C. would say, "Pause for Inspiration in the midst of everyday life."
These easy to remember steps of "Pause for Inspiration include: PAUSE. The decision to stop in the moment. STEP BACK. The decision to get out of my own way. STEP ASIDE. The decision to invite Inspiration Within to help. And LET INSPIRATION GUIDE. The decision to choose my Inspired Mind and follow the Wisdom of Inspiration."
---
January-March, 2017
Love Created Me as Love

Last week I heard that Linda Wiesnewski was in hospice and I heard today that she has passed. Linda was my facilitator for the Pathways Course 909, "Wellness Through Healing The Mind," so I got to know her somewhat then. Sometimes, we also engaged in the monthly calls that she oversaw to help those with chronic illness. In the last few months we had many conversations (on Facebook on the Daily Course Lessons as well as the Rules for Decision FB pages) about the Course and healing the body. As Myron Jones said, "Linda's classroom was her body."
---
January-March, 2017
Fear of Healing

"Is healing frightening? To many, yes. For accusation is a bar to love, and damaged bodies are accusers." (T-27.II.1:1-3)
The quote above continues "Who has been injured by his brother, and could love and trust him still?" (1:5) It seems to be the state of our world today, doesn't it? And when I look at my own responsibility in the 'state of the world' I can clearly say that I have been a grand participant in this consciousness… until recently.
---
January-March, 2017
Beyond Acceptance Is Perfect Love

Walking with wandering eyes, I rest my gaze upon the statuesque pines before me, drawn to the long crevices in between their layered fertile skins — those scented crevices of sweet vanilla — and I feel how comfortably seated these pines are in being the forest.
"So, they don't have feelings of sadness or loneliness in them?" I ask.
"Well, they might. But they don't get attached to those feelings," is Spirit's reply.
---
January-March, 2017
Listening to the Music of the Heavens

We've all been there: We get into 'the zone' and things flow easily; life is a breeze. But then it ends, and we get stuck and can't seem to find the rope, the feeling, the connection that we can grab hold of which will pull us back into the stream of good energy. There are many distractions that we seem to feel attracted to and follow, all kinds of thoughts to hold on to and spin another story. At times there seem to be no good ones anywhere.
I've found that these distractions, these obstacles and familiar thoughts of 'I should, I have to, I ought to,' etc., seem to have a strong hold on me. What does work, however, is to remember that this Moment is the exact and best time to change my mind. I can choose a new thought right now, I can decide to follow the thought that I really want which is leading me to the right and chosen goal.
---
October-December, 2016
Miracles News, October-December, 2016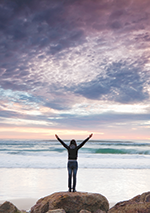 We find freedom…
as we accept the
truth that we are still
as God created us.
---
October-December, 2016
One Face
I notice a nagging unworthiness, a not good enough, not getting enough done, not "waking up" fast enough. I sense an "internal rut." Is there anyway out of this I ask my Self. Must I be plagued with this again? It is a gnawing deep within which surfaces now and again, telling me that something is "radically wrong." I name the problem which I always find very helpful > "internal rut." I pause and hear the solution > Internal Guidance.
In the pause, Inspiration names the internal rut specifically: "I don't truly believe in my True Self. That is, I am not certain about who I am. If I am not certain about who I am, it follows that I am not certain about who and what Love is because who I am is an extension of Love."
---
October-December, 2016
Playing Golf

The sport of golf had little attraction for me until recently. I haven't played much in my life. But I feel now like I have been guided to start playing as I enter these senior years of life. I borrowed a friend's old set of clubs, took a few lessons from a pro, and started hitting golf balls six days a week. This has been going on for over 2 months now.
Today, for my 66th birthday, I received a new set of Callaway clubs from my wife. I feel like the 8-year old Larry who got a brand new baseball glove for his birthday after first playing with his big brother's old cast off. I can feel that same sense of little kid excitement today.
---
October-December, 2016
My Prayer for Thanking God and Receiving His Thanks

Divine Source of Love, Divinity of
All That Is, thank you for creating
me and giving me the gift to create.
Day by day, in every way,
help me to be more and more
aware of Your Presence,
calling to mind the gifts
you have given me.
---
October-December, 2016
Do I Have an Ego — Am I MY Ego?

On one of the Sunday Pathways of Light ACIM teleconference calls, we were working on Text, Chapter 8, "The Journey Back" and we were focused on Section 1 and 2: The Direction of the Curriculum and the difference between Imprisonment and Freedom. We especially focused on paragraph 2 on p. 138, which I think is very important because I find myself and others talking about their ego or my ego as if it is who we are. I even at one time thought of it as a person sitting on my shoulder telling me how to think.
Holy Spirit gave me an image of the ego thought system based on some of the main points in this second paragraph. The following are some of the points that stood out to me and then I will follow it with the imagery Holy Spirit gave me.
---
October-December, 2016
Simply Do This

At a recent study group a fellow study buddy made the comment that "to go from using the ego thought process to the Holy Spirit's thought process was much like ending an abusive relationship. It makes you wonder why you stayed so long and put up with the abuse." I've been thinking about this ever since.
The most abusive relationship I ever had is the one I have with myself. It doesn't matter what happens or has happened. It's never about the people or circumstances outside of me. It's all about how I perceive and process the things I experience.
---
October-December, 2016
Living in the Ocean of Love

When I am in nature, especially trail-running with my dog Bella, I often reflectively commune with Inner Wisdom — my God-Source within. During a recent trail-run, I invited Inner Wisdom to help me understand a pattern I was noticing in my mind. A pattern of evaluating and assigning judgments to everything — assessing whether something was a good thing or a bad thing or whether I was making a right decision or a wrong decision. I noticed the energy drain I felt from this and how it kept me from the present moment.
I said to Inner Wisdom, somewhat exasperated, "Here, really, just take this. I am giving this to you." And then I let go. I didn't try to figure out what to replace evaluating and judging with, or when to replace it, or any of that. I have learned to simply hand anything over that is not supporting me being at peace. Handing over is the beginning of the miracle for me, A Course in Miracles type miracle.
---
October-December, 2016
Sometimes the Miracle Is "Who Cares?"

Sometimes I think the miracle has to be a big, momentous thing. But sometimes it's as simple as Holy Spirit saying, "Who cares?"
Recently in the weekly study group call I run, I was sharing about some struggles I've been having with my job. One of the participants began to coach me around my job and ask questions to help me take action. She did this out of love and out of the desire to support me, but all I felt was embarrassed.
---
October-December, 2016
The Prince of Love

I was experiencing the Pathways of Light meditation titled, "Letting Love Return You to Peace." I was deep into the meditation, not even hearing the guiding words, when half way through the meditation my cat, Prince, jumped on the chair and laid his body right next to my leg. He was there the rest of the meditation. I knew Spirit was telling me something by having Prince lay next to me during this specific meditation. What was the message? By exploring who Prince is I'd have an answer to this question.
---
October-December, 2016
Valuing Content Over Form

When I became a Pathways of Light Ordained Ministerial Counselor a few years ago, I dedicated my life and ministry to doing what Holy Spirit wanted me to do. Actually, I think that most people who study ACIM eventually do the same thing as they grow in their understanding of what the Course teaches.
The problem with this approach for me, has been to avoid looking at what I am doing and making judgments about it.
As POL ministerial students we were counseled to avoid the temptation to create our own (ego) vision of what our ministries would look like and let the Holy Spirit guide us. And, to the best of my ability, I think I did that. We were further counseled that what actually comes to pass will most likely be quite different from we had envisioned.
---
Has this page been helpful to you?
Your contribution in support of this site is greatly appreciated. To make a tax deductible contribution or become a supporting member online, click here.
Or send a check or money order to Pathways of Light, 6 Oak Court, Ormond Beach, FL 32174-2623 (USD only, please) Thank you for your support.
Back to main page of Miracles News.