April-June, 2017
A Lesson Learned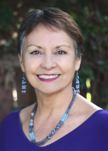 The longer I am on my spiritual path the more I am convinced that I know nothing. And this is such good news! It is impossible to know anything because it is impossible to know the full picture. Only God is omniscient. What a relief! I am released from judgment caused by the ego mind. In A Course in Miracles it says, "It is surely good advice to tell you not to judge what you do not understand." (T-12.I. 5:1)
I had a great reminder that I know nothing recently when a woman came to me because she was in distress. I sat with her and asked the Holy Spirit to be present with us, to use me as His vessel. She was crying and explaining her upset. Despite my invitation to the Holy Spirit, I found myself spouting advice. She would say a word or phrase and off I would go to explain what was going on according to my own perception, of course. I forgot that I was in a new place with new people and I was feeling very tired. But… this is what I do. I have done this type of work for decades.
Afterward I felt off kilter. I knew I had not done a good job with her. Where was my listening? Where was my training as a spiritual counselor? Later the woman shared with a large group of people about her earlier distress and the answer she received from within. As I listened, I realized I had completely misinterpreted her distress so my "advice" was completely off the mark.
I certainly felt foolish and had to do some inner work to release myself from guilt by looking at this situation as a very poignant learning occasion. I was aware that the Holy Spirit was totally present for this woman and helped her find her answers (despite me) and the Holy Spirit was with me, too, as I observed myself in this situation and found a lesson to be learned. There was no judgment anywhere. There was simply and totally love.
The next day I received a call from someone who needed help with a concern. This time I not only asked the Holy Spirit to be with us, I felt a warm feeling in my heart and soon we were in discussion about love and acceptance rather than hate and vengeance. Again I was aware of what had happened and I felt grateful that I was able to see the contrast in my behavior in the two situations.
I was reminded that in the Twelve Step programs there is an acronym called HALT which means Hungry-Angry-Lonely-Tired. By checking to see if you are any of these things, you can determine if you are at risk of falling off your program. In retrospect I realized I was very tired while being with the first woman. With the second woman I was well rested and relaxed. Self-awareness and self-care are the fragrances of this lesson.
When I start by being loving to myself, it is easier to be loving to others. When I am loving to myself and others, the Holy Spirit will always be in charge because love is in charge. When the ego is the first responder there will only be chaos and disharmony. I remind myself that I know nothing but the Holy Spirit knows everything. This keeps me humbly receptive to His guidance.
Rev. Gail Hamley is a Pathways of Light minister living in Georgetown Texas. Email: .(JavaScript must be enabled to view this email address)
© 2017, Pathways of Light. http://pathwaysoflight.org
You may freely share copies of this with your friends, provided this copyright notice and website address are included.
---
Back to main page of Miracles News.
Has this page been helpful to you?
Your contribution in support of this site is greatly appreciated. To make a tax deductible contribution or become a supporting member online, click here.
Or send a check or money order to Pathways of Light, 6 Oak Court, Ormond Beach, FL 32174-2623 (USD only, please) Thank you for your support.
Articles by
Pathways of Light Ministers
and Others.
Pathways of Light Membership
Support Pathways of Light with an annual membership donation or become a sustaining member through monthly contributions. Includes printed Miracles News magazine mailed quarterly. Click here.
Subscribe to printed version.
To have Miracles News magazine mailed to you quarterly, Click here.
Most recent entries
Miracles News has been viewed 880913 times
Archives