January-March, 2019
Seeing Beyond Appearanes in the Pause

How often do you judge someone by their appearance? Something happened today that truly woke me up to how much I size people up or down depending on their appearance. I had no doubt I do this, but today I realized how unhelpful this is because it prevents me from seeing others for who they truly are beyond appearances. Our natural human tendency is to judge one another. We do so first as a survival instinct, then as part of a decision of whether to connect with someone based on if one is attracted to or repelled by someone's appearance. All this is happening quite beneath the surface of our conscious awareness.
---
Miracles News, October-December, 2018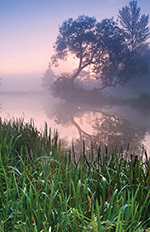 The Light of
Love dispells
the ego's foggy
thoughts.

---
October-December, 2018
The Gateway to a Happy, Peaceful Life

We all want to be happy.
But we have to find out what happiness really means to us.
Some say, "happiness is having this car, is being free of cancer, is being successful in my career, is having a loving companion, or being debt free" — all these or more choices for happiness. But we all know that this in itself does not make us truly happy. There is always more we want. It seems that true and lasting happiness is elusive and can't really be counted on in this world.
We look towards physical conditions for happiness. It seems to be the road to finally getting what we always wanted. But our desires come from our ego and childish ways of seeing the world. We learned as children that what our parents wanted is what we also want — or what we fight against. Either way, it is a thought that we carry forward. We live the thoughts of our parents, either as followers or as fighters against them. Unfortunately, we don't recognize it, or when we do see what we are doing, that we are 'just like our parents', we don't know how to change it.
---
October-December, 2018
There Is Another Way of Looking at This

When I heard on the news that Donald Trump was our elected president, I was in shock. I couldn't believe it. I tried to tell myself that the damage he could do was limited and that it would be OK, but with the passage of time, I was to discover that it was worse than I imagined. Children being torn from their parents were the worst so far and my constant struggle to release the anger and resentment and, let me be honest, the growing hatred I felt toward him, got trampled under this new outrage.
Even so, I knew that how I felt had to change. I was hurting myself, and all of the Sonship with my attitude. I was reinforcing rage, hatred, disdain, and disgust; I was reinforcing separation, fear, and guilt. My thoughts and beliefs affect all of my life because they are not discreet and they are not discreet to my personal story; they affect all of us. I was polluting consciousness with these beliefs and these runaway emotions.
---
October-December, 2018
Certainty of Change

The only thing certain about this world is it will change. Images that shift and change have no meaning nor content. The changeless is eternal and is only certain. Your certainty lies in Love for only that is real, only that has meaning.
---
October-December, 2018
Oil On Water

Old fears surface
like oil on water.
I no longer suppress their rising
for their intensity
thrives on inattention.
I welcome them.
They tell a story
of miscreation and
help guide me back
to truth about myself
and those around me.
---
October-December, 2018
Treat Everyone as Your Angel!

I had suspected skin cancer on my nose, and saw a consultant at the skin clinic who gave me a blood test to see if it was benign or malignant.
I found the whole experience with the consultant very difficult. First of all he made no eye contact with me. While he was talking he was looking at the computer screen, and never looked at me. He had a miserable expression on his face. I had a lot of questions, but he had no time for me. I felt like I was being ignored, and pushed out of the office.
A week later I had an appointment with the same consultant to get the results. I felt full of fear about what the results might be, and I was apprehensive about seeing the same consultant again.
Before I left the house, I connected to the Holy Spirit. I said "I am frightened, and I don't want to see this consultant. How would you have me see this?" I sat there quietly for a few more minutes, and then the thought came into my mind "Treat everyone as your Angel." This seemed like a strange response to my question, but I had nothing else to go with ... so I went with it.
---
October-December, 2018
A Sunday Morning Call

I was gratefully and joyfully on the Pathways of Light Sunday morning call today. What a glorious blessing! How fortunate we are in this age of technology to connect in the comfort of our own homes. Robert reminded us in a beautiful meditation this morning of our connection to each other and to every brother and sister.
During the call, many opportunities came up for me to "be" one of my brothers or sisters. One brother (Rev. Greg Hesch) spoke of how grateful he was/is that he was able to stay in peace when surrounded by seeming conflict among his neighbors.
The ego wants us to take sides so that we can project guilt and blame onto an "other." He was able to see beyond this ego setup and remember that fear is controlling them. Fear makes us feel alone and separated from each other and God.
---
October-December, 2018
What Does Pause Have to Do with It?

"I got this, I know what I'm doing, Ill figure it out, I'm an expert, I'm educated, I'm smart, I've been doing this for other people, I don't need help" etc. These are just a few of the multitude of excuses we give for not Practicing PAUSE, which is the following:
The decision to experience my calm, quiet mind . . . SLOW DOWN
The decision to get out of my own way . . . . . . . BREATHE

The decision to listen to My Helpful Self . . . . . . . LISTEN

The decision to Follow My Helpful Self . . . . . . . . FOLLOW
---
October-December, 2018
Understanding Pain

I have been trying to comprehend the teachings of the Course concerning physical pain.
I had surgery for a total knee replacement in the beginning of this summer. My knees were damaged during my younger years as a college wrestler and again as a young high school wrestling coach. I had surgery in the 1970's on both knees and now in my late 60's they are arthritic. I held out for years on the surgery but finally took the plunge and went for a replacement of the more painful knee.
I am not certain how I ever formed the opinion that I was a tough guy when it came to physical pain. Nevertheless, I was howling like a baby every time I stood up in the weeks following surgery. It felt like a blow torch was igniting in my knee and I was not handling it with even a modicum of grace. I couldn't get comfortable and I couldn't sleep well. The painkillers prescribed were not doing the trick.
In my better moments I turned to Holy Spirit and to the teachings of A Course in Miracles.
---
October-December, 2018
Let Go!

In a tightly controlled voice, I said, "I have just two words for you." And, then, I shrieked, "LET GO!" I was so mad at my 96 year old mother that I thought I would explode. I had recently moved in with her to 'help her out,' and there I was screaming at her and feeling oh-so justified.
The conflict was always the same. My mom bordered on hoarding, and I loved simplicity. On this day, she wanted to hold onto yet another small trinket that I unabashedly called "another piece of *%#*$. After I screamed at her, I managed to take myself for a very vigorous walk before I could do any more verbal damage because, as soon as the words "let go" came out of my mouth, I knew they were meant for me, not her.
---
October-December, 2018
What Must I Sacrifice?

What will I leave behind to accept my glory? What will I sacrifice? I will no longer gather, organize and decipher information in order to make a decision. That is my sacrifice. Instead, I will simply ask for an answer and it will occur intuitively without any effort on my part. At least that has been my experience when I have asked rather than trying to work out the answer on my own.
I will not be worried or anxious about life. Fear is what I will sacrifice. Instead, I will simply accept that what is occurring is in my best interest and in everyone else's best interest. If I can't see how that is true, I will ask for clarity, and never doubt or be concerned. I will accept the perfection of all things and simply wait for guidance on what to do next.
---
October-December, 2018
Fear and Choice

Hello Mighty Companions!
I have come to love sitting down to write something without even a clue as to what will come. To be honest, it used to terrify me. I wouldn't even start unless I had a clear roadmap of what I was going to say and how I was going to say it. I felt totally responsible for the content and there was this feeling that it had to be seen by others as "good" or "helpful" etc. No ego influence there, right?
The funny thing is, what would end up coming out seldom resembled what "I" had planned to write. As I began to write, I could feel the flow of the Spirit, and It felt so wonderful that I was willing to abandon "my" plan and follow His.
---
October-December, 2018
Relationships, Healing and Ourselves

How many times have you sat with someone you care about who was sick or even dying? Have you had the experience of being a long term caretaker? Did you take the time to assess your feelings of what was going on?
So often we have the task before us to try to comfort the sick and sometimes we feel we should be able to heal them. And if we cannot help them, we may decide to hate ourselves for it.
Or the situation can be that you are so busy taking care of the other person that you forgot to take care of yourself. That is very common with couples in the fall of their lives. The one who takes care of the one who gets sick often ends up sick themselves. I remember when my parents were in that time of their lives both of them were sick and trying to take care of each other and not able to really succeed so I told them they needed to move in with me so I could take care of them.
---
October-December, 2018
Healing My Inner Child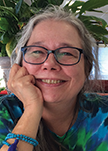 I began the Pathways of Light ministerial classes this year and have received so much from the meditations and exercises. This experience is from the "Sharing with Your Inner Child" meditation in Course 112: Knowing Your True Purpose.

During the guided meditation I find my infant self clothed only in a cloth diaper, sitting on the brown braided rug in the living room. She's smiling, happy. I pick her up and her eyes are bright, shining love all over me. I bask in that love. We're in a cocoon of love and I can't look away from her eyes shining that love all over me and spilling out to fill the space we're in.
I admire the rest of her, perfect skin, delicate fingers and toes and lustrous dark hair and I realize she is perfect. She came to this world perfect and a sense of relief washes over me. There's nothing I can tell this infant that she doesn't already know. I feel like she has comforted me.
---
Has this page been helpful to you?
Your contribution in support of this site is greatly appreciated. To make a tax deductible contribution or become a supporting member online, click here.
Or send a check or money order to Pathways of Light, 6 Oak Court, Ormond Beach, FL 32174-2623 (USD only, please) Thank you for your support.
Back to main page of Miracles News.