January-March, 2019
Get in the Boat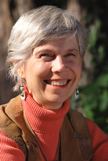 One of my favorite things to speak about is following Inner Guidance. What do we ask? How do we listen? And, more importantly, how do we learn to trust what we hear?
I definitely had to trust what I heard one afternoon while sitting by the river near my home. As I sat on the stone wall, a man who looked to be about my age cruised by in his motorboat. He was alone. For some inexplicable reason I had the feeling he was going to speak to me, so I wasn't too surprised when he waved as he passed by. On his way back up the river, he slowed his boat and said, "Hello." We struck up a conversation that quickly turned into a deep discussion about living on one's own.
It seems crazy now that we could possibly have gotten into a deep conversation so quickly and under those circumstances, but we did, and I felt very comfortable talking to him. The problem was that it was difficult for him to hold his boat steady. There was no place for him to dock, and there was too much physical distance between us to talk easily. The next thing I knew he was shaking his head in disbelief and saying, "This isn't something I would normally do, but I feel compelled to invite you aboard so we can continue this conversation." And even more surprisingly, I found myself saying, "Yes."
I couldn't believe my own ears. Getting in a boat with a complete stranger? No one even knew I was at the river. They wouldn't know where to look for me if I disappeared! But underlying those scary thoughts was a growing certainty that we were supposed to talk and that everything would be okay. We ended up cruising the river for over an hour. The man was considering leaving his wife and was nervous about being on his own. He had many questions and seemed to find information about my own experience helpful. We had a deep and very rewarding conversation. No contact information was exchanged. We both seemed to know that this was a one-time encounter.
I was quite pleased with myself that day; pleased that I was learning how to listen to and trust my inner guidance. I took all my precautionary thoughts into account, but then I went deeper to make my decision. My heart told me it was okay to go with this man, and I was right. I'm glad I listened. When I shared my adventure with a circle of my newest friends, I had to laugh at their reactions. I knew my friend, Mary, would understand. As I told my tale she sat there smiling and nodding in agreement, but the others were appalled. "Oh my God, Paula! How could you? You could have been killed! Nobody knew where you were!" On and on they went. I tried my best to explain, but they could not seem to understand why sometimes —
You simply have to get in the boat.
Rev. Paula Richards, O.M.C., is a Pathways of Light minister living in North Billerica, MA. View her inspiring videos at:
http://www.pathwaysoflight.org/home/video_links Email: .(JavaScript must be enabled to view this email address) Web: spiritrisingministries.com
© 2018, Pathways of Light. https://www.pathwaysoflight.org
You may freely share copies of this with your friends, provided this copyright notice and website address are included.
---
Back to main page of Miracles News.
Has this page been helpful to you?
Your contribution in support of this site is greatly appreciated. To make a tax deductible contribution or become a supporting member online, click here.
Or send a check or money order to Pathways of Light, 6 Oak Court, Ormond Beach, FL 32174-2623 (USD only, please) Thank you for your support.
Articles by
Pathways of Light Ministers
and Others.
Pathways of Light Membership
Support Pathways of Light with an annual membership donation or become a sustaining member through monthly contributions. Includes printed Miracles News magazine mailed quarterly. Click here.
Subscribe to printed version.
To have Miracles News magazine mailed to you quarterly, Click here.
Most recent entries
Miracles News has been viewed 1129243 times
Archives