October-December, 2019
Our Powerful Thoughts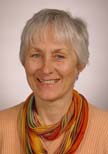 It is curious that we do not understand that we have amazing abilities that have come with this physical existence and are always available.
In the Urtext of the Course (T-6 A 3) Jesus tells us:
"You have been chosen to teach the Atonement precisely BECAUSE you have been extreme examples of allegiance to your thought system, and therefore have developed the capacity for allegiance. It has indeed been misplaced … You cannot doubt the strength of your devotion when you consider how faithfully you observed it."
We are indeed extremely faithful to our way of thinking. We seem to be unable, at times, to see it in any different way. Yet, we want to look at how we got there so we can follow a better model.
My own experience has brought me to tears at times when I tried to change how I responded to situations and people. I did not know how to change my extreme resistance to be on time, for example, to get going, to move forward. And every time I failed to change it, I would fall into depression and severe judgment of myself for the failure. There was something deep within me that I had given power over my responses and yet I could not get to it and felt powerless to change it.
Over time I learned that my 'allegiance' was not to myself but to fear, and the fear was directly related to the thought of death. I assumed that my Father would kill me, or any equivalent thereof, if I did not somehow comply with His expectations. This generalized to all people and the world, and so, later on in life, I could not remember that I made that decision or conclusion, but followed that same impulse. I tried to please other people and felt that that was what was expected of me. The power of my thoughts were so great, pleasing the ego and the world, that I could not find my way out of that thought system.
The funny thing was that I did not recognize that I was fighting for my life because the ego somehow made me feel safe when I followed my fear. I could not see how I had somehow encouraged that thought to have power over me. It took me years to see this clearly. I continued to think it was my weakness, my fault, or I had to do something different, learn more, find out more of what I should do.
Our thoughts are indeed very powerful, and we usually cannot remember what made us decide that they are actually the truth. We have a powerful allegiance to what we made true in the past, usually as children with our wonderful imagination, but we have forgotten what we made up or pretended the truth to be.
In my case, I associated all the expectations of my Father to mean that I had to try to appease Him, or else I would be 'toast' (the ego is never specific as to what may actually happen, it's just fear). Something bad was going to happen even though it never really did happen. It seemed to happen to my sisters and others around me, but somehow I was spared, or so I thought. I thought my responses to what seemed to be a dangerous environment (after WWII in Germany) were working: I was hiding out, I did not want to be noticed, I tried to be good and nice, I tried to stay within certain limits etc. and yet all of this kept me as a prisoner and chained to my thought system. I was adamant that this kept me safe, and I felt safe but not free. I could choose the ego thought system, but if I tried to get out of that, I had no power at all.
Lesson 333 tells us this about conflicting thoughts:
"Conflict must be resolved. It cannot be evaded, set aside, denied, disguised, seen somewhere else, called by another name, or hidden by deceit of any kind, if it would be escaped. It must be seen exactly as it is, where it is thought to be, in the reality which has been given it, and with the purpose that the mind accorded it. For only then are its defenses lifted, and the truth can shine upon it as it disappears."
And so I had to see that I have evaded the issue by thinking I can control my life. I've denied that there is something wrong with my approach. I've disguised the real issue of death and never really looked at what I was afraid of. I've seen it all as my Father's problem who is asking too much of me. I called it my safety when it was my prison, and I never escaped the fear.
I have given great power to the ego. I once saw this demonstrated in a vision of the ego being fed so much that it became this gigantic big fat worm 100 feet long, not moving much but feeding on my fear. Yet, back then, I did not know how to stop feeding this huge slug. I thought fear would keep me safe. I thought my hiding and pretending would keep death away, unpleasantness away, conflict avoided, but that never worked.
I gave the ego power to protect me. I didn't know what I was doing, because I did what I thought my mother did (using fear and feeling helpless) when she protected herself from my father. But it didn't work.
It never did work — until I realized and finally knew that I've been avoiding death or judgment (same thing to me). I've been afraid of being killed, and yet, here I am, living. I will live even beyond death. There is no death, and I am always safe, even if I die and the body has served its purpose. Wow, what took me so long?!
I know this insight, finally, was the result of much honesty with myself, my feelings, and the teachings of the Course. I picked up A Course in Miracles originally because I liked the thought that I was innocent. Yes, I am innocent, but at first, the ego interpreted that to be another part of me. There was still that little me who I knew had done stupid, silly, bad things and so I could not reconcile my true innocence with my self. Slowly, I had to find the connection between my little self and my True Self, and feel that Oneness.
And so I forgive myself for being a foolish little girl, and fearing something to be Who I truly am. I have asked the ego to do a task for me that it cannot do and will never do. Instead, I ask the Holy Spirit, my True Self, to take care of me, and I can trust that perfectly. Death or 'being killed' is not something to fear. Discomfort, uncertainty, pain, worry and doubt are all tools of the ego not to be trusted.
The allegiance I choose now is to Love. Love is Life itself, and there is nothing to fear. I need be neither careful nor careless of my thoughts because I ask and listen to Guidance. I am so grateful to know that, and so I continue to move forward into more freedom and more certainty and more joyful Loving and seeing only Life all around me.
Rev. Maria Kingsley is a Pathways of Light minister living in Tucson, Arizona. Email: .(JavaScript must be enabled to view this email address) P.O. Box 35122 520-780-0170
© 2019, Pathways of Light. https://www.pathwaysoflight.org
You may freely share copies of this with your friends, provided this copyright notice and website address are included.
---
Back to main page of Miracles News.
Has this page been helpful to you?
Your contribution in support of this site is greatly appreciated. To make a tax deductible contribution or become a supporting member online, click here.
Or send a check or money order to Pathways of Light, 6 Oak Court, Ormond Beach, FL 32174-2623 (USD only, please) Thank you for your support.