October-December, 2017
Remembering We Are Being Carried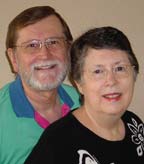 We would like to share our journey with Holy Spirit holding our hand through our recent hurricane "Irma" experience:
Because we live in Ormond Beach, Florida, (which is just north of Daytona Beach) we tend to keep a watch during hurricane season of the potential weather patterns that would give us advance notice so we could prepare for any hurricanes coming our way.
As we were told that hurricane Irma was a category 5 and was going to come up through the middle Florida, we started to pay attention. We became concerned because when we went through hurricane Matthew last year, we evacuated to Tallahasee and were glad that we were able to find a room before everything filled up.
This year there are five of us living here plus four pets that needed to be cared for. And we knew that most hotels do not take pets. Because we know that every "perceived problem" needs to be taken to the Holy Spirit, we needed to do this ourselves and as a group, again and again throughout this whole process.
In A Course in Miracles we are reminded that to heal we need to remove our barriers to the awareness of Love's Presence. The hurricane experience was excellent "lab time" to practice bringing all our fears (which came up frequently) to the Holy Spirit to receive His vision in place of the ego's fearful perceptions.
It was also a wonderful opportunity to keep going to peace and receive inspiration for each step as peacefully as we could through the experience. The more we were willing to practice opening to peace, the easier pieces fell into place.
As we watched the hurricane move towards Florida, we observed fear thoughts as they came up for healing. The changing projected direction of the storm meant that we needed to go to Higher Wisdom to be guided what to do in the dream.
The five of us (Debra, Colleen and Deb Fee, Robert and Mary — plus three dogs and a cat) came together and went to peace. We each shared inspiration we received from Spirit. Even though early projections showed the eye coming directly over our location, we were guided to stay rather than evacuate. The final outcome showed the value of Holy Spirit's Wisdom.
We were consistently reminded throughout the experience that we are always being carried. Our main job is to pay attention to Holy Spirit's inspiration in each present moment. When we found ourselves getting wrapped up with the intensity of the hurricane story, we practiced stepping back and asking Holy Spirit for guidance. This helped us keep our focus on what was truly helpful in the moment for the five of us here.
Some examples of how we were inspired in the moment were:
1. Early on we were inspired to email our neighbor to tell him that we were going to stay and ride it out instead of leaving. He emailed us back telling us that he was going to board up his windows by Saturday. We had not thought that we would ever need to board up our windows so far inland and so far north here in Florida. He came over and showed us what we needed to buy and how to do it correctly so that it would be secure.
All the big box places like Home Depot and Lowes were already out of plywood and hurricane supplies. By being quiet and asking Holy Spirit's perspective, the idea came that there was a lumberyard just four blocks from us that contractors used. We went there immediately and found that they had everything we needed. (The next day they were closed because they were sold out.)
2. Our generator wouldn't start, no matter what we tried when we got it out to test. We contacted every generator repair place we could find. Colleen then was guided to go to a lawn mower repair shop nearby and the clerk there told her of an excellent repair man who would tell her how to fix it herself and what to buy if needed. Colleen called him and, after describing the problem in detail to him he told her exactly what to do and it worked. We were helped when needed many times.
At 10 p.m. Sunday night, the electricity went out. As the intense wind and a foot of rain passed through overnight, fear thoughts again came up about a tree falling on the guest house. Holy Spirit reminded us again and again that we were being carried and that, in reality, we are safe.

We got our electricity and Internet back on Monday at 9:30 p.m. We all cheered! We are in good spirits and looking forward to getting back to normal soon.
In a nutshell, no big trees came down, but a big branch came off a tree that went through the screen on our back patio and landed in the pool. Lots of big and small tree branches litter the grounds, but no serious damage. Colleen pulled the big oak tree branch out of the pool and hauled it to the street. What a treasure she is! We have appreciated Debra, Colleen and Deb being here so much.
Revs. Robert and Mary Stoelting are co-founders of Pathways of Light over 28 years ago. They reside in Ormond Beach, Florida, where they, along with a Pathways of Light team, continue to operate the office and publish the quarterly Magazine .
E-mail: .(JavaScript must be enabled to view this email address)
© 2017, Pathways of Light. https://www.pathwaysoflight.org
You may freely share copies of this with your friends, provided this copyright notice and website address are included.
---
Back to main page of Miracles News.
Articles by
Pathways of Light Ministers
and Others.
Pathways of Light Membership
Support Pathways of Light with an annual membership donation or become a sustaining member through monthly contributions. Includes printed Miracles News magazine mailed quarterly. Click here.
Subscribe to printed version.
To have Miracles News magazine mailed to you quarterly, Click here.
Most recent entries
Miracles News has been viewed 942331 times
Archives