April-June, 2021
Forget Peace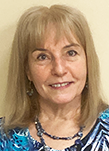 The Holy Spirit speaks to me most loudly when I first awake. Imagine my surprise when I heard, "forget peace, work on your belief in guilt."

This came to mind: "…of all the many causes you perceive as bringing pain and suffering to you, your guilt was not among them." (ACIM, T-27.VII.7:4)
Keep in mind that this is an unconscious guilt from the separation thought. It dawned on me that until healing of my fear-based thoughts occurs, I will not completely experience peace. Fear and guilt are the opposite of peace and love.
Reality is that we are Love and peace that has been obscured by our mistaken faulty beliefs. Making a goal to have peace is not wrong, but there is homework to do before we get to reap the awareness of peace.
As much as I would like to think of myself further along spiritually than I am, what my mind is projecting is showing me otherwise. There are times when I believe I am this body or that somebody or something in the world is the cause of my upset. This shows me that I am experiencing fearful, judgmental thoughts. Reality check. There is no world "outside of my Mind," so only my thoughts can upset me.
My function is forgiveness, an often-misunderstood word by ACIM students. Forgiveness clarifies that what I thought I saw exists nowhere except in my Mind. It reminds me I am a Mind and not a body.
This projection that I thought I saw serves no purpose but to show me my mistaken thinking. What I thought I saw caused me pain or anger. You will know you have practiced forgiveness correctly when what upset you before brings thankfulness. You are thankful and grateful your projections are showing you where there is still a need to heal your mind.
"It is your thoughts alone that cause you pain. Nothing external to your mind can hurt or injure you in any way." (W-pI.190:5:1-2)

"There is nothing outside you. That is what you must ultimately learn…." (T-18.VI.1:1)
There is no reason to argue with Jesus. I am not smarter than Him. The ego lied when it said I could get rid of my guilt by projecting it onto someone or thing in a world that never existed. What I thought I projected has been the cause of my distress. "Forgiveness recognizes that what you thought your brother did to you has not occurred. It does not pardon sins and make them real." (W-pII.1.1:1) Forgiveness is an inside job and involves nobody else but you.
Gary Renard passed on a gem about forgiveness. "Do not allow the ego to analyze what it thinks it is seeing. Analyzing only makes it seem real. The value in forgiveness is that you recognize it is not real. Since nothing occurred except faulty thinking, then there is only innocence left. As you see the outward illusion as innocent, you will also see yourself the same way. It is always us that we are forgiving."
I have learned to appreciate the part of forgiveness that says, "forgiveness is still, and waits, and judges not." It is in the quieting of my ego thoughts that I hear the Holy Spirit tell me to give the situation to Him. Guilt is chipped away a little bit by bit when I allow the Holy Spirit to whittle it down from the pile in my Mind. That is His job. My Job was only to accept reality and give the rest to Him. How fast do I want to get rid of my unconscious guilt? This is evident by my willingness to practice forgiveness.
I do not need to worry about getting my peace back. Peace has not and never will be lost, only temporarily obscured by a pile of guilt. So, I will work on my guilt and forget peace right now.
Rev. Joyce Peebles is a Pathways of Light minister living in Hot Springs Village, Arkansas Email: .(JavaScript must be enabled to view this email address) Phone: 501-701-8399.
© 2021, Pathways of Light. https://www.pathwaysoflight.org
You may freely share copies of this with your friends, provided this copyright notice and website address are included.
---
Back to main page of Miracles News.
Has this page been helpful to you?
Your contribution in support of this site is greatly appreciated. To make a tax deductible contribution or become a supporting member online, click here.
Or send a check or money order to Pathways of Light, 6 Oak Court, Ormond Beach, FL 32174-2623 (USD only, please) Thank you for your support.
Articles by
Pathways of Light Ministers
and Others.
Pathways of Light Membership
Support Pathways of Light with an annual membership donation or become a sustaining member through monthly contributions. Includes printed Miracles News magazine mailed quarterly. Click here.
Subscribe to printed version.
To have Miracles News magazine mailed to you quarterly, Click here.
Most recent entries
Miracles News has been viewed 1309464 times
Archives