April-June, 2023
Joy and Peace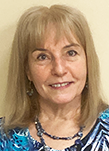 The text tells us light, joy and peace abide in me. I came to admit that I did not believe these words. To "spiritual people" they sound good and thus I enjoyed saying them. Yet the problem remained that I could not believe them entirely.
Due to my split mind, I am engaged in a daily struggle to see myself as an ego body or as pure spirit.
Jesus has instructed us that this body, the world and our special relationships are all made to conceal the beliefs in sin, guilt and fear. I know this is true from observing my projections. Too often I see my brother as my enemy; conflict, competition and strife are present. Now I understand it is the belief in guilt in my mind that is the cause of my upsets.
A quote from the Song of Prayer says, "Praying for others, if rightly understood, becomes a means for lifting your projections of guilt from your brother, and enabling you to recognize it is not he who is hurting you. The poisonous thought that he is your enemy, your evil counterpart, your nemesis, must be relinquished before you can be saved from guilt." (-1.3.1:4-5)
I am literally making the projections I desire to see. I am responsible for what I see. Every minute of every day I decide to see my brother and myself as innocent or guilty. I cannot see my brother as different from myself. Therefore, if I perceive attack and conflict in my projections, I doubt that light, joy and peace abide in me.
In lesson 93, Jesus asks us to do something that many find too difficult. We are asked to spend the first five minutes of every waking hour to say " Light and joy and peace abide in me. My sinlessness is guaranteed by God." Jesus would not ask me to declare the truth of my innocence every hour unless He was retraining my mind to actually believe it.
The resistance to doing this simple request was great! It meant looking at the belief that I am guilty. He also tells me I have self-hatred from this belief.
In Chapter 13 Jesus tells us, "You may wonder why it is so crucial that you look upon your hatred and realize its full extent. You may also think that it would be easy enough for the Holy Spirit to show it to you, and to dispel it without the need for you to raise it to awareness yourself." (T-13.III.1:1-2)
The Holy Spirit works with each of us where we are. It is self-deception to think of ourselves as further along spiritually than we actually are. My self-deception has often prevented me from acknowledging these gifts of joy and peace.
In Lesson 104 we are told, "Yet must there be a place made ready to receive His gifts. They are not welcomed gladly by a mind that has instead received the gifts it made where His belong, as substitutes for them." (1:4-5)
It has been a process to become aware that I have an investment in guilt and observe my self-hatred for desiring these shabby gifts. They resulted in a fearful, uncertain, victimized individual. I had to admit I saw value in guilt.
ACIM has helped me to see how I have used guilt to keep me from the Love I really want. There was hope, however; for I was not abandoned. I heard that persistent Voice imploring me to see my brother and thereby myself as non-guilty.
The Voice reminded me that if someone I perceive is not giving love, they are asking for it. I became willing to surrender and see with the Holy Spirit's eyes. There are hours, sometimes days when I choose to suffer by ignoring that Voice, but I always come back to wanting peace.
The Holy Spirit never demands and cannot take away my desire for conflict, strife, guilt or suffering until I decide I no longer want these. How long I value the valueless is up to me alone. I stay in the prison of my own making for as long as I desire.
The key out of hell is to let go of my special, ego self. When I see myself upset during the day, I tell myself I have chosen to reject Love by not remembering my Real Self.
I feel gratitude I have at least a limited understanding of the battle for sanity in my Mind. How happy I am is totally dependent on a decision in the mind. Joy and peace are not something I earn; they are simply uncovered once my false thoughts are out of the way.
Rev. Joyce Peebles is a Pathways of Light minister living in Hot Springs Village, Arkansas Email: .(JavaScript must be enabled to view this email address)
© 2023, Pathways of Light. https://www.pathwaysoflight.org
You may freely share copies of this with your friends, provided this copyright notice and website address are included.
---
Back to main page of Miracles News.
Has this page been helpful to you?
Your contribution to support this site is greatly appreciated. To make a tax deductible contribution with a credit/debit card, click here.
Click here to donate from your PayPal account.
Or send a check to Pathways of Light, 12530 Lions Chase Court, Huntley, IL 60142.
Articles by
Pathways of Light Ministers
and Others.
Pathways of Light Membership
Support Pathways of Light with an annual membership donation or become a sustaining member through monthly contributions. Includes printed Miracles News magazine mailed quarterly. Click here.
Subscribe to printed version.
To have Miracles News magazine mailed to you quarterly, Click here.
Most recent entries
Miracles News has been viewed 1669078 times
Archives