October-December, 2023
Peace Is Our True Nature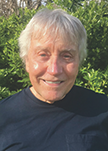 We live in a world of separation, fear and guilt. But under these dark clouds lies the real world… of love, peace and happiness.
Peace is our natural state that we experience when we release the blocks in our minds. The world was made by ego to distract us from who we really are. As we let go of the world of the ego… conflict, judgments, separation, pain… we create space in our mind that will fill with peace.
We have been given a Guide to help us release all these insane thoughts, and return us to our true home; that is what the Holy Spirit is there for. As we learn to notice our insane thoughts and give them to the Holy Spirit for healing, we are released from the dark clouds, and the light of our true Self shines through.
When we let the Holy Spirit be in charge of our mind, thoughts of conflict will fall away. As they fall away, notice the peace that comes into your mind… it has always been there. And we will be more motivated to put the Holy Spirit in the center of our life.
The more we heal our minds with the Holy Spirit's help, the more we experience true peace. This is a process, and happens when we practice forgiveness (letting go of the world). Slowly dismantling the ego's thought system through forgiveness allows all things to be just as they are and we will be in perfect peace.
For most people, peace in this world fluctuates. We can be calm, peaceful, happy one minute, and then something triggers us and throws us back into the anxiety, fear and upset.
For most of my life I lived in a world of fear, anxiety, stress and judgments. All of that changed when I began studying A Course in Miracles many years ago. I began to have respite from the fear in my mind, and I would feel more peaceful.
As I learned to notice my thoughts and give fears and judgments to the Holy Spirit for healing, my peace level grew. Today I live mostly in peace, and when something disturbs me, I give it over to Holy Spirit for healing.
Sometimes I ask myself what my peace level is, and grade it from one to ten. It's usually between eight and nine, but occasionally it can crash way down to one or two.
I have a favorite organic shop I go to all the time. I have made friends with many people who work there, and it brings me so much joy to go and see them. Yesterday I was eating in their restaurant, and a staff member came up to me and told me I would have to leave in ten minutes. He wouldn't tell me why. It turns out that the shop went into administration and the store was permanently closing down. And all of my friends who work there were made redundant. I felt so sad, so upset, so much pain.

"I could see peace instead of this." (W-34)

So I stepped back, quieted my mind, and asked the Holy Spirit, "How would you have me see this?" What came to me was "Relax. All is well. Just send them blessings." So I blessed them in their acceptance, in their peace, in their happiness, in their strength. And with that I experienced a miracle… my peace returned.
Rev. Dan Strodl is Manager of Miracle Network, a Pathways of Light Spiritual Counselor and an Accessing Inner Wisdom Counselor. Email: .(JavaScript must be enabled to view this email address)
© 2023, Pathways of Light. https://www.pathwaysoflight.org
You may freely share copies of this with your friends, provided this copyright notice and website address are included.
---
Back to main page of Miracles News.
Has this page been helpful to you?
Your contribution to support this site is greatly appreciated. To make a tax deductible contribution with a credit/debit card, click here.
Click here to donate from your PayPal account.
Or send a check to Pathways of Light, 12530 Lions Chase Court, Huntley, IL 60142.
Articles by
Pathways of Light Ministers
and Others.
Pathways of Light Membership
Support Pathways of Light with an annual membership donation or become a sustaining member through monthly contributions. Includes printed Miracles News magazine mailed quarterly. Click here.
Subscribe to printed version.
To have Miracles News magazine mailed to you quarterly, Click here.
Most recent entries
Miracles News has been viewed 1785847 times
Archives