April-June, 2019
Playing the Blame Game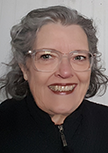 Circumstances of my life — whether I set aside the ego long enough to acknowledge it or not —are perfectly orchestrated for me to squeeze all the goodies I can get out of my study of ACIM.
In chapter 21 of the Text it states, "I am responsible for what I see. I choose the feelings I experience, and I decide upon the goal I would achieve. And everything that seems to happen to me I ask for, and receive as I have asked." (T-21.11.2:3-5)
I recently learned my job has been eliminated at the end of the month due to acquisition of the medical clinic where I work. In the early stages of this revelation, I rested in the knowledge that I was a "good employee" and "hard worker," not to mention heavily relied upon by my administrators and co-workers alike. I had a long history of being the "go to" person and the "get it done" gal. Yay me.
As time has passed, it's becoming clearer that "eliminated" means exactly that.
In the weeks following the announcement, the "Big Fish" that swallowed our "Little Fish" came to meet with me and offered me an "as needed" position at a paltry sum of money. It rocked my boat somewhat, but my current boss asked that I stay the course and not make any hasty decisions as some things were potentially "on the horizon." I was still a little unsure but agreed with his advice.
Things began to change rapidly and I overheard dissenting conversations among my co-workers, some even coming in to my office to share their complaints. None of them were happy with the employment packages they were offered, nor with the means in which the transition was taking place. Since I was the only employee whose position had been eliminated, I spiraled into victimhood. The rest of my life reflected my woes as well. I couldn't sleep, I was weepy and put a negative spin on pretty much every situation. Gone was the Kathy who always had a listening ear, believed the best, and could be counted on to share a comforting thought and/or a fresh perspective. I found no respite at home, nor anywhere.
So, my blame game targets sort of looked like this:
• My bosses
• My co-workers
• The new owners
• My parents (they're both deceased but certainly they had something to do with this!)
• The weather (which matched my mood perfectly; icy, gray, cold, miserable)
• My neighbor, who was annoyingly perky and optimistic and didn't seem to give a rat's hiney about my dilemma
• The bank, which would certainly be sending me statements testifying to the demon of scarcity sooner or later
• My husband, who was angrier at the situation than I was (because of course I wasn't angry — just sad…wink, wink) and he continued to shout at me that my bosses never really cared about me as an employee, regardless of how well I'd been treated thus far.
Even as I type I can recall the gloom, despair, and agony. Oh me!
It seemed every time I attempted to immerse myself in my studies and the Truth of ACIM, another ego tidbit would demand my time and attention, anchoring my awareness in the dream. I didn't think the Light of Truth could or would rescue me from the hopelessness. Why in the world would I have asked for all this adversity?
In desperation I opened the Book and randomly picked a page.
Workbook, Lesson 166, paragraph 4:1-3 described my misery: "Here is the only home he thinks he knows. Here is the only safety he believes he can find. Without the world he made is he an outcast; homeless and afraid." (W-pI.166.4:1-3) However, the title of this lesson is, "I am entrusted with the Gifts of God." So, what gives?
I'd fallen asleep, and I couldn't wake up! But Holy Spirit heard my cry and He nudged me.
It was then I remembered I had orchestrated this debacle all on my own. I wrote the script and cast the players. Not only that, I was directing the play from the position of a demigod instead of trusting God. UGH! Time for a new perspective.
When the weather is kinder than it currently is in Iowa, I like to sit on our front porch and watch the world go by. Joggers, dog walkers, fast cars, slow cars, planes flying overhead and even an occasional hot air balloon. I can spend hours (dependent upon the mosquito population) just soaking in the stillness and being a non-participant in the busy-ness that passes by on the street.
This is the illustration Holy Spirit gave me as I contemplated the mind noise. My thoughts — tyrannical, nonsensical and sometimes horrific — can be observed without participation and/or engagement. I can enjoy the peacefulness of Truth and the Holy Presence or allow myself to get sucked into the vortex of random thoughts. I was grateful for that illustration and for His help to just observe the mental traffic with Him before allowing my mind to be swallowed down the egoic rabbit hole.
Ego only presents its stale scenarios representative of their individual stories within the illusion of my so-called life; nothing more, nothing less. It has no original story to tempt me with, nor will the next mental-monster loom any larger than the one before. Just idle chatter and mindless monologue.
I can now express gratitude for the circumstances that have brought me to where I am today. In God's hands, each episode is another tool for change! And, since reality is changeless, one step closer to realization of my True Identity.
The end of Workbook Lesson 166-15:2-5 issues the challenge; "Become the living proof of what Christ's touch can offer everyone. God has entrusted all His gifts to you. Be witness in your happiness to how transformed the mind becomes which chooses to accept His gifts, and feel the touch of Christ. Such is your mission now." No more "blame game!" I'm on a mission for the Sonship. Let's play!
Kathy Croy is a Pathways of Light student living in Cedar Rapids, Iowa. Email: .(JavaScript must be enabled to view this email address)
© 2019, Pathways of Light. https://www.pathwaysoflight.org
You may freely share copies of this with your friends, provided this copyright notice and website address are included.
---
Back to main page of Miracles News.
Has this page been helpful to you?
Your contribution in support of this site is greatly appreciated. To make a tax deductible contribution or become a supporting member online, click here.
Or send a check or money order to Pathways of Light, 6 Oak Court, Ormond Beach, FL 32174-2623 (USD only, please) Thank you for your support.
Articles by
Pathways of Light Ministers
and Others.
Pathways of Light Membership
Support Pathways of Light with an annual membership donation or become a sustaining member through monthly contributions. Includes printed Miracles News magazine mailed quarterly. Click here.
Subscribe to printed version.
To have Miracles News magazine mailed to you quarterly, Click here.
Most recent entries
Miracles News has been viewed 1065530 times
Archives