October-December, 2022
Self-Deception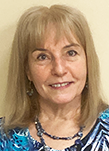 Recently I saw a poster on someone's wall. It read, "Life has many variations, the Truth none."
In desperation years ago I asked God what was my purpose? I got an answer I did not understand or accept at the time, but I am positive what I heard. It was to relax and be calm! This did not seem possible with what I experienced in life. I had yet to accept who I truly am, that there is nothing I need do, nowhere to go and nothing needed changing — except the voice I most often listened to. I was unaware I practiced self-deception.
"Pain is a wrong perspective. When it is experienced in any form, it is a proof of self-deception. It is not a fact at all. There is no form it takes that will not disappear if seen aright." (W-190.1:1-4)
We think we are a body because we seem to have physical and psychological pain. A Course in Miracles tells us that only a thought in our Mind can hurt us and we alone are responsible for our thoughts. This life is literally a thought we made up. It does not exist outside of the Mind.
We are seeing and experiencing what we want. Does it sound insane to want pain of any kind? The answer is yes if it "proves" we are a body, and this world is real. This makes sense to the ego. To Jesus and the Holy Spirit, it is considered insanity to prove you are something you are not. "The body can act wrongly (feel pain) only when it is responding to mis-thought." (T-2.IV.2:5)
We think the bad news is that we cannot blame a person or circumstance for our perception of pain. This is actually the good news. Accepting the responsibility that pain only exists as a thought means I can now choose a different thought.
The answer is not to get rid of the pain. The answer is to ask, "What is this for?" Pain is a sign telling us that there is a part of the Mind that needs healing. This is my opportunity for growth and healing. You can call it your Higher Self or the part of your Mind that is not sick, but this situation was made and desired by you.
If you choose not to use this growth experience, another will present itself in a different form until you get the lesson. Once the lesson has been learned, the pain will disappear as we no longer need it. As we make our way up the ladder, we discover our lessons do not have to be painful.
I have chosen to believe what Jesus says about pain. This does not mean I tell other people their pain does not exist. That would sound cruel and insensitive to a person that believes they are really this ego-based story. Einstein said, "No problem can be solved from the same level of consciousness that created it." This is exactly what Jesus tells us. Looking at pain from the ego perspective is completely different than that of the Holy Spirit's view. Keep in mind our ability for self-deception is enormous.
I judge or attack someone else that I decide is unkind or has treated me unfairly. I ask Holy Spirit, "What is this for?" I hear, "You know this can be coming only from the thoughts in your mind, so you are attacking yourself and believe you are unkind and treating yourself unfairly."
This makes perfect sense as I understand that when I am unwilling to look at that part of my mind that needs healing, I am indeed treating myself unkindly. Every projection is always about me. "What you project you disown, and therefore do not believe is yours." (T-6.II.2:1) If I believe otherwise, I can continue to deceive myself for as long as I want to be unhappy.
Personally, I am practicing remembering every day, every hour, that it is impossible to be hurt except by my own thoughts. Make no mistake, I can indeed suffer pain, but only by my own thoughts.
"It is the mind that interprets the eyes' messages and gives them meaning. And this meaning does not exist in the world outside at all. What is seen as "reality" is simply what the mind prefers. Its hierarchy of values is projected outward, and it sends the body's eyes to find it." (M-8.3:4-7)
Lesson 232 asks us to practice the end of fear. How can we do that? First by recognizing that we made fear up. In Chapter 2 of the Text, Jesus says,
"You may still complain about fear, but you nevertheless persist in making yourself fearful. I have already indicated that you cannot ask me to release you from fear. I know it does not exist, but you do not." (1.VII.1-4) This is a prime example of our desire for self-deception. Love and fear cannot both exist, they are mutually exclusive. Regardless of how things at first appear in the world, seen with the Holy Spirit, we can see differently.
To own responsibility for how we experience the world is to give up the idea of victimization. We can no longer be misunderstood. We cannot place guilt on someone else or a situation for our sad plight in life. We accept we made the projection because this is what our mind preferred. Jesus is identifying the key out of our self-deception. Nobody did anything to me, I did it to myself. Power is taken back, and it is understood completely that I gave it away.
I was a sad, voluntary prisoner of false thoughts I wanted to entertain. The price to be the victim was too high. The forgotten memory of the real Self is restored as willingness reveals Christ's vision. Once I truly own my self-deception, a lightness of being is experienced. I reject the reality of this dream figure except as a teaching tool in waking up from the dream.
What has motivated me to stop deceiving myself? I've come to realize I am rejecting my real Self or Love. I was looking for Love in all the wrong places. It was not outside of me but within.
Ridding oneself of self-deception is a process. It takes vigilance and practice. We alone decide how long we want to remain asleep to reality. While we are making this decision, we are not asked to deny what the body's eyes see but to give it a different interpretation. We can see beyond hate, innocence instead of sin. We can cease to judge not just others but ourselves.
Rev. Joyce Peebles is a Pathways of Light minister living in Hot Springs Village, Arkansas
Email: .(JavaScript must be enabled to view this email address)
© 2022, Pathways of Light. https://www.pathwaysoflight.org
You may freely share copies of this with your friends, provided this copyright notice and website address are included.
---
Back to main page of Miracles News.
Has this page been helpful to you?
Your contribution to support this site is greatly appreciated. To make a tax deductible contribution with a credit/debit card, click here.
Click here to donate from your PayPal account.
Or send a check to Pathways of Light, 12530 Lions Chase Court, Huntley, IL 60142.
Articles by
Pathways of Light Ministers
and Others.
Pathways of Light Membership
Support Pathways of Light with an annual membership donation or become a sustaining member through monthly contributions. Includes printed Miracles News magazine mailed quarterly. Click here.
Subscribe to printed version.
To have Miracles News magazine mailed to you quarterly, Click here.
Most recent entries
Miracles News has been viewed 1601601 times
Archives